Back to OneClass Featured Blogs
Ontario Universities' Increasing Reliance on International Students
With Ford's government ready to make changes to higher education in Ontario, many wonder what adjustments will be made and how it will impact universities' tuition costs and enrolment numbers both for international and domestic students.

For instance, with the provincial government set to decrease tuition by ten per cent across all Ontario universities, many institutions are in the process of strategizing the most effective way to offset this major loss in revenue.

Since the tuition decrease only affects domestic students and international tuition fee increases are uncapped, some Ontario schools could look towards heavier reliance on international students through increased enrolment and/or increased tuition fees.

The University of Windsor, for example, is one school that is planning on raising international tuition fees by five per cent on average (nine per cent for some programs) to help with the expected decrease in tuition revenue.

Due to the average international tuition being almost 4x that of domestic tuition in 2017, it's no question that international students make up a significant portion of any school's tuition revenue.
Which makes capitalizing on international students a very possible option for schools to consider when deciding how to deal with the seismic changes coming in the next academic year.

Since international students are about to go through some major changes themselves, we took a look at tuition fees and enrolment among Ontario universities over the last 12 years to see the differences between domestic and international tuition and enrolment and how these numbers have changed over time.

This also allows us to establish a baseline to use to see how the ten per cent tuition decrease will impact domestic and international tuition and enrolment.

Using data mainly from CUDO (Common University Data Ontario) by the Council of Ontario Universities and school documents such as tuition fee schedules, and school-specific CUDO data, we found the following four key findings.

---
*When a year is stated, it is the beginning of that academic year. (ie. 2007 refers to the 2007-2008 academic year)

*Tuition fee data was based on the tuition cost for an average undergraduate arts and science full-time degree as this is the metric CUDO uses as a common metric among all Ontario universities. The tuition fees stated below refer to the tuition cost for the first-year of studies
---
Tuition Fees
International Tuition Increased 2.6x More Than Domestic Tuition and 3.5x More Than Inflation (2006-2017)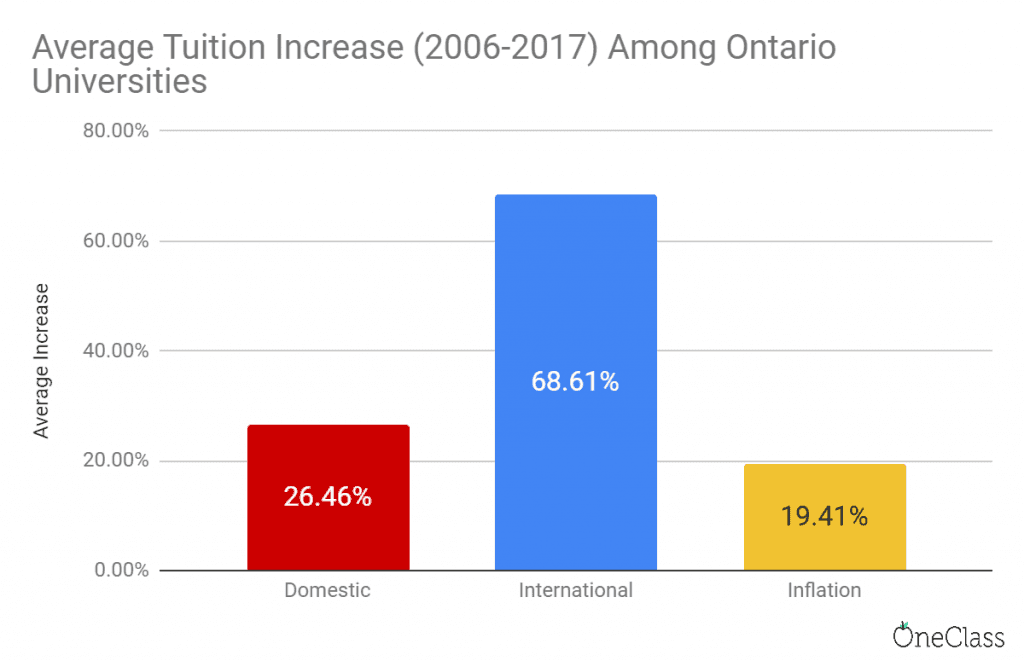 From $5,162 in 2006 (in 2017 dollars) to $6,528 in 2017, the average domestic tuition for an average first-year undergraduate arts and science full-time degree increased 26.46 per cent while taking inflation into consideration.

From $15,217 in 2006 (in 2017 dollars) to $25,656 in 2017, the average international tuition for an average first-year undergraduate arts and science full-time degree increased 68.61 per cent while taking inflation into consideration.

Comparing the increase in international tuition to the increase in domestic tuition and the inflation rate, international tuition increased at a rate of 2.6x and 3.5x more, respectively.

As demand has been increasing for Ontario education around the globe due to their quality and accessibility and a relatively cheap Canadian dollar, Ontario universities have been able to capitalize on this demand by increasing international tuition fees at a rate almost triple the rate of domestic tuition and inflation.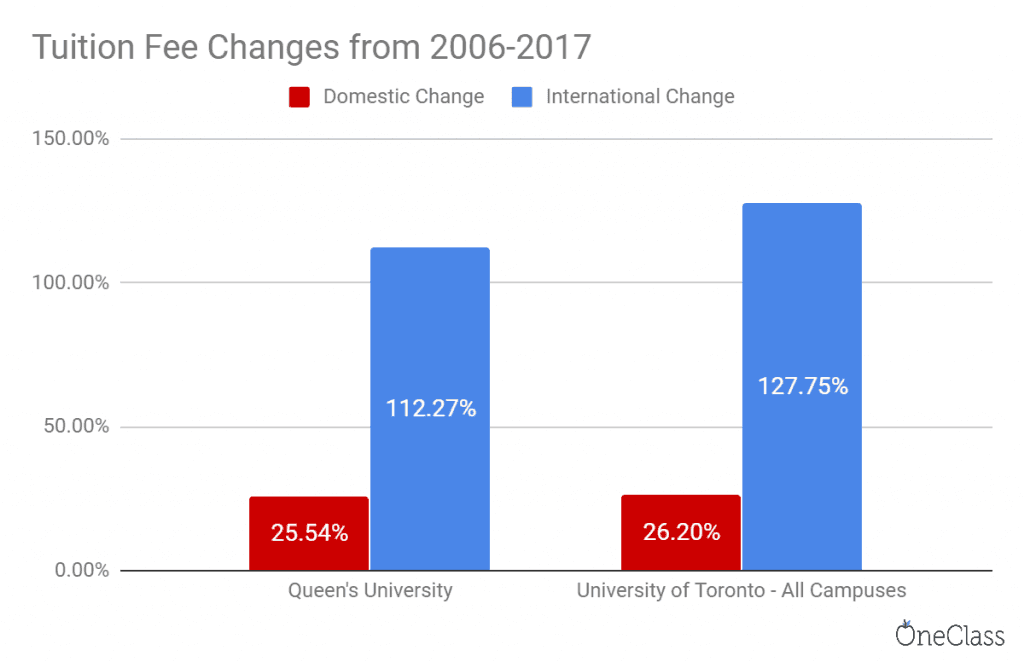 This capitalization of international students can be clearly seen at the University of Toronto and Queen's University where they increased their international tuition fees 127.75 per cent and 112.27 per cent from 2006 to 2017, respectively, while their domestic tuition fees increased only by approximately 26 per cent each (adjusted for inflation).
In Ontario, International Tuition Costs 3.9x More on Average, than Domestic Tuition (2017)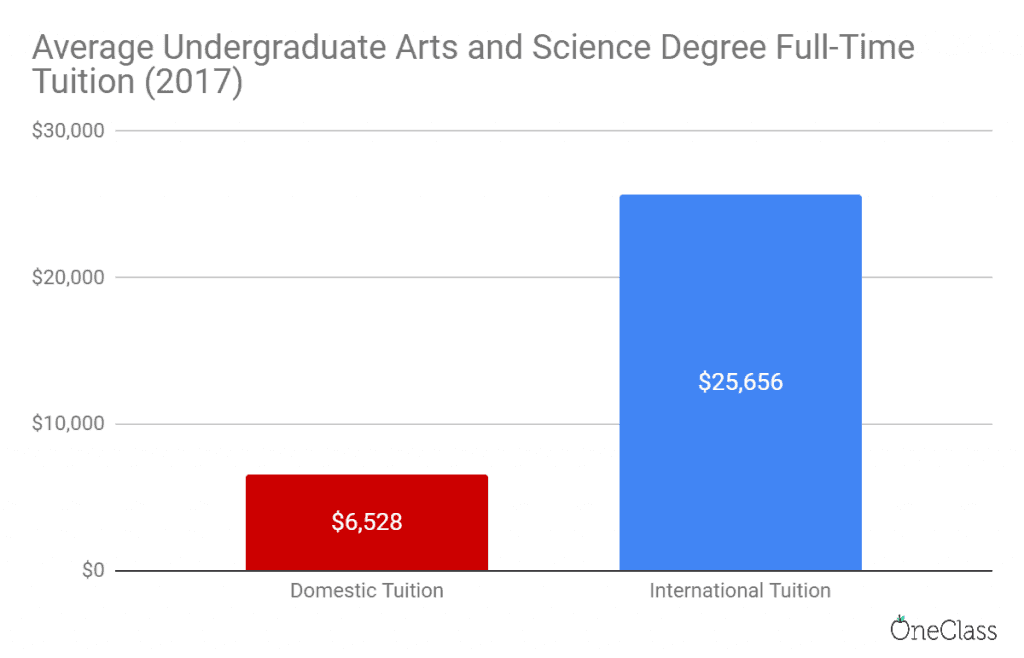 For international students, the average cost for an average undergraduate arts and science full-time degree among Ontario universities costs almost four times more than their domestic counterparts.

With Ford's changes to higher education set to take place next year, this gap could grow even larger.
Again, Queen's University and the University of Toronto are the two schools with the largest difference between their domestic and international tuition fees in 2017.

International tuition for an average undergraduate arts and science degree for Queen's University and the University of Toronto is 5.7x and 6.9x more, respectively than domestic tuition for the same degree.
---
*International Student Fees NOTE:
One important thing to note is that the fees being used to calculate international fees do not include ancillary fees, UHIP, Ontario's International Recovery Fee, etc.
Although ancillary fees are typically equal for both domestic and international students, extra fees such as UHIP and Ontario's International Recovery Fees could add an additional $1000-$2000 to an international student's yearly fees.
Which would further widen the gap between total international and domestic fees.
---
Enrolment
Average Annual Increase in International Enrolment is 5.7x Higher than Domestic Enrolment, on Average (2006-2017)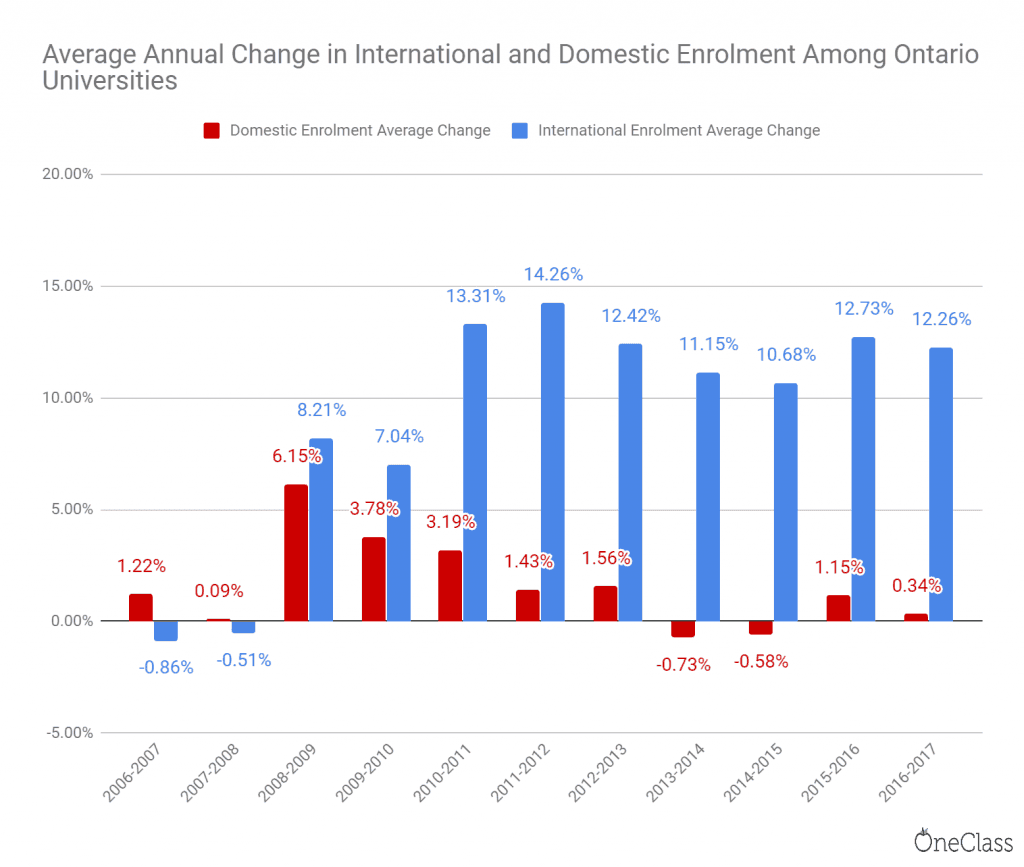 After 2007, the average annual increase in international student enrolment begins to drastically increase and outpace domestic student enrolment, with domestic enrolment even decreasing in 2013-2015 while international enrolment continued its increase of over ten per cent in both years.

With the average annual increase being 1.6 per cent for domestic enrolment and 9.15 per cent for international enrolment, international enrolment has been increasing annually at a rate of almost 6x more than domestic students.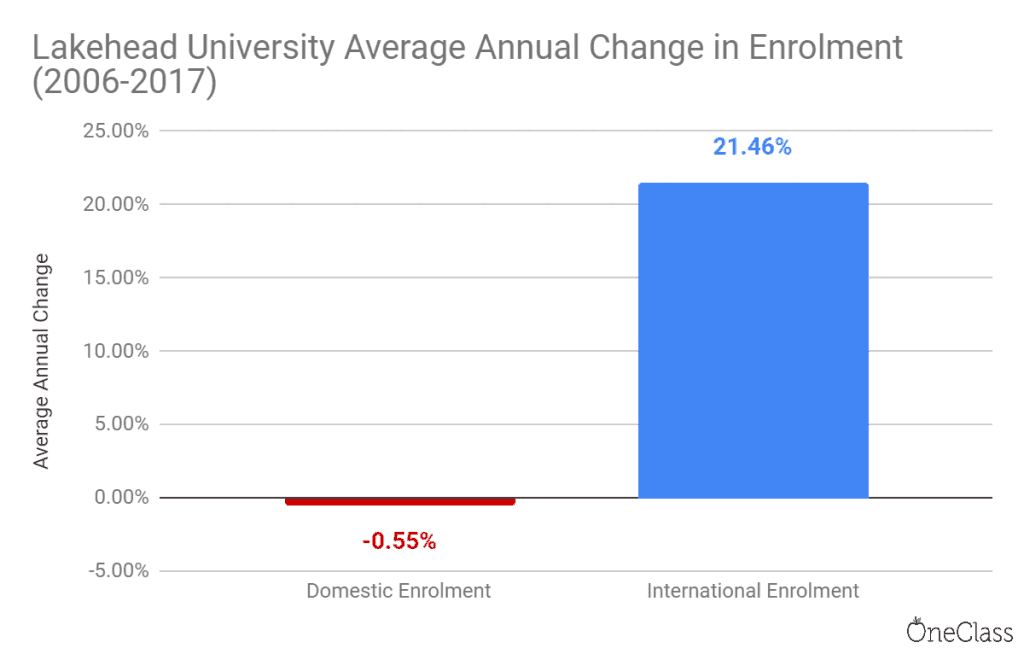 One school that stands out regarding international enrolment is Lakehead University where the average annual increase of international students from 2006-2017 is 21.46 per cent (the highest out of all Ontario universities) while their domestic enrolment has been decreasing at an average annual rate of -0.55 per cent.
The Proportion of International Students Among Ontario Universities has Increased 2.3x from 2006 to 2017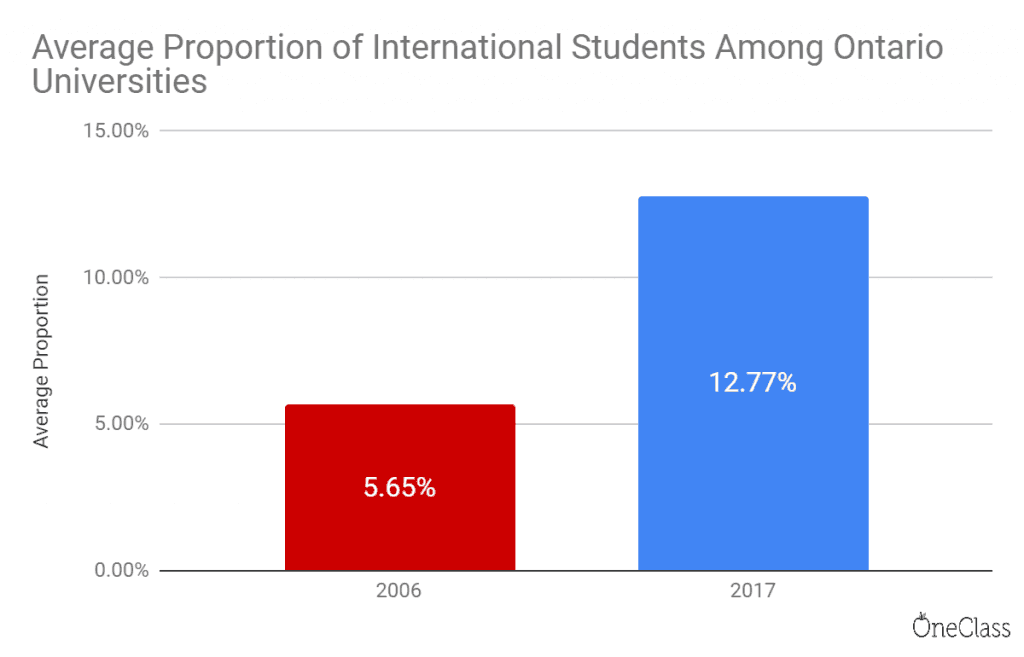 In 2006, the average proportion of international students among Ontario universities was only 5.65 per cent.

In 2017, 12.77 per cent of the student body, on average, is now comprised of international students, which is 2.26x more than what the makeup of the student body was in 2006.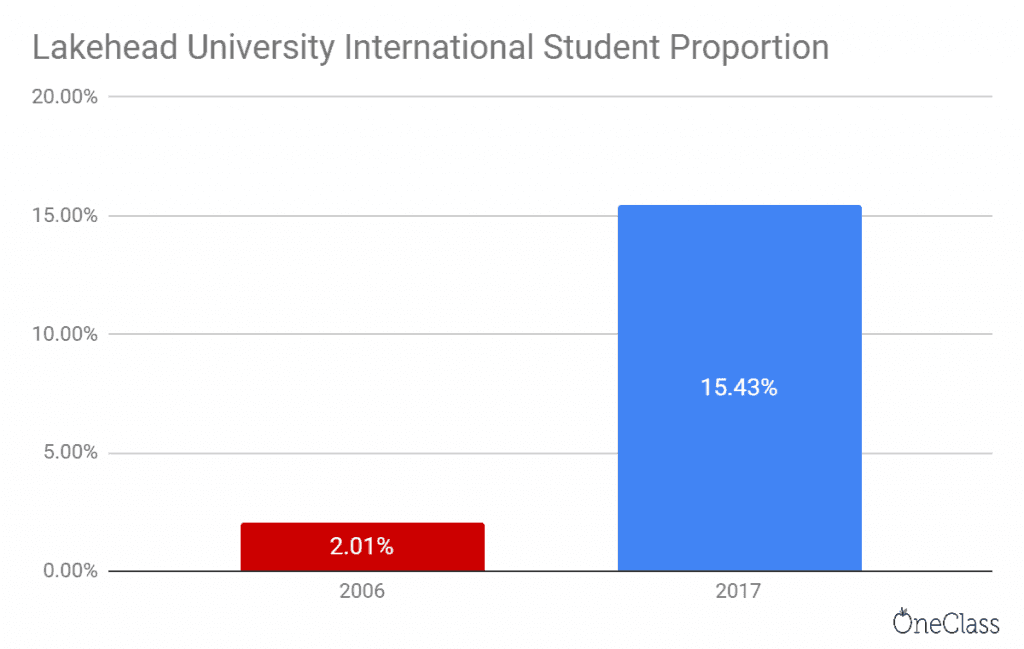 With this metric, Lakehead University stands out again as it had the biggest change in their proportion of international students.

From 2.01 per cent in 2006 to 15.43 per cent in 2017, the proportion of international students at Lakehead University has increased 7.7x in just 12 years.
---
Over the past 12 years, it is evident that schools have been increasingly more reliant on international students to generate revenue.

As demand for higher education in Ontario continues to increase, schools are being able to increase international tuition fees and enrolments at a rate much higher than domestic students to capitalize on this demand.

International tuition fees and enrolments have been outpacing domestic tuition fees and enrolments and it is unlikely this will slow down in the next couple of years.

Due to the mandatory ten per cent tuition decrease that all Ontario universities must abide by, schools will be exploring other ways to offset this loss.

An option for many schools, like the University of Windsor, will likely be to look to increasing international tuition fees and/or enrolment since international tuition fees are uncapped and both international tuition fees and enrolment are much less regulated than its domestic counterparts.

It will be interesting to see how Ontario universities respond to this major change and how their decisions will impact the international student experience as a whole.

---
Notes
*Regarding tuition fees, the schools included are: Brock University, Carleton University, Guelph University, Lakehead University, McMaster University, Nipissing University, UOIT - Ontario Tech University, Queen's University, Ryerson University, University of Toronto - All Campuses, Trent University, Waterloo University, Western University (Main Campus), Wilfrid Laurier University, Windsor University.

Due to incomplete or unavailable historical tuition data, the following schools were excluded: Laurentian University, University of Ottawa, OCAD University, York University.
*Ancillary fees, Incidental fees, UHIP, Ontario's International Recovery fee, and any other fees were excluded from calculations; only tuition fees were included.

*Enrolment data was collected from CUDO by the Council of Ontario Universities.

*Enrolment data is based on both full time and part time students for all levels of degrees including Bachelor's and 1st Professional Degrees, Master's Degrees, and Doctoral Degrees.
---
Sources
CUDO Tool by the Council of Ontario Universities
Nipissing University Cudo Data
UOIT - Ontario Tech University Cudo Data
University of Toronto - All Campuses Cudo Data
Western University (Main Campus) Cudo Data
Wilfrid Laurier University Cudo Data
---
Related Readings:
Students Say Ford's Performance-Based Funding is Misguided
Queen's University by the Numbers: An Intuitive Financial Analysis For Students
---
Suggested Articles in OneClass Featured