Back to OneClass Featured Blogs
How Do the Presidential Elections Affect College Students and Tuitions?
updated : March 13, 2020
The 2020 presidential election will be the first chance for Gen Z to have a say in national politics, and the issues of the generation are primed for national discussion.

For college students, the topic of student debt will be front and center. The average college debt is $36,299, making it a personal issue for the graduate's financial health. Moreover, total student debt has topped $1.3 trillion, making it an economic issue that can't be ignored.

The other major issue at play is the cost of tuition and access to education. Not only has the cost to attend college increased nearly eight times faster than wages, but the steep rates have also been one of the factors driving the student debt problem.

According to Pew Research Center, young people aged 18 to 23 will account for 10 percent of eligible voters, potentially having the capacity to swing the election. This has politicians positioning their campaign to address these issues of student debt and college tuition.

As the field of likely presidential candidates has narrowed down to three, we see a stark difference in both their policies and relationship with higher education. To better understand how the presidential race will impact education, let's explore two things — the top candidates' education positions for the country and the college system in each candidate's home state.

College Education in the Home States of Presidential Candidates

Among the 2020 presidential candidates, the education systems in their home state can be one way to understand their education policies and preferences. The politicians' influence on and relationship with the local college systems varies. However, even in cases when the candidate has had little interaction with the local school system, the nearby campuses can still be informative.

Since Super Tuesday, the three most likely candidates for President of the United States are current President Donald Trump, former Vice President Joe Biden, and Senator Bernie Sanders.

Biden's home state is Delaware, and he completed his undergraduate at the University of Delaware, earning degrees in history and political science. He then went on to receive a law degree from Syracuse University.
Sanders' home state is Vermont, where he's lived since 1968. Before that, he attended Brooklyn College and the University of Chicago, where he got his bachelor's degree in political science.
Trump's home state is subjective. He may be a long-time New Yorker, but he recently filed to change his residence to Florida. We've included both states in our analysis. He attended Fordham University in the Bronx for two years, followed by the University of Pennsylvania, where he earned a bachelor's degree in real estate.
Using data from the College Board, let's look at the cost to attend college in each of the candidates' home states. These numbers reflect in-state tuition at public four-year colleges.

Average College Tuition In Each Presidential Candidate's Home State

Florida (Trump): $6,350
Second lowest in the country
New York (Trump): $8,430
Tenth lowest in the country
Delaware (Biden): $13,290
Tenth highest in the country
Vermont (Sanders): $17,470
Highest in the country
Now, let's look at the amount of college debt recent graduates have in each of the candidates' home states. For the most part, these figures are in line with the tuition rates in each state. The one exception is Vermont. Even though the state has the highest average tuition prices, the average debt falls below both New York and Delaware.

Notably, this statewide data about college debt looks at graduates who attended both public and private four-year colleges. The difference between tuition and debt could be influenced by this different student profile.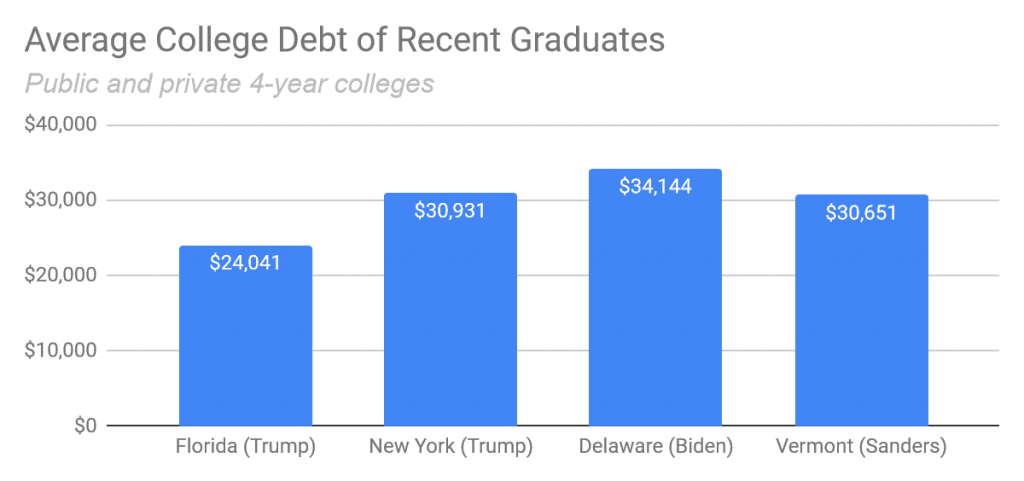 Average Student Debt In Each Presidential Candidate's Home State

Florida (Trump): $24,041
Eighth lowest in the country
New York (Trump): $30,931
Thirteenth highest in the country
Delaware (Biden): $34,144
Fifth highest in the country
Vermont (Sanders): $30,651
Sixteenth highest in the country
Yet the cost and debt associated with higher education are only part of the story. Return on investment is one way to analyze the potential impact of a college education on future earnings. Using data from Georgetown's Center on Education and the Workforce, we looked at the average earnings-price return. Of the four-year public colleges in each state, this figure looks at the ratio of net tuition price to earnings 10 years after enrollment.

The extreme outlier in this analysis is New York. The earnings potential in NYC is so strong that students can far exceed their financial investment in higher education. As ol' blue eyes sang, "If you can make it there, you'll make it anywhere."

Among the other states, ROI rates are in sync with the state's tuition rates. The lower the cost of tuition, the better chances that a graduate will be able to have their earnings outpace their educational investment.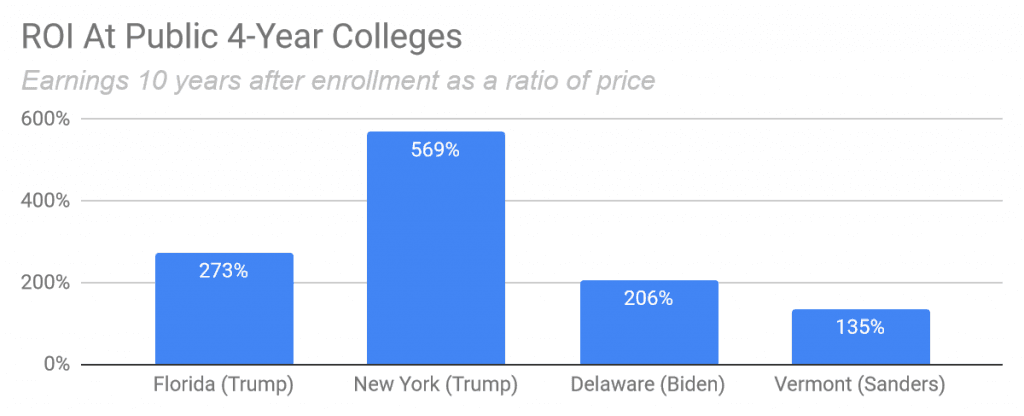 Average College ROI In Each Presidential Candidate's Home State

Florida (Trump): 273%
New York (Trump): 569%
Delaware (Biden): 206%
Vermont (Sanders): 135%
Education Proposals of Presidential Candidates

Do you want to cut out the middleman and hear the candidates' plans for education in their own words?

Here are the available proposals and policy papers from candidates who are running for president in 2020:

Trump: Budget proposal for FY 2020
Biden: Formal education proposal
Sanders: Formal education proposal

Presidential Candidates' Positions on Student Debt
Nearly 45 million Americans currently hold student debt. The personal finance issue is sure to influence the discussion prior to the presidential election. Currently, the average monthly payment on student loans is nearly $400, which is about 10 percent of a recent grad's pre-tax income.

Here's what we know about the candidates' positions.

Position on Student Debt

Loan Forgiveness

Loan Refinancing

Joe Biden
Build on the Public Service Loan Forgiveness Program so more teachers can participate.
Proposes no interest accrual for low-income college grads.
Donald Trump
Proposes eliminating the current Public Service Loan Forgiveness program and implementing forgiveness of all undergraduate debt after 15 years of payments.
Proposes reducing federal repayment plan options from eight to two.
Bernie Sanders
Plans to cancel all student debt.
N/A
Presidential Candidates' Positions on College Tuition

Many Democratic candidates argue that the growing requirement for college degrees in today's job market means that an Associate's or Bachelor's degree should be as accessible as a high school diploma. As to the other side of the aisle, President Trump has a very different approach to college tuition rates. Here's where the candidates stand on the cost of college.

Positions on the Cost of College

Tuition-free college

Debt-free college

Joe Biden
As of March, changed position to support free public college for those with incomes below $125,000.
Unknown
Donald Trump
Proposes cutting the total amount of work-study funding by 56%; the current administration has declined to work with Dems on legislation for free college tuition.
Proposes a cap to student borrowing amounts for parents and grad students and implementing risk-sharing so colleges would be partially responsible if a student defaults on loans.
Bernie Sanders
Continues to support free four-year public college, as he did in his 2016 campaign.
Also supported a Hillary Clinton plan for debt-free college.
Now that we know what the candidates think about college tuition, let's consider where the majority of students stand on this issue. A Harvard poll asked students what they thought about a plan for free community college for all and free public four-year college for those whose families earn up to $125,000 per year.

About 51 percent of students support this initiative, while 28 percent oppose the proposal.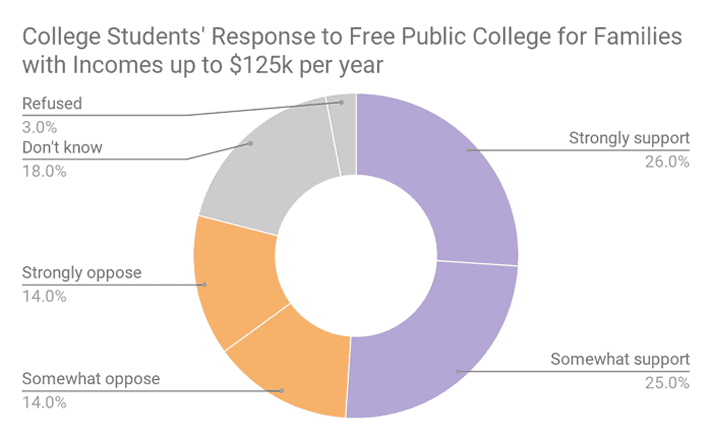 Which Candidate Is Leading Among Young Voters?

The Democratic field has narrowed, and the numbers are becoming clearer about presidential candidate support.

On the Democratic side, even though Biden has more delegates, Sanders is more popular among younger voters. In the Super Tuesday exit polls conducted by the Washington Post, Bernie Sanders has 60 percent of the support of young voters aged 18 to 29. Comparatively, Joe Biden only had 17 percent support from these younger voters.

The feelings of younger voters about the current administration have remained steady, although they do differ from party affiliations. In a college politics report that was prepared by the Panetta Institute for Public Policy, about 19 percent of college students feel positively about President Donald Trump, while 68 percent feel negatively. This is skewed from college student party affiliation with Republicans accounting for 27 percent of college students and Democrats accounting for 55 percent.
What Can College Students Expect During the Election Season?

In the upcoming political campaign, college students are high-value votes to presidential candidates. It's not that the votes will have more weight, but winning over a college student can have a more significant impact.

A UCLA study found that "more freshmen than ever before in the survey's history said exerting political influence is one of their most important life goals," according to the Atlantic.

College students should expect politicians to be strongly campaigning for their vote and influence. As the election heats up, the current situation of political polarization may result in increasing tensions across college campuses.

Learn more about OneClass, an online academic community that's helped millions of students get better grades.

Image attribution: Andrey Popov - stock.adobe.com

---
Suggested Articles in OneClass Featured