Back to OneClass Featured Blogs
How Much Can You Save By Living at Home During College?
While in college, where to live can have big financial consequences. Paying for college already requires that many students take out massive loans, and "Room, board and personal expenses make up about half of college costs," explains the New York Times.

About 61 percent lived closer to home to save money while in college.

There are big cost differences between living locally in an apartment, in a dorm room at a nearby university, or at your parents' house. How much can you save by living at home while you're attending college? Let's review an average student's budget to find out.

What Percentage of College Students Lives at Home?

A relatively small percentage of college students live with their parents; however, it may be more than you realize.

Among undergraduates at public four-year colleges, 17 percent live with their parents. Only 36 percent live on campus, and 46 percent are living off-campus.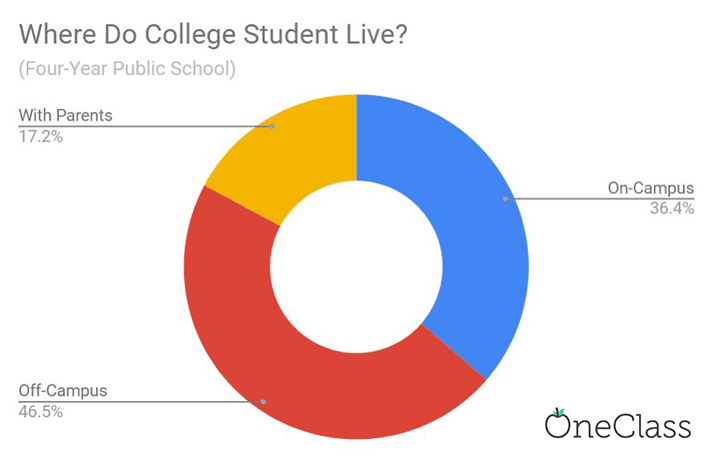 Among students attending private colleges, the data shifts strongly to on-campus housing. At private colleges, 58 percent of students live on-campus, and only 13 percent live with their family.
What's the Cost to Live On-campus?

The average room and board cost in the 2018-2019 school year was $11,140. That's about $928 per month.

What's the Cost to Live in an Off-campus Apartment?

The national median cost for a two-bedroom apartment is $1,190, which would be $595 when split with a roommate.

Keep in mind that apartment rates typically don't include utilities, which could average $92 per roommate.

Nor does an off-campus apartment include meals. On average, monthly food costs for college students range between $166 and $242.

All told, college students could spend $891 per month to live in an off-campus apartment.

How Does the Cost of On-campus Housing Compare to an Off-campus Apartment?

At a national level, living off-campus is $37 cheaper per month than on-campus housing.

However, comparisons between on-campus and off-campus housing largely depend upon local real estate markets. For example, students renting a two-bedroom apartment in Seattle would pay a median of $835 per roommate. In Cleveland, it would be $395 per roommate.

As a result, there's wide variation in housing cost comparisons. An analysis by Trulia compared real estate costs in several markets and concluded that students at Cal Poly would save $636 per month by living on-campus. On the other hand, students at Michigan State University would save $521 per month by renting a place off-campus.
What's the Cost to Live at Home During College?

Cost estimations for students living at home are a bit tricky to estimate. Every household is different, and some parents will want students to contribute to household expenses while others won't.

One UK study found that among the young people living at home with their parents, 35 percent are paying rent, and the average payments were 66 percent lower than the median apartment rates. That would be about $200 per month in U.S. figures.
Additionally, there are commuting expenses. This could cost $216 per month if you're spending 45 minutes each day driving to and from campus. Costs for an on-campus parking permit are typically less than $50 per month. Notably, students attending school in a city with strong public transportation could spend much less on their commute. Each month, transit passes would cost $70 in Washington D.C., $90 in Seattle, or $105 in Chicago.

There's also the cost of meals when not at home. Eating on-campus costs an average of $7.50 per meal.

Therefore, costs for commuter students could be $359.75 per month if you're not paying rent to your parents, driving to school, and eating five meals per week on campus.

How Much Do Students Living at Home Save?

College students living at home could save about $568 per month compared to students living on-campus. That would be $6,819 per year.

Actual savings will vary based upon your personal commuting costs and the housing rates charged by your school. One Southern Illinois University student estimated that she saved $10,000 per year by living at home!
How Do Student Budgets Differ Based upon Where They Live?

About 72 percent of students living with their parents can spend less than $15,000 on non-tuition expenses. That's about 22 percentage points higher than students living in on- or off-campus housing.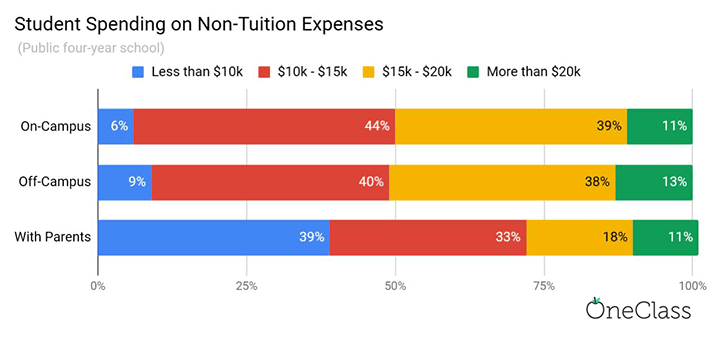 Among these three housing choices, the biggest difference is the percentage of students who live at home and can spend less than $10,000 on their non-tuition expenses.

Only 6 percent of on-campus students and 9 percent of off-campus students can achieve budgets under $10,000. However, nearly 40 percent of those living with their parents spend under $10,000.

What Are the Downsides of Living at Home?

For students who want to save money, deciding to live at home is a great choice. However, when considering both the pros and cons, some notable downsides exist.

A major factor for many students living at home is FOMO. On-campus students have an immersive college experience, while it can be harder to be deeply involved when you're commuting to class. Many experts recommend that commuting students join clubs to help build connections. These activities and connections are especially important for freshmen students when they're starting college.

Living at home may also mean that you have less independence than your on-campus peers. Plus, you'll have to navigate your relationship with your parents in a new way, balancing household rules with college life.

Learn more about how OneClass is helping make college more affordable by paying students to attend class.

image attribution: Halfpoint - stock.adobe.com
---
Suggested Articles in OneClass Featured