Back to OneClass Featured Blogs
Which College Assigns the Most Homework?
Despite what college looks like in the movies, the truth is that students spend a lot of time studying, reading, and doing homework. In fact, the amount of homework that teachers assign at some colleges can be overwhelming.

When considering the average homework per week, the rule of thumb that many colleges use is that for every college credit, students will spend about two to three hours on homework each week. Thus, for a typical three-credit class, students will spend three hours in the classroom and six to nine hours studying.

A full-time student taking 15 credits should estimate five hours per day on homework. With time demands like that, it's no wonder students look for stress-busting tips.

Of course, not all schools are equal. You may find yourself with mountains of homework only to find out that a student at another school has seemingly endless free time. Take a closer look at the colleges and universities that assign the most homework.

Colleges Where Students Have the Most Homework

Princeton Review surveyed college students across the country to find out how many hours they spent working on coursework outside of the classroom. Here are the top 20 colleges where students spend the most time doing homework.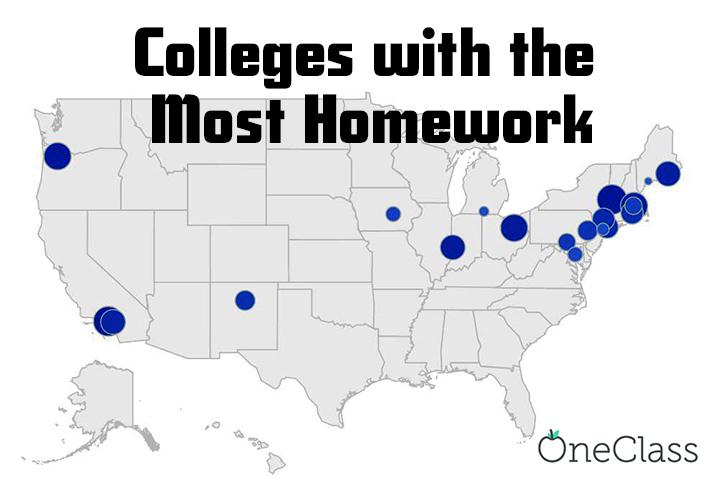 California Institute of Technology, CA
Williams College, MA
Reed College, OR
Franklin W. Olin College of Engineering, MA
College of Wooster, OH
Rose-Hulman Institute of Technology, IN
College of the Atlantic, ME
Harvey Mudd College, CA
Webb Institute, NY
U.S. Military Academy, NY
Brown University, RI
St. John's College, NM
Lehigh University, PA
Gettysburg College, PA
Wellesley College, MA
Grinnell College, IA
St. John's College, MD
Cooper Union, NY
Hillsdale College, MI
Bowdoin College, ME
Colleges Where Students Work the Hardest

In another approach to identifying colleges where students are hitting the books, Niche combined several college data sets, including student reviews, graduation rates, quality of professors, and academic achievements of incoming students.

From this analysis, it's clear that colleges with rigorous academic programs are attended by hard-working students. Here are the top 20 colleges where students are working the hardest.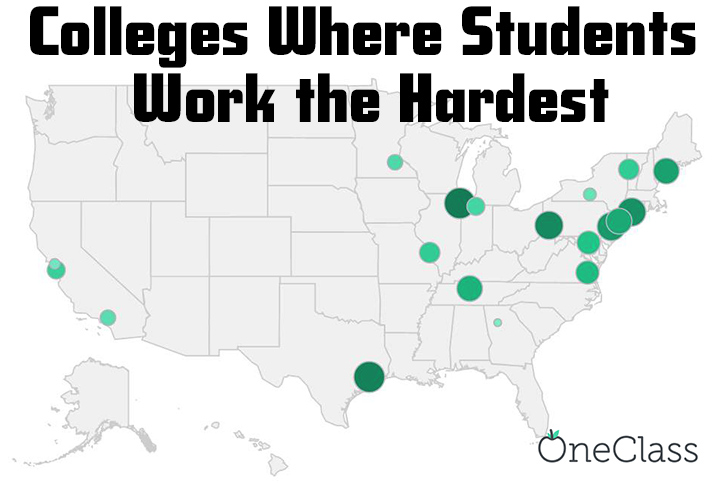 Massachusetts Institute of Technology, MA
University of Chicago, IL
Rice University, TX
Carnegie Mellon University, PA
Yale University, CT
Princeton University, NJ
Bowdoin College, ME
Columbia University, NY
Vanderbilt University, TN
College of William and Mary, VA
Johns Hopkins University, MD
Washington University, MO
(tie) Middlebury College, VT
(tie) Stanford University, CA
University of Notre Dame, IN
Carleton College, MN
Harvey Mudd College, CA
Cornell University, NY
University of California - Berkeley
Georgia Institute of Technology, GA
Do You Wish College Homework Was a Little Easier?

If you're overwhelmed by your homework assignments, you do have options other than starting a campaign to abolish homework. In fact, online resources can help you spend less time on homework and improve your test scores.

First OneClass' Homework Help has subject matter experts available 24/7 to help you with your homework. Simply snap a photo of your homework question, and the online tutors will start preparing a detailed solution. Tutors are available in a wide variety of subjects and can accommodate coursework for high school students through to college seniors.

Additionally, OneClass' online class notes and study guides can be a way to better understand what happened during class. Using shared materials that were uploaded by a classmate, you can review your professor's explanations, catch up on a missed class, and better prepare for exams. You may even find that you're spending less time studying since you'll be working directly from materials that were prepared by a professional note-taker.

Of the millions of students who've used OneClass, more than 90 percent have improved by at least one letter grade. Find out how OneClass can help you get better grades now.

Image attribution: Drobot Dean - stock.adobe.com
---
Suggested Articles in OneClass Featured