Back to OneClass Featured Blogs
Why Parents of College Students Should Care About OneClass
College is an important time that can have lasting effects on a student's life long into the future. It can determine a student's career, financial burden, and ability to thrive. Parents and families may face their own challenges, worrying about the academic success of their students as well as their ability to thrive on-campus.

OneClass is a powerful information-sharing platform that, in many ways, has transformed the ways students learn. Let's review the top five reasons that parents and families should care about OneClass.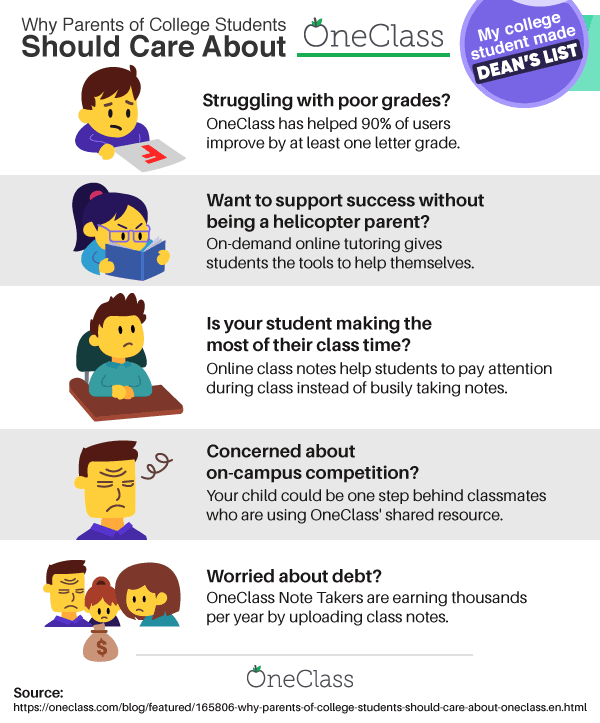 Simply copy and paste the code below and you can share this infographic on your site:
Share this Image on Your Site!
1. Is Your College Student Struggling with Poor Grades?

Academic success in college is crucial. A student with a low GPA could lose financial aid, may have a more difficult time being accepted into graduate school, and may face limited internship opportunities. Additionally, poor academic performance is often seen negatively by professors, which could limit a student's ability to get recommendation letters or receive nominations for research opportunities.

It's clear that grades are important. Luckily, today's sharing economy means that students have access to online resources that can have a dramatic impact on their college grades.

Of the millions of OneClass users, more than 90 percent have improved by at least one letter grade.
This significant achievement is due to users having on-demand access to more than 10 million pages of study documents. Students also have the ability to search for their school, their department, their professor, and their course. This helps them to access the most relevant materials possible.

For example, consider how helpful it would be for a student to access a study guide that was prepared by a classmate. Rather than a generic resource, the document would be tailored to the exact needs of that class.
2. Do You Want to Support Success Without Being a Helicopter Parent?

As a parent, you're committed to the success of your college student. However, being overly involved could have unintended negative consequences.

The New York Times writes that of parents who have children ages 18 through 28, 22 percent have helped them study for a college test, and 76 percent have reminded them about deadlines, including schoolwork. However, research shows that helicopter parenting can cause children to be "less self-reliant and more likely to face anxiety or depression."

A successful strategy for parents is one that gives students the authority to be responsible for their own success. For example, rather than directly helping them with their homework, you can help them to seek out answers by providing access to on-demand online tutoring.

Today's students are finding success in micro-tutoring with OneClass' Homework Help. Whether they're struggling with math, chemistry, or something else, the Q&A platform makes it easy for students to snap a photo of their question. Then, a subject matter expert will reply with a detailed, step-by-step solution. Students can get the help they need, and parents can avoid hovering.
3. How Effectively Is Your College Student Using Class Time?

Lecture classes can be challenging. Some students could find it difficult to pay attention through the entire class. Others could struggle with keeping up with everything the professor is saying. It can become even more difficult if the student has a language barrier or the teacher has an accent.

In many courses, lectures are a critical foundation for academic success. They're the framework for exams, determine homework assignments, and shape the content of projects. As such, there can be academic consequences to falling behind during lectures, and missing an entire lecture could mean that your student struggles for the rest of the semester to catch up.

OneClass' Class Notes let students access notes that were taken by one of their classmates. With this readily available resource, they can fill in the blanks about concepts they didn't understand or catch up if they missed a class. Rather than busily taking notes during class, students are free to actively pay attention.

4. Are You Concerned About On-campus Competition?

For highly competitive colleges and universities, being accepted is only the first hurdle. Students could spend the next four years striving to keep pace with their classmates.

On college campuses, OneClass' shared class materials could be giving some students an advantage. OneClass has helped millions of college students get better grades. If your children aren't using them, they could be at risk of falling behind their classmates. Alternatively, they could have to work harder to get the same grades.
5. Are You Worried About Student Debt?
Student debt has become such a significant issue that presidential candidates have student debt policies, families are looking for strategies to hack student debt, and some students are discovering creative ways to pay for college. However, there's an easy way for students to earn money for something they're already doing.

OneClass Note Takers are earning thousands per year by uploading class notes.

For every class, a student can earn $470 by uploading class notes and study guides. This can add up to significant earnings across a semester or academic year. Plus, when students are paid to attend class, they typically find that it also helps their grades. Not only are they earning, but they're also learning as a result of taking detailed notes and revisiting them when uploading.

Find out how OneClass is helping students succeed in college.

---
Suggested Articles in OneClass Featured