Back to OneClass Featured Blogs
75% of College Students Unhappy With Quality of eLearning During Covid-19
Across the country, college campuses have shut down because of the coronavirus pandemic. While this move to remote learning is a necessary step to flatten the curve, we're only just discovering how the new class format is impacting each student's education.

How are college students doing with the new eLearning format?

To find out, we asked more than 1,000 students how their college courses have changed after college campuses were shut down because of the coronavirus. The survey results reveal that the transition hasn't gone very smoothly.

How Has the Coronavirus Impacted College Learning?
About three out of four surveyed students say they are disappointed with the learning experience after their college classes moved online. As campuses began shutting down in the middle of March, this early data reveals that for the overwhelming majority of students, the transition has not gone well.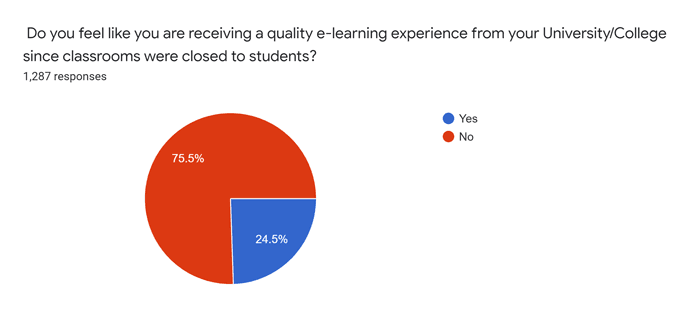 Do you feel like you are receiving a quality e-learning experience from your university/college since classrooms were closed to students?
No: 75.5 percent
Yes: 24.5 percent
Who Was Included in the Survey?
To get a broad sample of responses about the eLearning experience, OneClass reached out to students at 45 colleges and universities across the United States. This included schools in areas such as New York or Washington that have been hard hit by the COVID-19 pandemic.

The 1,287 student responses to the survey came from the following schools:

Binghamton University
Cal Poly San Luis Obispo
Clemson University
Cornell University
Florida State University
George Washington University
Indiana University - Bloomington
James Madison University
Loyola University - Chicago
Michigan State University
New York University
Northeastern University
Ohio State University
Pennsylvania State University
Purdue University
Rutgers university
Syracuse University
Temple University
UC Berkeley
UCLA
University of Alabama
University of Arizona
University of California - San Diego
University of California - Santa Barbara
University of Cincinnati
University of Colorado - Boulder
University of Connecticut
University of Delaware
University of Florida
University of Georgia
University of Illinois
University of Kentucky
University of Massachusetts Amherst
University of Michigan - Ann Arbor
University of Minnesota Twin Cities
University of Missouri - Columbia
University of New Hampshire
University of North Carolina - Chapel Hill
University of South Carolina
University of Southern California
University of Virginia
University of Washington
University of Wisconsin - Madison
Virginia Tech
West Virginia University
Why Has the Student Response to Remote Learning Been So Bad?
In many states, the Department of Education has recommended online learning and social distancing for colleges and K-12 schools to stop the spread of COVID-19. The upheaval of higher education has left the majority of students dissatisfied with their classes.

With 75.5 percent of students feeling that their remote learning experience has not been high quality, it's worth considering some of the reasons that could be underpinning student dissatisfaction.

1. Colleges had to move quickly to online learning.

During these unprecedented circumstances, colleges made fast, sweeping decisions to close campuses and shift curricula online.

For example, Glendale Community College made a school closure announcement on a Friday and wanted college classes to be moved online by the following Wednesday. Some professors responded that they had never used the platform Canvas before and needed training, and 65 percent of professors said they needed more time to make the transition.

Across the country, the digitization of the education system happened on a massive scale and was done as quickly as possible. Without time for careful planning, distance learning classes may still be getting up to speed.

As a Davidson College professor explains, "The current response is triage. We are adapting to maintain as much of the familiar learning and community engagement as we can in the short term." Kristen Eshleman added, "Right now, we need the simplest and most effective methods for our students to achieve the resolution they desire."
2. Students are not necessarily getting the curriculum they expected.

As college students are forced to leave campus, many schools have begun to offer refunds for room and board expenses. However, there's also a question if a partial tuition refund should be on the table. After all, the classroom learning experience that they paid for is not what they're getting this semester.

At NYU's Tisch School of the Arts, nearly 5,000 people have signed a petition for a partial tuition refund. "Art students will be paying full price for an education that lacks the facilities, equipment, technology, services and hands-on experience we are explicitly paying for," said the petition.

STEM classes are also affected by the loss of in-person experience. For Chemistry and Life Sciences students at Harvard, "Students will write lab reports based on taped demonstrations rather than in-person lab work," reports the Crimson.

3. There's a learning curve for the new technology.

The shift online means the tools, technologies and engagement practices may be unfamiliar to students and teachers.

One NYU professor told Slate that during online teaching, typical class openers like, "''How's everyone doing?' will fall flat every time." She also agrees with her colleague: "You need to be as much tech troubleshooter as educator." Even in the best circumstances, "Technology will inevitably fail. Your computer will self-mute, your Wi-Fi will drop out, students will be ejected from the breakout room with no way to put them back in."

In a typical school year, the first weeks of class are usually when teachers and students become oriented with the class format. However, the change in the middle of the semester means the pace of learning needs to slow down for everyone to become familiar with the technology.

Even as teachers support students, college students are finding ways to provide tech support to each other. An Emerson College student said during a lecture using Zoom, "We spent half the class just trying to figure out how it works."
4. Learning online can be difficult.

Students learn differently, and for some, the lack of face-to-face interaction makes learning difficult.

"I just learn better when I'm in a school setting," said one California student studying kinesiology. "It's just something about actually being on the campus and you know, sitting down in class and in getting the lesson and hands-on stuff and being able to ask the teacher right away right there and to break it down."
When taking classes in a home environment, both motivation and focus problems can become an issue. During the past few weeks, social media has been flooded with memes about the difficulties and moods of trying to learn remotely.

5. Grades are a concern.

Students who were worried about their GPAs before the switch to eLearning are worried that things will get even worse now.
It's not a new phenomenon that online education results in lower grades. A 2013 study in the Harvard Business Review found that students who take online courses receive final grades that are an average of 7.5 percent lower.
In response to grading concerns during the coronavirus outbreak, several schools have begun to offer pass/fail options. In some cases, this can be a helpful response to COVID-19 challenges.
As the question of grading policies continues to develop, effective online learning tools can help students continue to push their educations forward even as circumstances change. A growing resource of free and shared information is helping students succeed.
Find out how OneClass's livestream tutoring sessions can help you get the grades you want.
image attribution: alexshutter95 - stock.adobe.com

---
Suggested Articles in OneClass Featured