Back to OneClass Featured Blogs
Will You Withdraw If Your Current School Only Offers Remote / e-Learning Option for Fall 2020
The coronavirus pandemic has caused a massive upheaval to education and many are questioning if there will be an online fall semester.

This spring, colleges started sending students home, and educators had to quickly pivot to online learning. Now, 75% of college students are unhappy with the quality of education they're receiving this semester, and there's a big question mark about the fall semester.
Will college students withdraw from school if eLearning continues?
To find out, we asked more than 1,000 current college students what they plan to do if the fall semester is also moved online. The results reveal that a large portion of students plan to change their education plans.
What Will College Students Do if Classes Are Online in the Fall Semester?
The future of higher education classes is uncertain, and many are debating if students will return to campus this fall for in-person classes or if teaching and learning will remain online.

How are college students reacting to the potential of online classes this fall?

We asked more than 1,000 college students who attend 25 colleges and universities across the U.S. While the majority of students plan to continue their college studies even if remote learning, a surprising 35 percent of students plan to withdraw.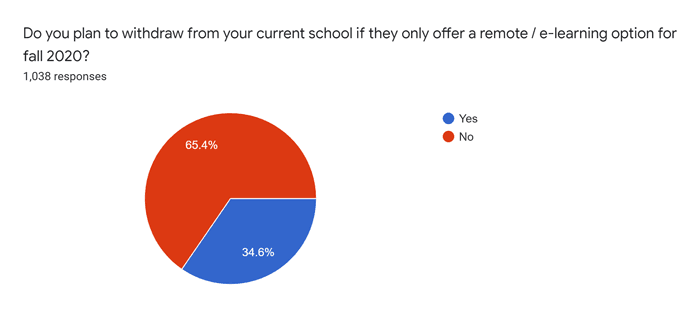 Do you plan to withdraw from your current school if they only offer remote classes or eLearning for the Fall 2020 semester?

Who Was Included in the Survey?
To understand the wide range of student perceptions, our survey sampled students in locations around the country. We included schools in coronavirus hotspots like NY and NJ, as well as lower-impact locations. We also included both public and private colleges.

The 1,038 students who responded to this survey attend:

Cal Poly - San Luis Obispo
Florida State University
Indiana University - Bloomington
Michigan State University
New York University (NYU)
Northeastern University
Pennsylvania State University
Rutgers University
Temple University
University of Florida
University of California - Berkeley (UC Berkeley)
University of California - Los Angeles (UCLA)
University of Cincinnati
University of Connecticut (UConn)
University of Florida (UF)
University of Georgia (UGA)
University of Illinois
University of Kentucky (UK)
University of Massachusetts - Amherst
University of Michigan - Ann Arbor
University of Minnesota - Twin Cities
University of Missouri - Columbia
University of South Carolina
University of Wisconsin - Madison
Virginia Tech
Why Will 35% of College Students Withdraw Because of Online Classes?
In an analysis of the free-response comments students made with their answers, we found a consistent theme. Replies were split with about half of students saying they'll withdraw because online classes are a poor learning experience. The other half say that online classes are a poor value.
Here's what the students who will withdraw had to say:
Poor Learning Experience

Poor Value

Technology: "I'm not paying full price for YouTube university," said a Cal Poly student.


Out-of-State Tuition: "There's no reason to pay out-of-state tuition if I'm at home," said a University of Georgia student.


Campus Life: "A large part of why I go to college is about the college experience. I do not see why I would pay $15k to go to UMass Amherst when I can just take a semester off and take classes at my local community college online for much cheaper," said a UMass Amherst student.
What Will College Students Who Withdraw Do Instead?
When students revealed their contingency plans, there were four common thoughts about what they'll do instead of attending online classes at their current school:

Attend a Community College
Take a gap semester
Transfer to a school with in-state tuition
Get an internship or job
For students who aren't able to take face-to-face classes, community colleges may see a bump in their enrollment as students look for a better value for their education. The majority of states offer free or reduced-cost community college.

Why Will 65% of College Students Continue eLearning in the Fall?
For the majority of college students, plans to continue their college education remain, even if classes are fully online. Here's what they had to say:

Learn about the free livestream tutoring that OneClass is offering to college students during COVID-19.

image attribution: Svitlana - stock.adobe.com
---
Suggested Articles in OneClass Featured