Back to OneClass Featured Blogs
How Has the Pandemic Affected Your Ability to Afford School?
For many college students, the COVID-19 pandemic has disrupted so much. It's not just moving off campus and switching to online classes. The new economic reality of the coronavirus means that the dreams, goals and career plans for these young adults could all be put on hold.

In a recent OneClass survey, more than 10,000 college students shared how the changing economics of COVID-19 have affected their ability to afford college tuition. Here's what they said.

Is College Still Affordable During the Coronavirus Pandemic?
Among the student population, the economics of the COVID-19 pandemic have had vastly different impacts on their ability to continue their education.

To learn more about the financial reality, we asked college students from around the country how the coronavirus has affected their ability to afford college. We heard from 10,839 students who are attending 255 colleges and universities across the country.

The answers reveal that COVID-19 had three different effects: 

Students with tuition financing problems (50.9%)
Students who haven't been negatively affected (41.8%)
Students who are changing gears to do something else (7.3%)
Within each of these categories, there is an array of circumstances. For example, some students lost scholarships while others lost jobs. Some students are exploring their options while others are pursuing full-time jobs. 
This will have a dramatic impact on the upcoming fall semester, and 56 percent of college students say they're no longer able to afford tuition.
How Has COVID-19 Affected Your Ability to Afford College?
Can No Longer Afford Tuition: 56.2%

I Have to Find New Financing: 49.4%
I Have to Seek Other Options: 5.3%
I Have to Leave and Seek Full-time Employment: 1.5%

May Still Be Able to Afford Tuition: 43.8%

It Hasn't Affected Me: 41.7%
Lost Job: 0.8%
Lost Scholarship: 0.5%
Lost Job at School: 0.2%
It Has Affected Me: 0.5%
It Has Made It More Affordable: 0.1%
Which Colleges Have Been the Least Disrupted by COVID-19?
Further analysis of survey responses reveals additional trends about how the economic disruption of COVID-19 has been distributed.

Among colleges that have a strong sample of student responses, the data shows that some schools have a strong majority of students who are planning to continue their college education. At other schools, only nine percent of student respondents report having no changes to college affordability.

To identify the colleges that are least impacted by COVID-19, we looked at the schools that have the largest percentage of students where affordability was not affected by the pandemic.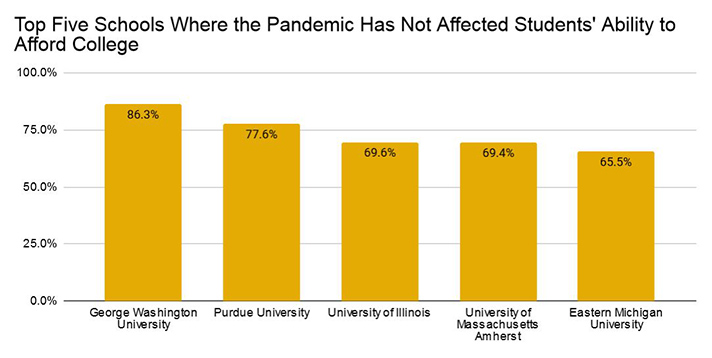 Top Five Schools Where the Pandemic Has Not Affected Students' Ability to Afford College
George Washington University: 86.3%
Purdue University: 77.6%
University of Illinois: 69.6%
University of Massachusetts-Amherst: 69.4%
Eastern Michigan University: 65.5%
Notably, at the top of the list is GWU, a private university with undergraduate tuition at $55,230 per year. The other schools are state schools with much lower tuition costs, ranging from about $10,000 to $16,000 per year for in-state students.

For students attending these colleges, the continued ability to afford college is likely not isolated to a single factor. Instead, it's underpinned by the students' household finances and the type of financial aid they're already receiving.

There are countless possible scenarios. For example, a high net worth household could have the financial resources to continue paying tuition. A middle-income household could continue to pay for college because their earnings continued while working from home. For a student in a low-income household, the type of financial aid they're receiving could protect them from changing economic circumstances.

Where Has College Financing Been Most Disrupted?
When we look at students who report that they have to find new financing, we also see a wide spread of responses among colleges. At some schools, as much as 90 percent of student respondents report they are scrambling to find new financing. Yet at other schools, there may be only 14 percent of students looking for new financing.

To understand where students are facing the biggest tuition challenges, we identified the top five schools where students say they need to find new college financing.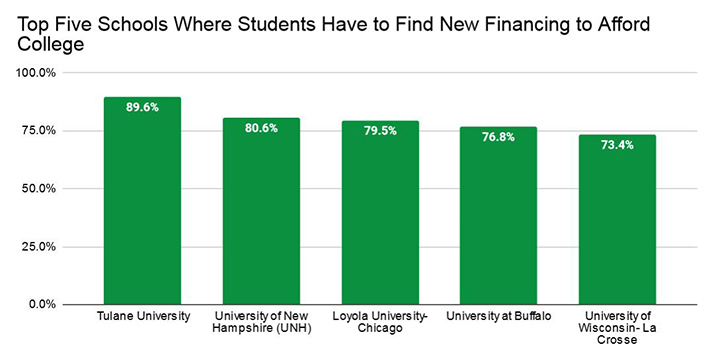 Top Five Schools Where Students Have to Find New Financing to Afford College
Tulane University: 89.6%
University of New Hampshire (UNH): 80.6%
Loyola University-Chicago: 79.5%
University at Buffalo: 76.8%
University of Wisconsin-La Crosse: 73.4%
At Tulane, tuition is $54,820 per year, but the typical financial aid package totals $42,443. With nearly 90 percent of student respondents saying they're looking for new financing, the student body is facing significant disruption because of the coronavirus pandemic.

With a pending financial aid crunch, Tulane launched an Emergency Aid program for students, is developing ways for work-study students to work remotely, and is identifying how to distribute CARES Act funding to students.

Even though Tulane says it's on track to hit their enrollment goals for the upcoming semester, the school may see fewer students returning this fall, and high school students may delay their attendance plans.

Where Are College Students Most Unsure of the Future?
Many students report uncertainty about what's next for their higher education plan. These colleges have the largest percentage of students who are seeking other options in response to college affordability during COVID-19.

Top Five Schools Where College Students Are Seeking Other Options

Millersville University: 24.6%
Winona State University: 16.7%
UW-Milwaukee: 16.5%
Belmont University: 15.3%
Temple University: 14.9%
These student responses indicate underlying uncertainty about tuition costs.

There are countless options students could be considering. For example, students could be redoing their FAFSA application with updated income information. The resulting federal student aid package details may reveal if college is still affordable during the coronavirus pandemic

Plus, students may also be looking into free community college programs in their state as a low-cost way to take care of prerequisites or earn an associate degree.
Find out how free learning resources from OneClass can help students succeed in their classes during the coronavirus pandemic.

image attribution: Viktoriia - stock.adobe.com

---
Suggested Articles in OneClass Featured