Back to OneClass Featured Blogs
Have your online classes been worth the tuition price?
During COVID-19, attending college is a different experience, but in most cases, the tuition rates are the same as a typical year.
The majority of college students are taking some form of online classes, and only four percent of colleges are fully in person this fall semester, according to the Chronicle of Higher Education.
This raises the question: If families are still paying the same tuition rates, but students are getting something different, how does the value change? To find out, we surveyed more than 10,000 college students across the country to ask if their online classes were worth the tuition price. Here's what they had to say.
Nearly All College Students Think Online Classes Are Not Worth the Tuition
The overwhelming majority of students say that their online college classes during the coronavirus pandemic are not worth the cost of tuition. About 94 percent of college students feel that online classes were not a good value, and just six percent replied that they weren't sure or that the tuition was worth it.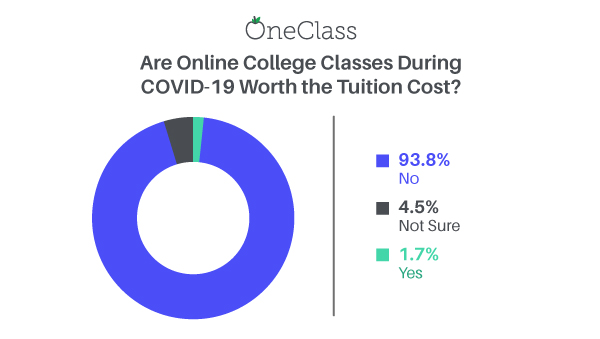 Are Online College Classes During COVID-19 Worth the Tuition Cost?
No: 93.8%
Not Sure: 4.5%
Yes: 1.7%
Who Was Included in the Survey? 
The cost of tuition is an important issue during COVID-19. By including a broad sample of respondents, we can get a clear picture of the student experience regardless of regional variances or school policies.

Our survey included 10,367 college students who are current freshman, sophomores and juniors at one of 191 colleges and universities in the United States.

All students are seeking a bachelor's degree at a four-year school. A wide geographic distribution was included. The list of schools includes both state universities and private schools, large and small schools, and colleges in the full range of urban to rural campuses.

How Do Online Courses in the Fall Compare to the Spring Semester?
Many expected online classes this fall to be different from the spring semester's quick pivot to remote learning.

Social distancing is now the norm. There was more time to plan for remote learning in the fall semester, and professors could adjust curriculums as needed. However, student perceptions of online classes have remained relatively consistent over the past several months:

April 2020: 75.5 percent of college students were unhappy with the quality of eLearning.
July 2020: 93.2 percent said that college tuition should be lowered if classes are online.
October 2020: 93.8 percent of college students say online classes aren't worth the tuition.
What's the Value of Online Classes During COVID-19?
There are two issues at play when considering the move to remote learning—quality and cost.

When something is perceived as a good value, the quality of the product or service feels equitable to the amount it costs. However, our survey data tells us that the quality of education has changed during COVID-19. However, since the cost of tuition hasn't changed accordingly, classes are no longer seen as a good value.

At many schools, the only change in cost for a remote fall semester is eliminating on-campus room and board fees. Using data from the College Board, the below chart compared the average cost of tuition, fees, room and board with the average costs for just tuition and fees.

Costs in a Typical Year
(On-campus classes, meals and housing)
Costs during
COVID-19
(Remote learning with no room or board)
Public Four-year
College (In-State)
$21,950
$10,440
Private Four-year
College
$49,870
$36,880
Even though classes have dramatically changed, students are receiving the same financial aid packages and will graduate with the same amount in student loans. A Cal Poly student told OneClass, "I'm not paying full price for YouTube university."

College administrators have effectively communicated their own budgetary issues, and students understand that the cost to run a higher ed institution persists even when classes move online. However, students continue to advocate that changes to the school year should result in tuition changes.

Ithaca College junior Meghan Marzella told the AP, "Tuition covers so much more than just classes. The reality of the situation is, we're still paying for things that we can't access."

Is There a Way Around the Cost of Regular Tuition Rates?
Some enterprising students are getting creative about how to negotiate college during COVID-19.

In seeking college classes that provide a better value, more students are taking online classes through a digital-first platform. Students can then transfer these credits to a degree-granting institution. There is a big cost difference between the two types of online classes, even though both offer college-level education.

Average Cost for a 3-Credit Class
Through a Degree-granting College or University
Cost for a 3-Credit College Class on OneClass
$1,782
$330
Taking a OneClass Booster Class can help students keep learning while avoiding overpaying for online classes. Students can use the platform to take prerequisite classes while keeping up with their peers and staying focused on graduating on time.

What Should Students Look for When Choosing Online Classes?
It's important to remember that not all learning platforms offer the same quality of online classes. For alternate learning approach to be useful for the student's education and applicable to college requirements, platforms should be assessed on the following three categories:

Top-tier quality: Some online learning platforms invite anyone to teach classes. Look at the platform's credentials to make sure the education you receive online is up to the standards of a college class. For example, OneClass instructors are qualified subject matter experts and professional instructors.
Personalized learning: A key failure of many online classes is the assumption that all students learn the same way. A more effective approach is to provide learning tools that support online students across all learning styles. In the OneClass platform, each skill is taught in three different ways so online students can learn the material through their preferred instruction method. For students who typically struggle with online classes, this variety provides the tools to succeed.

Intelligent platform: The best online programs don't try to use technology to recreate the in-person experience. Instead, they leverage technology to optimize learning and improve engagement. With OneClass Booster Classes, the system detects the information a student is struggling with and recalibrates its content to spend more time on those areas. Rather than the one-size-fits-all approach, effective digital classes have algorithms to help students learn faster and get better grades.
Find out how to earn college credits through OneClass with accredited online college classes.
image attribution: Olga - stock.adobe.com
---
Suggested Articles in OneClass Featured