Back to OneClass Featured Blogs
Survey: 64% Think Student Loan Forgiveness Won't Happen
The 44.7 million Americans with student loan debt have a personal stake in any student loan forgiveness policies the new administration may implement.
For current college students and recent graduates, the issue is even more pressing. They may have taken out student loans before the economic crisis of COVID-19, and the changing economy may have disrupted their earning potential before their careers ever really began.
Before the election, there was plenty of talk about student loan forgiveness. As campaign promises shift into governing and political squabbling continues, there's debate about whether the government will take action to address the $1.7 trillion in U.S. student loan debt.
We were curious to find out if college students think any debt policies will be implemented. The findings from a recent OneClass poll reveal that most college students are not optimistic that the new administration will forgive student debt.
Survey Results: What Do College Students Think Will Happen to Student Debt?
More than 3,000 students were included in the OneClass poll asking if student loan forgiveness will be implemented.

Nearly two-thirds of college students are not optimistic that student loan forgiveness will occur. Almost a quarter of students are cynical about the issue and think that discussion of student loan forgiveness is a way to score political points or attract young voters. A small percentage of college students believe that a student debt forgiveness program will be implemented.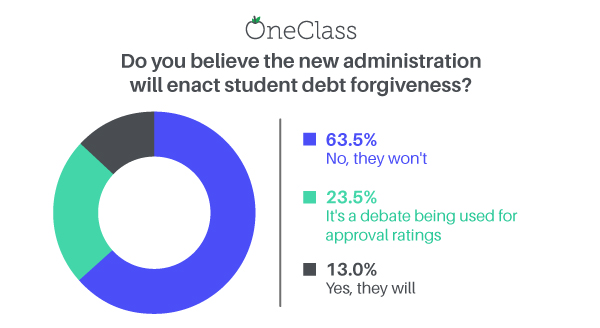 Do you believe the new administration will enact student debt forgiveness?
No, they won't: 63.5%
It's a debate being used for approval ratings: 23.5%
Yes, they will: 13.0%
Who Was Included in This Survey?
OneClass included 3,649 current college students in our January 2021 survey asking whether the new administration will enact a student debt forgiveness program.

Each survey participant is a current freshman, junior or senior at a four-year college or university in the U.S. The survey includes a wide geographic distribution of participants. More than 230 colleges were represented, including both public and private colleges as well as large and small schools in both urban and rural settings.

How Does Support of Debt Cancelation Differ from Expectations?
Even though the majority of Americans support some degree of student debt cancellation, only 13 percent of college students expect to see a policy implemented by the new administration. The remainder could be taking a cue from Bernie as they watch the new Biden administration.

Surveys have shown that there is strong support for student loan forgiveness programs and student debt reform. About 56 percent of adults support $10,000 in student loan cancelation, according to a January poll from Morning Consult. When asked about forgiving up to $50,000 in student debt as progressive lawmakers have suggested, support is still strong with 46 percent of adults in favor of the policy.

What's the Biden Administration Doing for Student Debt?
In the early days of the administration, Biden has already taken some steps to address student debt payments. Although movement on student loan forgiveness has been minor, the president has signaled his intent and strategy.

Here's what has happened so far:

Deferred Student Loan Payments for COVID-19 Relief: President Biden addressed this issue on his first day in office, and the Department of Education's COVID-19 relief program on federal student loans has been extended through September 30. This means that monthly payments are suspended, loans won't accrue interest, and loan servicers are stopping collections on loans in default. Only federal student loans are affected, not any loans issued from private agencies.

Appointed Janet Yellen as Treasury Secretary: Biden's appointment of Janet Yellen as the Treasury Secretary indicates that he could be serious about student loan reform. When Yellen was the Federal Reserve Chairwoman in 2014, she warned that student loan debt may be holding back the housing market recovery. This reveals how she may see the student loan problem in relation to the COVID-19 economic recovery.

Requested Congress Cancel $10,000 in Student Loans: Biden has signaled that he won't be canceling student debt through executive action and will instead send the issue to Congress for legislation. Experts say that a bill is likely to get passed because of the Democratic majority.  However, the issue could stall as those on the left argue for $50,000 in debt cancelation while others try to scale back who could qualify for forgiveness.

The timelines of any debt reform remain vague. Biden has a large education agenda, but it's taken a back seat to other priorities such as vaccine distribution. If legislation on debt cancelation is seen as an education issue, it may be more than a year before it becomes a priority. However, student loan debt could be addressed sooner if it's considered as a component of COVID-19 related economic stimulus.

How Was Student Debt Forgiveness Used in the Campaign? 
With about a quarter of college students thinking the issue of student debt was used as a campaign ploy for approval ratings, we were curious about what the politicians were saying during the presidential campaign.

In the spring of 2020, we looked at how the presidential elections would affect college students. At that point, the presidential candidates were Joe Biden and Bernie Sanders for the Democratic Party and Donald Trump on the Republican ticket. The candidates were proposing vastly different loan forgiveness policies.

Sanders was campaigning that he would cancel all student debt if he were elected president.
Biden was saying he would expand on the existing Public Service Loan Forgiveness Program so more teachers can participate. After the field narrowed, he adopted Senator Warren's plan to forgive $10,000 in federal student loans per person.

Trump was proposing to eliminate the current Public Service Loan Forgiveness program and implement forgiveness of all undergraduate debt after 15 years of payments.
Why Are Grades Important to the Student Loan Debate?
We usually think of student loans as a financial or economic problem. This limits the discussion of student debt to tuition amounts, loans and financial aid. However, there are a few reasons academics also affect financial outcomes.

Good grades can help students qualify for academic scholarships. Academic achievement helps students qualify for more scholarship funding, and maintaining a GPA is often a requirement for college students to keep their scholarships. Therefore, a student who doesn't do well in their classes can be responsible for a larger share of their tuition and may need to take out thousands more in student loans.
Of course, this isn't true in all cases, but we have seen some students have higher student loan balances because they didn't earn the grades they needed for their scholarships.

Academic success can also affect whether students complete their degree. About 57 percent of students who take out student loans drop out of college. These students will face the high cost of education without its associated pay bump. The result is a pervasive debt burden. Based on payments as a percentage of earnings, it will generally take 15 years longer to pay off student debt without a degree.

Better learning tools can help some of these students complete their degrees and achieve better financial outcomes.

With the context of how important grades are to student debt burden, it makes sense that students who invest in learning tools could see a significant return on investment. About 90 percent of OneClass users report their grades have improved by a letter grade or more. By using the learning tools that make a difference, students can maximize scholarship funding and overcome the hurdles that are standing in the way of their college degrees.
Learn more about the crowdsourced study guides, shared class notes, Q&A homework help, and digital class companions that are available on OneClass.
image attribution: kues1 - stock.adobe.com
---
Suggested Articles in OneClass Featured