Back to OneClass Featured Blogs
91% of College Students Have Mental Health Struggles During COVID-19
The coronavirus pandemic has been stressful for many, and a new OneClass survey sought to find out how the mental health of college students has been affected.
Nearly 6,000 college students were asked how their mental health has been impacted by their school's COVID-19 policies and administration communications. Here's what they had to say.
College Students Report Poor Mental Health During COVID-19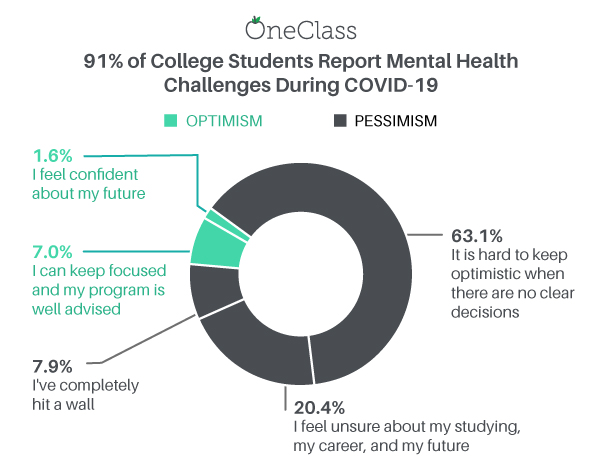 How has your mental health been affected by your college's inability to provide clear answers and guidelines for COVID-19?

It is hard to keep optimistic when there are no clear decisions: 63.1%
I feel unsure about my studying, my career, and my future: 20.4%
I've completely hit a wall: 7.9%
I can keep focused and my program is well-advised: 7.0%
I feel confident about my future: 1.6%
Who Was Included in This Survey?
During the week of February 19, OneClass polled 5,923 current college students to ask about their mental health. Respondents included a mix of freshmen, sophomores, and juniors. The data sample included a wide geographic distribution across the country.

Students from 232 U.S. colleges and universities participated, including a range of public and private schools, as well as large and small campuses.

Decline of College Student Mental Health During COVID-19 
Only 8.6 percent of those responding to the survey felt optimistic about the future and could maintain focus on current classwork. For the remaining 91.4 percent, the COVID-19 situation has led to a negative outlook, anxiety, and uncertainty.

These results demonstrate the significant impact that higher education's COVID-19 response has had on student well-being.

Even though it's a challenging time for many groups, the stakes can feel higher for young adults. The pandemic has been an extreme speed bump for college students as they're trying to establish a career path and train in their field of study. Instead of studying calculus and making big decisions about their future, students are using their mental energy for COVID-19-related issues. Concerns include everything from health and safety to hoping their education choices enable them to pay off their student loans.

The mental strain has taken a toll, and OneClass data shows that 85 percent of students saw their grades suffer during COVID-19.

Impact of Changing COVID-19 Policies on College Students
In addition to the uncertainty around the virus itself, evolving campus policies add an additional challenge for college students.

As health situations change, it's been a critical safety precaution for colleges to issue new COVID-19 guidelines and precautions. It began with the quick transition to remote learning last year, and policy changes have continued in the months since. The responses have certainly helped stop the spread of the virus, but they are disruptive to learning, student life, and daily stability.

For example, at Pennsylvania's Bucknell University, a recent spike in COVID-19 cases prompted more stringent campus guidelines that included switching to fully online classes, limiting research labs to three people at a time, and changes to housing and dining hall policies.

Despite the many benefits of quick action, these policy changes are a disruption to students. As students desire more clarity, guidance, and stability, their mental health has struggled.

The effect of disruptions on student performance has been demonstrated before COVID-19. In one study of younger students, researchers found that students moving between schools is associated with poorer grades in reading and math, a higher risk of dropping out, and lower school engagement.

College was hard enough before the pandemic, and the uncertainty surrounding COVID-19 guidelines has made it harder.

Students Question College Policies and Transparency
Not only has each school's COVID-19 guidelines changed over time, but there's also a wide variety of responses between schools. This can have students questioning whether their college is making the best decisions to keep their campus safe.

COVID-19 guidelines at different colleges have been vastly different. For example, the class format has varied by institution, and some schools are primarily online, while others are in-person or hybrid. COVID-19 testing policies are also a concern, and only about a quarter of colleges are routinely testing students. Even then, there are different testing practices.

One student at Missouri Valley College told Inside Higher Ed that her college's response to COVID-19 made her uneasy being on campus. In addition to concerns about notification, discovering the school was using antibody tests rather than viral detection tests "has been giving me anxiety attacks," she said.

COVID-19 reporting standards were also an issue. Even though many colleges use COVID-19 dashboards to keep the campus community informed, they were inconsistently implemented. The comparisons on We Rate COVID Dashboards found that colleges weren't always using best practices such as daily updates or showing the positivity rate out of the total number of tests administered. 

Many students have been asking for clarity about the information that's shared and the guidelines that have been implemented.

Transparency and communication are critical to building trust between the student body and administrators. However, these relationships have been strained on many campuses. Some colleges have been quick to blame student actions when there's a viral outbreak, and students question campus policies, asking if they're the best way to keep everyone safe.

All of these concerns about safety, regulations, and transparency use mental energy and can create a culture of uncertainty or anxiety. Needless to say, that's not the ideal mental state for learning.

College Student Mental Health Before and After COVID-19
Even before the pandemic, mental well-being was an issue for college students. A 2018 survey found that about 60 percent of college students experienced overwhelming anxiety, and about 40 percent say they were too depressed to function.

The many challenges of COVID-19 have not made it any easier. As college administrators and students look ahead to a time when COVID-19 is no longer an imminent threat, it will be important to address the psychological trauma and mental health fallout of pursuing a degree and participating in a college community during a pandemic. 
Find out how OneClass can help college students learn more efficiently through personalized courses, study guides, and homework help.
image attribution: PheelingsMedia - stock.adobe.com
---
Suggested Articles in OneClass Featured