Back to OneClass Featured Blogs
OneClass vs. Brilliant: Online Class Comparison
This year, online learning became the norm. However, even though online classes all use technology, there can be big differences between each learning platform.
This comparison of OneClass and Brilliant breaks down the differences between the two online class platforms. Find out which online classes are the best fit for your needs.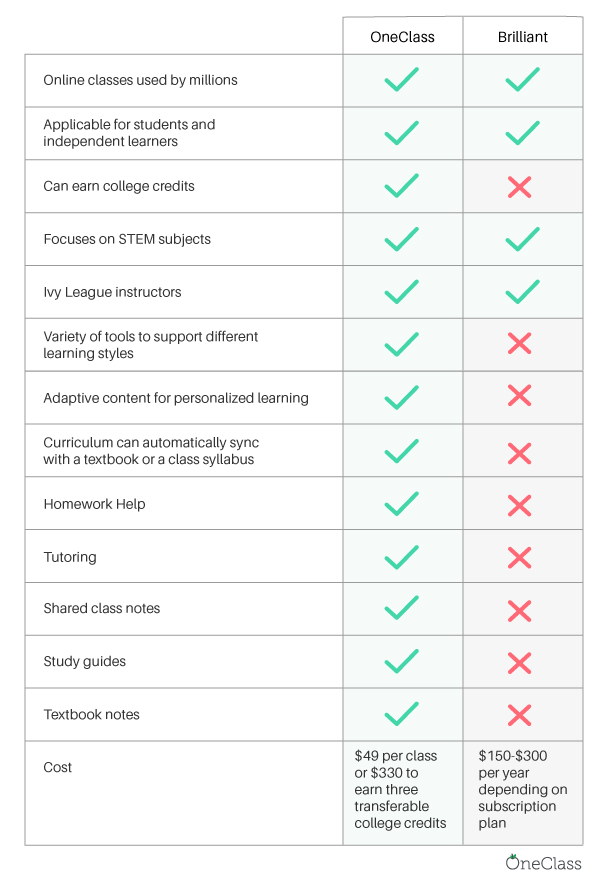 OneClass vs. Brilliant: Online Class Basics
| | | |
| --- | --- | --- |
| | OneClass | Brilliant |
| Online classes used by millions | Yes | Yes |
| Applicable for students and independent learners | Yes | Yes |
| Can earn college credits | Yes | No |
| Focuses on STEM subjects | Yes | Yes |
| Ivy League instructors | Yes | Yes |
When we look at the basics, we see that OneClass Booster Classes and Brilliant have many similarities. Both platforms offer popular online classes that are used by millions. The platforms also offer learning tools that are useful for current students, lifelong learners, or anyone needing to brush up on their skills.
Both OneClass and Brilliant use Ivy League instructors for a high-quality learning experience. And both have been recognized in their industry with the founders for each platform having been named to Forbes 30 Under 30.
OneClass and Brilliant both focus on STEM classes:
OneClass offers classes in Chemistry 1 and 2, Calculus 1 and 2, Macroeconomics, Microeconomics, and Physics. For high school students, there's also AP Calculus AB and BC and AP Chemistry. 
Brilliant groups its content into nine different learning paths. Options include math, statistics, computer science, science foundations and more. 
A key difference between the two platforms is that OneClass can be used to earn transferable college credits. While some students use the classes for independent learning, those who sign up for college credit will receive a transcript from Becker College after successfully completing the course. These credits can be transferred to just about any other college or university in the U.S.
OneClass vs. Brilliant: Instruction Methodology
| | | |
| --- | --- | --- |
| | OneClass | Brilliant |
| Variety of tools to support different learning styles | Yes | No |
| Adaptive content for personalized learning | Yes | No |
| Curriculum can automatically sync with a textbook or a class syllabus | Yes | No |
The teaching methods used on the two platforms are very different.
OneClass Booster Classes were designed to support a range of learning styles. Lessons include video lectures, theory, practice sessions, quizzes and more. No matter what type of learner you are, OneClass has resources to help you understand new material.

Brilliant doesn't use this multimodal approach to learning. Instead, it only focuses on problem-solving.

The OneClass platform is also optimized to help you learn more efficiently. Students aren't forced to follow the same learning program as every other student. Instead, adaptive personalization technology helps each student to spend their time in a way that's most helpful. Because of this, students can accelerate through concepts they understand, spend more time on concepts they struggle with, and avoid the boredom that causes many students to abandon online classes.

Plus, the automatic syncing tool makes it easy for students to use OneClass alongside a course at a traditional school. Booster classes can become like a digital tutor that provides additional practice and explanations to help students succeed. After entering your textbook or uploading a syllabus, the online content will adapt the lesson order to match, making it an easy and convenient learning tool.

OneClass vs. Brilliant: Other Learning Resources
| | | |
| --- | --- | --- |
| | OneClass | Brilliant |
| Homework Help | Yes | No |
| Tutoring | Yes | No |
| Shared class notes | Yes | No |
| Study guides | Yes | No |
| Textbook notes | Yes | No |
Brilliant focuses on online classes and competitions. However, OneClass offers several different digital learning tools.

Even the smartest students need extra help sometimes. Tutor access is included with each class purchase, and students can schedule a virtual one-on-one tutoring session or text with a tutor.

OneClass also offers Homework Help. Users can search the collection of 3.7 million homework solutions to access detailed step-by-step answers that have been prepared by subject matter experts. If you can't find what you need, simply submit your question, and an expert will prepare a customized solution for you within 24 hours.

Students can also use OneClass for shared class notes, study guides and textbook notes. Simply search the platform for your college, professor or class, and you'll see the documents that have been uploaded by fellow students and paid notetakers.

With these crowd-shared document directories, students have a chance to earn as they learn. A UC-Davis student told Reader's Digest that she made $1,500 by taking notes for OneClass while also having the satisfaction of knowing she was helping her classmates get better grades.

OneClass vs. Brilliant: Cost for Online Classes
| | | |
| --- | --- | --- |
| | OneClass | Brilliant |
| Cost | $49 per class or $330 to earn three transferable college credits | $150-$300 per year depending on subscription plan |
With OneClass, there are two pricing models based on how the class is used. For independent learners, the rate is just $49 per course. Students who want to earn college credit will pay $330 for each three-credit course. That's about 80 percent less than tuition rates at a traditional college.

OneClass also offers a one-for-one feature. For each class that's purchased, a class is given away to someone in need. This means that even as students are investing in their own education, they're simultaneously helping give a leg up to someone else.

Rather than paying per class, Brilliant uses a subscription method. This means to access content, you have to be an active subscriber. If you let your subscription lapse, you won't be able to review old lessons when you need them. The current rates for the monthly plan as of February 2021 are $24.99 per month, which totals $299.88 at the end of the year. The annual plan is one payment of $149.88.

Unlike OneClass, Brilliant doesn't offer an opportunity to earn college credits. The cost is simply for the online practice lessons.

OneClass vs. Brilliant: Conclusion
OneClass has clear advantages as a more robust and comprehensive learning platform. It offers resources for multiple learning styles, and the content adapts based on the student's performance. OneClass can also be used to earn college credits, making it an affordable way for students to pursue an education.
image attribution: PR Image Factory - stock.adobe.com

---
Suggested Articles in OneClass Featured