Back to OneClass Featured Blogs
OneClass vs. The Great Courses: Class Comparison
OneClass and The Great Courses are both popular education companies that have helped millions learn. However, the different class formats can determine which platform is right for your learning needs. Let's break down the similarities and differences between OneClass Booster Classes and The Great Courses.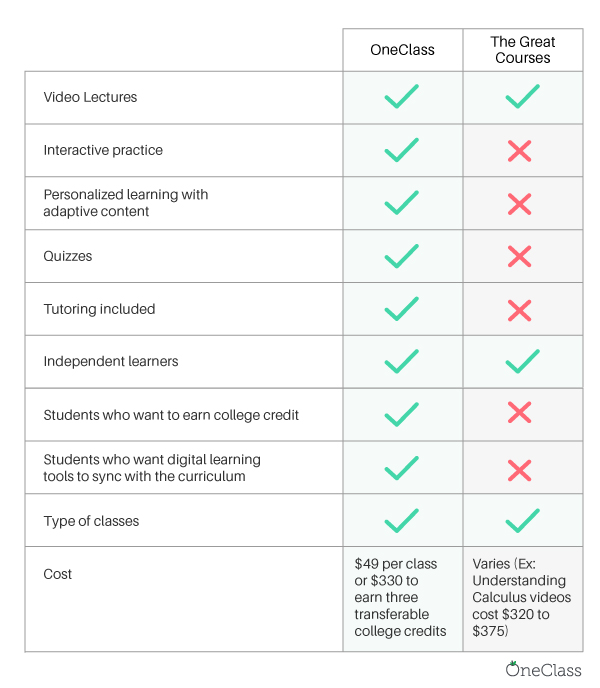 OneClass vs. The Great Courses: What Are Classes Like?
| | | |
| --- | --- | --- |
| | OneClass | The Great Courses |
| Video Lectures | Yes | Yes |
| Interactive practice | Yes | No |
| Personalized learning with adaptive content | Yes | No |
| Quizzes | Yes | No |
| Tutoring included | Yes | No |
First, let's look at the basics of what the classes are like.

The Great Courses was "born in the VCR era," as the NYT explains. The current class roster includes audio or video class styles, and classes are available via DVD, CD, download or streaming. The company advertises that there's no homework and no tests. There's also no access to help if you have questions. That means that if there's something you don't understand, you'll probably have to search on Google like everyone else.

OneClass Booster Classes take a much different approach. The platform includes multimodal learning that combines lectures with practice, theory and quizzes. The different formats and interactive tools can improve memory retention and can help different styles of learning.

Plus, the adaptive learning platform personalizes each course to your exact learning needs. If you already understand topics, it will accelerate through the material, and it helps you spend more time studying the concepts with which you're struggling. Classes are taught by Ivy League professors to ensure high-quality instruction, and when you don't understand something, you can use site credits to text with a tutor or schedule a one-on-one session.

OneClass vs. The Great Courses: Who Is It For?
| | | |
| --- | --- | --- |
| | OneClass | The Great Courses |
| Independent learners | Yes | Yes |
| Students who want to earn college credit | Yes | No |
| Students who want digital learning tools to sync with the curriculum | Yes | No |
With The Great Courses, the legacy-style video lesson caters to an older audience who wants to learn in their free time. The Washington Post says the average customer is older than 50, and the NYT says the primary audience is retirees and lifelong learners.

The focus of OneClass is on college-level students of any age. This includes high school students who are taking AP classes, current college students, or older students who want to brush up on their skills or return to school.

Because OneClass Booster Classes are focused on college curriculum, the learning tools are helpful for anyone who wants to improve their grades, study college-level topics, or work toward a college degree. The guided learning platform helps you track your progress and stay on top of your learning. And if you're using OneClass to help you succeed in a traditional in-person class, the platform can sync its content to your textbook or syllabus so you can easily keep moving forward with your studies.

OneClass also offers an innovative solution for earning college credits. Through a partnership with Becker College, students can earn transferable college credits by taking OneClass Booster Classes. After successfully completing a course, students get a transcript and can transfer the credits to just about any other college or university.

OneClass vs. The Great Courses: What Topics Are Taught?
| | | |
| --- | --- | --- |
| | OneClass | The Great Courses |
| Type of classes | STEM subjects | Range of topics from academics to personal development |
The Great Courses offers a wide range of classes with various levels of academic rigor. For example, students can study wine or economics. As the Washington Post explains, The Great Courses is in a "niche somewhere between the academia-generated offerings of massive open online courses (or MOOCs), such as Coursera and edX, and basic-cable edutainment."

On the other hand, OneClass is focused on STEM subjects. Many students struggle with subjects like calculus and chemistry, and applying the OneClass learning methodology to these challenging subjects can help more students succeed in their education and make progress toward a high-paying career.

OneClass vs. The Great Courses: How Much Does It Cost?
| | | |
| --- | --- | --- |
| | OneClass | The Great Courses |
| Cost | $49 per class or $330 for 3 transferable college credits | Varies (Ex: Understanding Calculus videos cost $320 to $375) |
The cost of The Great Courses varies by class. You could pay up to several hundred dollars for a single subject. For example, Understanding Calculus costs $374.95 for the DVDs or $319.95 for the digital video version. That includes fewer than 19 hours of lectures without any interactive learning support or exam prep. The company also has a separate system where you can subscribe to videos for $20 per month.

By contrast, OneClass Booster Classes cost just $49 each. That includes full lectures, tech-optimized learning tools, site credits to access tutors, and more. Plus, for each class that's purchased, OneClass gives away a free class to a student in need, helping lift up those who can't otherwise afford an education.

When taking OneClass Booster Classes for college credit, the cost is just $330 per three-credit class. That's about 80 percent less than the tuition rates at a traditional college or university. When we look at the example of calculus, students can earn three transferable college credits on OneClass for about the same cost as a series of video lectures from The Great Courses.

OneClass vs. The Great Courses: Conclusion
The Great Courses consists of lecture-style learning classes that are popular with retirees and independent learners. A wide range of subjects is offered. There are no quizzes or homework assignments, and there's no access to academic help.

OneClass has online courses in STEM subjects. The classes are used for independent learning, to earn college credit online, or as learning support for a traditional college class. The focus is on college-level learning, and classes use a variety of teaching methods including lectures, practice sessions and quizzes.

The cost per class varies with The Great Courses, but OneClass may have an advantage. For example, learning calculus on OneClass can cost just $49, but with The Great Courses, the price is $320 to $375. 
Learn more about OneClass Booster Classes to find out how its online classes can help you achieve your learning goals.
image attribution: Studio Romantic - stock.adobe.com
---
Suggested Articles in OneClass Featured