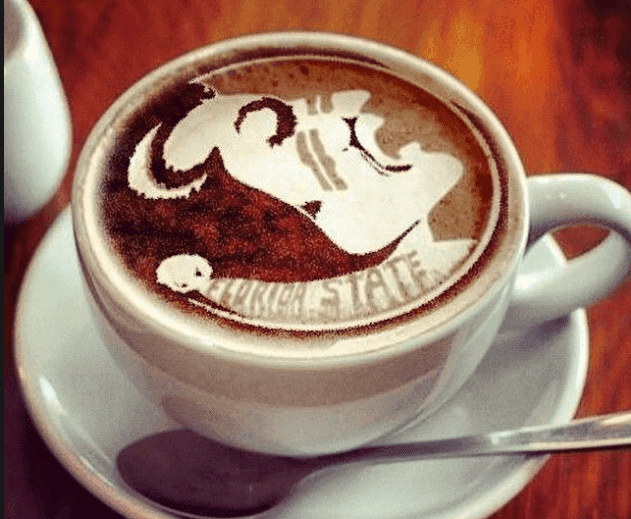 Coffee has become a drink many of us started drinking too early in our lives in order to get through the day, but nonetheless a great cup of coffee truly can jumpstart your day. Whether you like your coffee black or a classic latte, here are three stellar coffee shops in Tallahassee:
5) RedEye Coffee
A modern looking shop in Midtown, RedEye was originally two guys bagging coffee and selling it just to give all their profits to missionaries and charities locally. Soon, this vision became bigger and RedEye took off as an environmentally friendly coffee shop. Their coffee and teas are organically grown from small farmers and their cups are earth friendly! RedEye is extremely active in global social change, so go in, grab you Cafe Americano and sit back knowing you helped the world by buying that cup of coffee.
4) Calvin's Coffeehouse
Calvin's is a coffee house right down the street from Westcott and although they serve Lucky Goat Coffee here (which is also on this list later), the place itself is quite great. It's in the basement of UKirk Tallahassee, and is a quaint venue great for a study session while sipping on some fantastic coffee. Stacked with incredibly comfortable couches and enough room to sit far away from other people in the shop, Calvin's is a perfect alternative to the Strozier or Dirac Libraries.
3) Black Dog Coffee
With coffee on a lake, Black Dog gives you a lowly lit, antique feel inside of the shop and a beautiful spectacle of Lake Ella outside of the shop. A nice and quiet place to study for your midterms or a great place just to clear your head from the day, Black Dog has is all. Their speciality drinks, Black Dogs or White Dog Frappes, are fantastic unwinders after a hard days work. A place definitely worth checking out if you are new to Tally or just visiting!
2) Lucky Goat Coffee Company
Perhaps the largest and most popular operation in Tallahassee, Lucky Goat's success is admirable. They went from a small shop about 20 minutes from the city, to a massive four shop expansion, each closer to campus as they opened progressively. All of their coffee is tasty, but every couple of weeks they have a featured cold brew flavor- their best being a vanilla hazelnut in my opinion- which always gives you a new option for trying. With a very industrial and hipster look inside, Lucky Goat is a fun little hang out spot as well!
1) Catalina Café
And now last but certainly not least, Catalina Café. This place is an absolute gem. I have, personally, never had better coffee than a cup of Catalina. With coffee bean roasted in store fresh every morning and afternoon, Catalina Café never disappoints with their taste and freshness with their coffee and with their numerous breakfast and lunch sandwiches. Atmosphere wise, you walk into a rustic scenery to a warm welcome from any employee that is working. There are 4 locations in Tallahassee (and one in Naples if you live nearby), including a shop in the beautiful Cascades Park on S Gadsden St, which gives you the best coffee in town a nice little walk around nature. Catalina has found the perfect medium between atmosphere, once in a lifetime coffee and caffeine addiction, and I highly recommend y'all check it out if you love coffee and are in town or ever visiting!
---
---
Related Articles