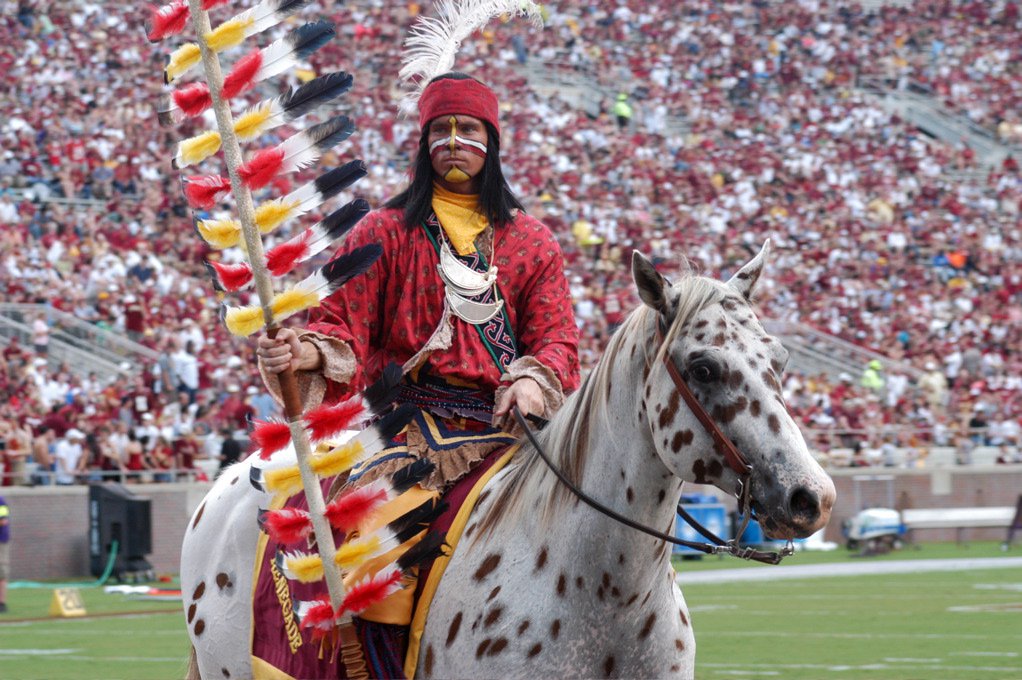 1. Nicer school colors
Here is a hymn to the garnet and the gold: Thank you, beautiful colors, for not being obnoxiously bright and for literally looking good on everyone. Whether you are fair or dark, the signature colors of FSU are subtle yet noteworthy; they are truly pretty hues that complement each other very well and can quite easily go with anything.Meanwhile, our blue and orange friends in Gainesville look like they just threw up confetti.
2. More free things
Did you know that students have to pay for parking at UF? As if we college students aren't broke enough. Parking is free at FSU for students and faculty, as it should be. Not to mention we don't have to pay for tickets to sporting events. Does UF? Of course they do.
3. Better athletics
While on the topic of sporting events, let's talk about how FSU played 29 games in the recent 2013-14 season and didn't lose a single one. Let's talk about how the Gators still think that it is the year 2008 and how they still think they are the greatest college football team out there. While Florida State has dealt with several controversies with their players, most famously quarterback Jameis Winston, it doesn't change the fact that as of late we are better. It's simple statistics. Oh, and for all the Gator fans who still think that Tebow is their quarterback…please get some professional help.
4. Greater academic diversity
FSU has 16 colleges within the university, ranging from business to law to social work to (perhaps most notably) the esteemed College of Music. UF also has 16, however, each college revolves around some kind of science. If you want to be an engineer in the state of Florida, that's good for you; go to UF. But if you are looking for a community of diversity and students of all trades, FSU is the place to be. Our colleges of Law and Music are among the best in the nation and we have countless events affiliated with all the different colleges. You do you, UF. We're much more well-rounded.
5. Prettier campus
People who refer to Tallahassee as "Tallanasty" fall into three categories: Gators, ignorant imbeciles, or, most often, both. FSU's campus alone is home to hundred-year old trees covered in beautiful Spanish moss, paired with the classic Gothic architecture of the buildings. Tallahassee, being the state capitol, is extremely quaint in the sense that it is a bustling city with the feel of a sleepy Southern town mixed in. Many residential areas of Tallahassee are stunning, particularly Live Oak Plantation Road. Tally/Leon County is also the keeper of several state parks/forests, rich Southern history, and a gorgeous change of seasons. Gainesville is merely comprised of the university, therefore giving FSU a leg up on diversity once again.
6. More Tradition
Besides the infamous war chant, FSU is loaded with countless other traditions that create one of a kind school spirit. The Marching Chiefs, our renowned marching band, plays at every game and performs in home halftime shows, sometimes doing choreography as intricate as Beyonce's "Single Ladies" dance. Also, every fountain on campus is a registered swimming pool, so expect to get thrown in on your 21st birthday (or every birthday for that matter). Other traditions include a homecoming carnival, Chief Osceola riding out on Renegade with a flaming spear, and one of the most talked about Greek communities in the nation.
7. Better Night Life
Tallahassee is famous for its clubs and bars. Going into your freshman year, you typically already know about Pot's, The Strip, Tabu, Ken's, and a myriad of other popular night venues. A lot of kids that go to UF actually complain that the clubs aren't good, no matter how dedicated they are to their school. When you come to FSU, you're bound to have a good time, regardless of how hard you party.
8. The College of Music
In relation to the previous talk about the diversity of FSU's programs/colleges, the College of Music is ranked in the top 10 for music schools in The United States. Little do many know, but our music school is home to several symphonies, orchestras, choral ensembles, a cappella groups, and attracts lots of out of state students because of its prestige. Solo performance often becomes a successful career path for the music performance majors at FSU. The musical theatre program is equally excellent and FSU is often listed in Broadway playbill biographies.
9. Travel Proximity
Tallahassee is a great location for spontaneous (or well planned) weekend road trips to nearby cities. Just thirty minutes from the Georgia border, Tally is totally in driving distance of St. Augustine, Panama City, Savannah, and if you're feeling a spring break adventure; New Orleans or Charleston. The great cities of the South surround Tallahassee and make for memories with friends.
10. #FSUnited
Last but not least, FSU is truly a family. We have come together in times of tragedy, confusion, and courage. We have faced slander from the media, mourned the loss of students, and we have always overcome adversity. FSU is a place of humility and acceptance. I once heard someone say, "UF tells you how great they are, while FSU tells you how great you can be". Though my journey at this school is just beginning, I can certainly attest to this statement. Fellow FSU students, we will always be unconquered, no matter what the circumstance. Go Noles!
---
---
Related Articles