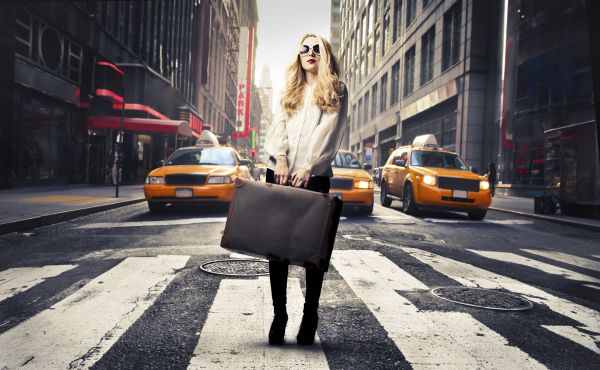 Welcome to New York! Some exciting stuff. Except for the fact that I grew up in a small suburb south of Boston, so I know almost nothing about city culture. Well- not nothing. I know you have to keep to yourself when you are on the subway at night, and you always have to be alert. But I think everyone knows that.
Going into Boston as a little girl, I would be bursting with excitement. I loved nothing more. So I always knew that I wanted to be a city girl when I grew up. But Boston was an hour away, so it wasn't a weekly event. I just always imagined of going to school there.
Freshman year of high school rolled around, and I had a school trip to New York City. I was immediately obsessed: the culture, the night life, the food, the excitement. I knew I wanted to go to school in New York the second I got there. I was hooked.
Going back to my limited city knowledge- I have always been a sucker for fashion. But money is definitely a problem, which is why its important to have a few staples, that you can mix and match with anything.
Staple 1: Converse or Vans
Every girl needs a pair of shoes she can throw on at any time, with anything, to make an outfit city like. Black, white, or grey are typical colors that will match everything. I am a HUGE fan of colored shoes, don't get me wrong. And if you're a fan of that, go for it. A pair of bright colored shoes with black jeans? Satisfying as hell.
Staple 2: Black jeans
Don't get me wrong. Regular jeans are great. But black jeans make an outfit edgy. That defines city life. The best black jeans I have ever gotten? Madewell. I wear them all the time, and they are still in perfect condition. They are so comfortable, I highly recommend getting a pair.
Staple 3: T-shirt Dress
I'm not sure how many people relate to this, but I don't usually feel like getting dressed up and wearing a really nice dress. I worry about either looking too nice or feeling uncomfortable. That's why I invested in a t-shirt dress. I have a bright red one, that I can wear with anything. I want to look nice? Throw on some wedges. I want to look casual? White converse it is. Going into the city at night? Throw on some sheer nylons. Trust me, this t-shirt dress will mix and match so nicely for all occasions, with the pleasure of comfort.
Staple 4: Leather Jacket
Just like a pair of black jeans, nothing makes an outfit more edgy than a leather jacket. It's something you can pick up at Marshalls or Urban Outfitters (if you're willing to drop more money on it.) It gives you style, a little warmth, and tons of edge and chicness.
Staple 5: Black everything
Black will be your best friend. It matches everything, it can't be stained, and it looks hella cute. I have more black 'going out' tops, than I will ever need, but I still feel the need to purchase more every time I find a cute black top.
Staple 6: Comfort
City girl or not, there is one thing that can make or break all outfits. Confidence. So wear something you love yourself in and feel comfortable in. Its okay if you don't like tight clothes. I walk around campus with a band t-shirt on half the time. You can dress anyway you want, as long as you love it. You should hear the count of compliments I get on my cool band t-shirts. Throw them on with a pair of black ripped jeans and you look ready for the city.
---
---
Related Articles