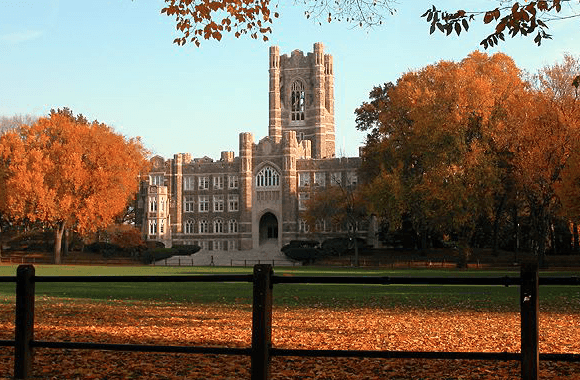 The hustle and bustle of New York City can be overwhelming, whether you're in Manhattan or the Bronx. Especially when classes get tough, it's really important to take some time to be by yourself and just think. Being in New York, however, complicates it. Below are the best places to get some quiet time at Fordham.
ROSE HILL
1. 9/11 Memorial Garden
Many members of the Fordham family lost their lives on September 11, and both campuses have memorials. At Rose Hill, however, the memorial is housed in a beautiful garden, where students can go to relax and think.
2. Worship Spaces
Religious or not, Fordham has a lot of worship spaces that are beautiful, quiet, and often empty. These are great places to go if you need a break from it all, and maybe need some divine help with finals.
On the Rose Hill campus, worship spaces are located in:
Our Lady's Chapel, University Church Basement
Sacred Heart Chapel, Dealy Hall, 1st Floor
Blue Chapel, Keating Hall, 3rd Floor
St. Robert Bellarmine Chapel, Jesuit Community at Spellman Hall
3. New York Botanical Gardens
Ok, so this one is kind of cheating, but the Botanical Gardens are so close, they're basically on the Rose Hill Campus. They also happen to be a great place to go if you're in need of a little natural relaxation.
LINCOLN CENTER
1. Gazebo on the Quad
If you walk toward the Peter statue on the Lincoln Center quad, you'll see a little gazebo with benches and ivy twines. This is the perfect place to step out for some fresh air between classes or take some time to be by yourself.
2. Law School Library
This one is especially useful for freshman, who live in McKeon and just have to jump on an elevator, but the Law School library is open to all Fordham students. Even better, it's completely quiet. If you need to get away from your classmates for a bit, whether to study or just think, the Law School library is the perfect place.
3. Reflection Rooms
The freshman dorm, McKeon, has reflection rooms on most floors specifically for students who want to take a second away from everything. They're peaceful and quiet, and anyone living in McKeon has easy access.
---
---
Related Articles