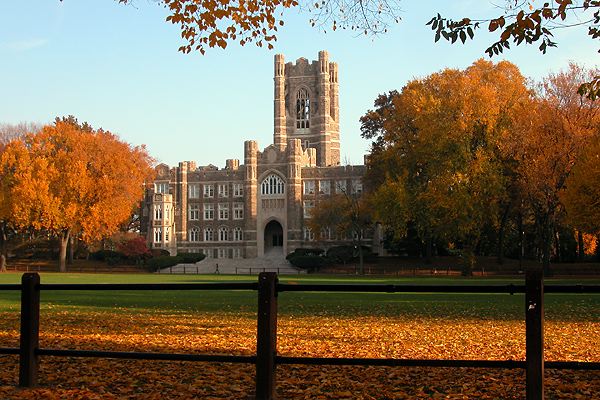 1. Dorm Lounges
When the library gets too crowded, dorm lounges are a great spot to study. They are smaller, closer to your room and much easier to secure a spot. Best one on campus? Bishops Lounge in one of the freshmen dorms. They have the largest tables, cozy couches and lit fireplace depending on season.
2. Starbucks in Fordham Plaza
Sometimes you need a little caffeine break to get you going. What better place to study than Starbucks? Lucky for Fordham students there is one right off campus in the Fordham Plaza.
3. Eddie's
While the weather is still warm enough, it is quite enjoyable to take the study session outside. Grab a picnic blanket and some snacks as well as your backpack and you are ready to go.
4. Rodrigue's Café
This cozy campus spot is a favorite amongst tea and music lovers alike. A perfect getaway spot for those looking for a bit of background noise to accompany their weekly study sessions.
5. Ram Fit Center
Midterms and finals got you stressed? Need a bit of a health kick? Why not knock out both at the same time. Head over to the Rosehill fitness center and reread your class notes while simultaneously getting in some cardio.
6. Top floor of the library
There's no better place to study than the campus library. Of course, you already knew that. But did you know the best spot to study at the library is actually the very top floor? My advice is to head to either the third or fourth floor-it's the least crowded you get either a nice view of Eddie's or Fordham Road.
7. Basement of Keating Hall
If you've got some downtime between classes and happen to be in Keating Hall-why not take advantage of their lounge located on the basement floor? It's got couches and a snack bar to satisfy all your mid-studying cravings.
8. Botanical Gardens
Eddie's getting overcrowded by students playing Frisbee and laying out? Why not head to the Botans to squeeze in some last minute finals studying? Fordham students get free admission with the flash of their ID cards and have access to the many lawns of the gardens where they can lay down with some books all while enjoying the great outdoors.
9. Cafe
At first glance, the cafe may seem like a terrible study spot. It's loud and hectic with students constantly going back and forth. However this is perfect for casual group study sessions. You have access to all the food you so desire and there are large enough tables for about any size study group. What more could you possibly ask for?
10. Subway rides
D train, take me home. Sometimes I find myself finishing an entire book on the subway ride back from the city. It's the perfect opportunity to catch up on some missed reading for class, reread lecture notes or dive into the newest edition of your favorite magazine. Whatever your poison, make sure you have something to keep yourself entertained the entire way home.
---
---
Related Articles