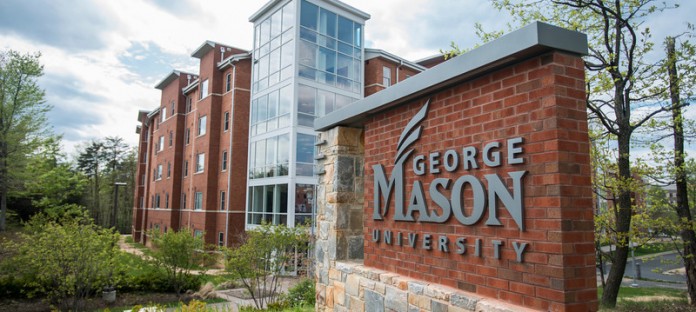 College students embrace knowing gems about their university. GMU students hail to George Mason and don our green and gold. Whether you express school spirit aloud or not, these are the major things all Patriots can understand.
There is ALWAYS construction in progress.
1. I get it, expansion, expansion. It causes more traffic and detours on the way to class, but the large buildings and new food places always make up for it.
The squirrels run the Park.
2. President's Park is nice for meeting other freshmen that live on campus, but the squirrels make their presence known. It's their park; we are the guests.
MASON DAY is LIT!
3. Free entrance, free performers, free t-shirts and more? You know us Patriots are there from open to close. Our loyalty and school spirit for GMU are evident, plus we will wait in line for anything free. It's good on the bank account, too.
Robinson A and B is virtually a rabbit hole.
4. You enter A, go up some stairs, end up at B? The buildings are super old, super hot, and super fun…if you like mazes and being late to class.
The new Fenwick is life changing.
5. I don't think the new Fenwick can even be considered a library. Complete with five floors of open space, a wide variety of comfortable seating and the huge glass windows that overlook campus, Fenwick is the ultimate place to be. You don't even have to leave for food; just head to the first floor to grab a snack at Argo Tea Café.
The JC is typically packed.
6. With 34,904 students enrolled for Fall 2016 in the US campus alone, this is no surprise. Nevertheless, that frantic search for a table after grabbing your Panera never subsides.
Blackboard is the new Chalkboard.
7. Forget about chalk; this is the 21st century! You literally could not complete any tasks without Blackboard. This online forum is the most valuable resource, but those red notifications make us cringe.
Team Southside
8. This dining hall has everything, just not at the same time. Sure, you could get a nice piece of grilled chicken, but you will probably have to wait for some hot fires. However, with Anytime Dining, you can come back later for another round of unlimited food options.
Avoid the Plaques, Rub his Toe.
9. Avoid stepping on the plaques around the George Mason statue. That could mean not graduating in four years. But, rubbing the toe of George's golden left foot creates good luck.
Northern Neck Starbucks is the real MVP
10. Sure, the Starbucks in the JC is an option, but the Northern Neck Starbucks is the option. The lines may be long, but it is never a waste of Bonus Funds.
---
---
Related Articles