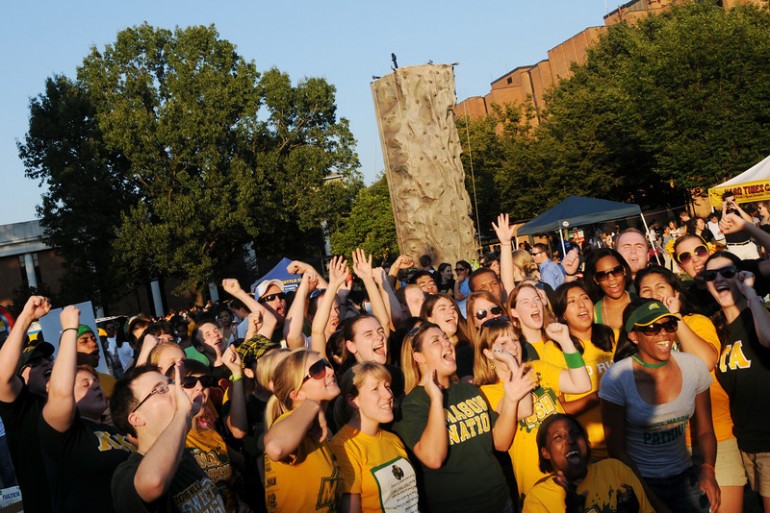 Starting college is an exciting time in a young adult's life. You suddenly have freedom and a chance to start over. Freshman year was a rollercoaster ride that I did not want to end. These are ten tips to survive freshman year at GMU!
1. Avoid Registering for Friday Classes
I had no idea this was even an option. Omitting Friday classes altogether means a three day weekend, every weekend!
2. Learn your G#
Your G number is located on your Mason ID and is the key to completing applications. Forget about that old high school lunch number; this is college!
3. Buy Comfortable Walking Shoes
Grandparents are known for buying shoes that we turn our noses up to, but now is the time to get on board. GMU is huge, and although those sandals from Forever 21 are cute, they'll be run down in a week.
4. Hotline Bling
There are so many resources on campus and finding the right building can be too time-consuming. The best thing to do is google to find a phone number. Besides, if you sound crazy on the phone, no one will ever know it was you.
5. Get Involved
Joining a group on campus is super rewarding. The commitment level is not as scary as you many think and it's a great way to make friends.
6. Budget
If you live on campus, you are required to have a meal plan. Independence includes $100 bonus funds to buy food for the semester. Make sure to use the money wisely, instead of spending it all before midterms.
7. Procrastination Nation
I swore I would never procrastinate, but something happens when you're in college. It's like we go from senioritis to professional procrastinators. My advice is to pretend something is due early than it is. And if you have to print something, do not wait to the last minute because your printer will turn on you so, so fast.
8. Call Home
Unlimited calling and texting, come through! Seriously, your parents are waiting at home by the phone as you read this, so just go ahead and give them a call. It's either that or do your homework and we all hate homework.
9. Go to the Library
The library is the place to be. It's easy to stay in your dorm all day and scroll through Instagram, but then you accomplish nothing! Go the library and do your homework, then get to class early and scroll through Instagram.
10. Breathe
You will pass that class, you will make friends, you will graduate. Remember all of your hard work that led to you becoming a college student. Enjoy, embrace, and evolve during freshman year at GMU; you deserve it!
---
---
Related Articles