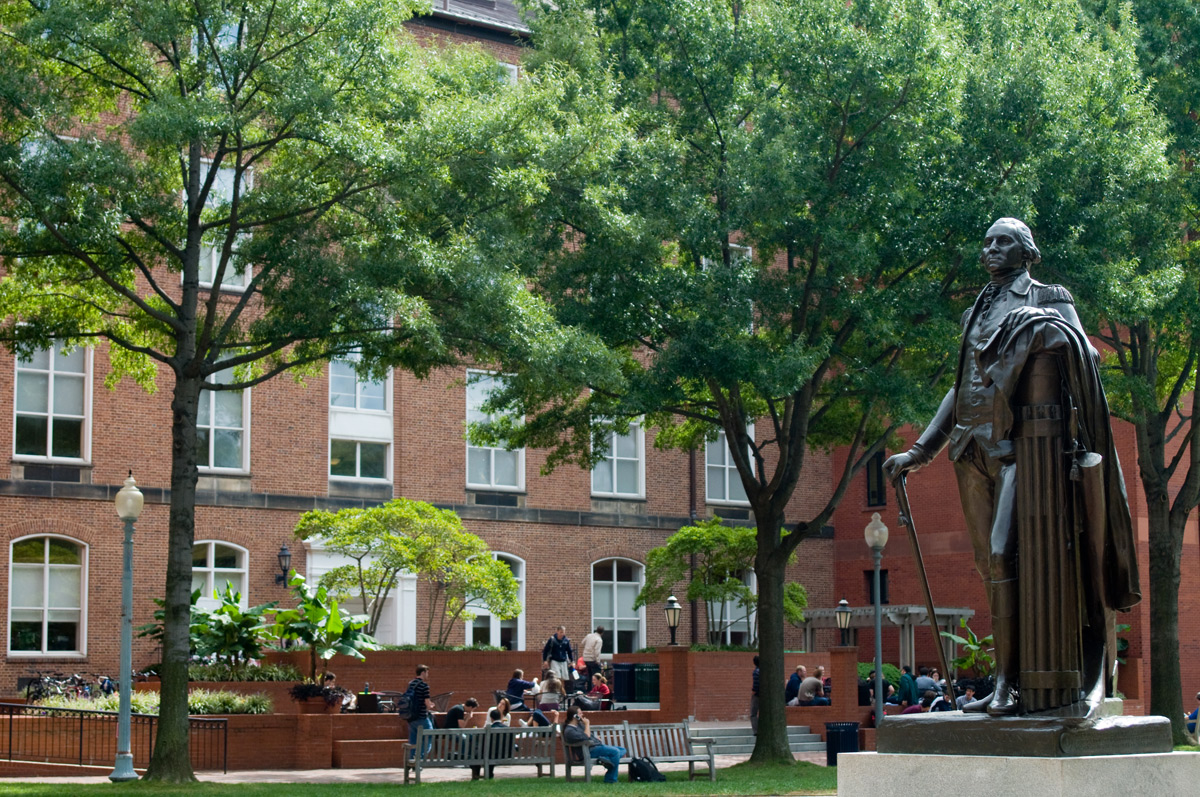 I know the struggle: during the small amount of free time that college students have, watching Netflix indoors fills a majority of that time. But living in DC means that you're living in a city with tons to offer. Don't waste your time indoors- get out and explore! Here are 20 Fun Things To Do Around GWU:
1. Walk to the monuments (or White House, Capitol and Supreme Court):
Sometimes, the best activities are free, and this is no exception. Living on GWU's campus means that you are in walking distance from each of these sites. Take full advantage while you can!
2. Go Ice-skating:
The National Gallery of Art Ice Rink stays open through mid March. You can even rent skates for a $3.00 fee. Ice-skating seems like an obscure activity, but that's why it's fun. Trust me.
Ride a bike through DC, Virginia, or Maryland and just return it to a nearby station when you finish. Much easier than a bike rental, this is a great way to get exercise while exploring the city.
4. Free museums:
DC offers many free museums. Try visiting the Smithsonian museums, the National Gallery of Art, or the Renwick Gallery. The Newseum and the International Spy Museum are great as well, but do cost money.
5. Bookstores:
Kramer Books, Carpe Librium, Bridge Street Books, Politics and Prose, and Second Story Books are just a few of DC's books stores worth checking out. If you love to read, DC has plenty of fun bookstores right near GWU's campus.
Speaking of book lovers, go to the National Book Festival. It's an annual free event (usually held in September) perfect for any book lover. Even better, the festival brings in some pretty great speakers- Shonda Rhimes anyone? Definitely worth it!
7. Brunch:
Any DC student knows about the importance of brunch. It's our "thing." Founding Farmers, Boqueria, and Ted's Bulletin are some of the most popular, but there are plenty of places to try in town.
8. Sports games:
If you like sports, bring friends and go to a Nationals, Redskins, or Wizards game. You are in DC, after all!
9. Botanic Garden:
Admission is completely free, so this is definitely a place that you'll want to explore. It's beautiful and also serves as great inspiration for any art or photography.
10. National Zoo:
Smithsonian's National Zoo also offers free admission, and is a great way to fill your free time. Especially nice for animal lovers, this is another free activity near GWU's campus.
11. Roosevelt Island:
Roosevelt Island offers trails that will definitely immerse you in nature. It's about a 1 and a half-mile walk from GWU's campus, so it serves as great exercise as well!
The Kennedy Center, which is in within walking distance of GWU's campus, offers free shows every day at 6pm. Make sure to get there on time, as seating is on a first come, first serve basis.
13. Concerts:
Although a bit of a pricier option, DC offers a bunch of great concerts that are certainly worth looking into.
14. Check out the Library of Congress:
This is something that you can only do in DC, which means you need to check it out. You can even get your own library card here. Again, perfect if you love to read!
15. Go shopping:
I am specifically referring to the shops at Georgetown. Aside from new dining options, college students love the shops at Georgetown. Urban Outfitters, Forever 21, and Steve Madden, here we come.
16. Eat cupcakes:
DC students also love their cupcakes. Baked and Wired, Sprinkles, and Georgetown Cupcake are some of the few right by GWU's campus that are definitely worth trying. For some days, prepare yourself for the line out the door.
This is an annual celebration of DC's cherry blossom trees with a ton of events (kites, singers, fireworks, just to name a few.) Many festival events are completely free, making it another great activity for college students.
18. Watch a movie:
Looking for something more relaxing? AMC Loews Georgetown 14 screens the latest movies. It's perfect for a leisurely night out.
19. Try a new workout:
DC is known as one of the fittest cities in America. Plenty of fitness/yoga studios surround GWU's campus. Soul Cycle, Blast, and Core Power are just several options. Although expensive, most places will let you try a workout for free.
20. Just relax:
If all else fails, think back to what I mentioned above. Just watch Netflix. We all need a little break every now and again!
---
---
Related Articles