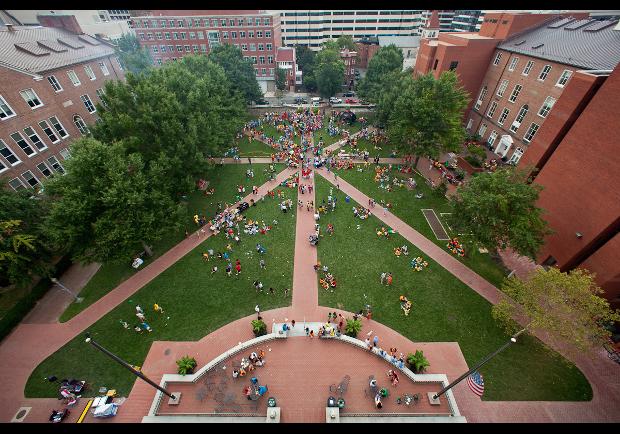 Freshman year of college might sound overwhelming, but it doesn't have to be! Use these tips to make the best of your freshman year at GWU.
1. Step outside of your comfort zone
Nobody wants to have an uneventful freshman year. Trying new classes and student orgs, for example, will help you find new friends and interests you would not have had otherwise.
2. Manage your time
College life means that you will only have class several hours per day. Planning set study times within your schedule will help you stay on track. Believe it or not, class readings and assignments pile up super quickly.
3. Get to know your professors
Even if you don't have questions about class material/assignments, go to your professor's office hours. Professors at GW can provide great resources to students, like internship opportunities and study help.
4. Join a student org
GW has more than 450 student orgs, so you're bound to find the right one for you. Either try something new or stick with what you love. You can even join more than one org. Plus, you can add it to your resume!
5. Spend time with your roommate
It's normal for freshman students to occasionally feel lonely after moving away from home. If you're lucky enough to have a nice roommate, make sure you spend time together. It helps so much when you come home at the end of the day and you have someone to talk to.
6. Go exercise
The freshman fifteen does exist. But even more important than maintaining a healthy body weight, exercise will boost your mood and make you feel happier than before. Grab a gym buddy and go work out together!
7. Save your money
Managing money at GW can be tricky. DC is an expensive city, and a lot of students do not realize how quickly expenses add up. Try renting your textbooks instead of buying them, or living in a quad instead of a double. Over time, small savings will add up to something greater.
8. Call your parents
Even though you may not realize it, your parents miss you and want to hear from you. Your parents can help you through problems that come up during your first year living away from home.
9. Don't sweat the small stuff
Sometimes, that ten page paper or those long, dense readings will stress you out. Remember to put your worries into perspective so you can realize that everything will work out in the end.
10. Make sure to set aside some "me time"
Most important of all, please don't forget about taking time for yourself. Whether you want to read a book for fun, or maybe go on a walk, taking time to sit back and relax is so important. Even better, after taking a short break, you'll feel more ready to tackle your work. Try it!
---
---
Related Articles