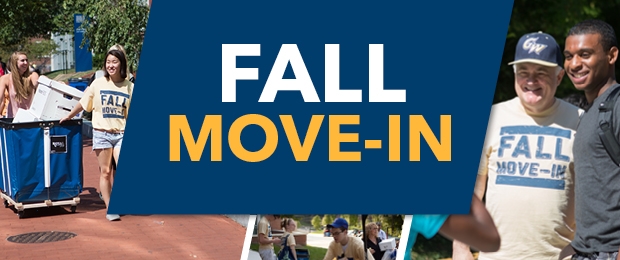 1. Less is more
When you get to your dorm room, you'll realize you have pretty limited space to fit your belongings. You can avoid unpacking for hours on end by simply bringing the items you NEED and nothing else. You do not need to bring your whole life with you to college. Living in DC means there's plenty of stores around to buy anything you might need throughout the year.
2. Coordinate with your roommate
Along with making sure not to over-pack, you can also coordinate with your roommate so that you do not bring two of each item. If you have never met your roommate before, this is also a nice way to start a conversation and start talking about other things than just a dorm room.
3. Get there early
Especially if you're going to a large college, move in day will be hectic. By arriving and checking in early, you will beat the rush of students that come to move in later in the day. By arriving early you can also choose your side of the room, and arrange your stuff without being in your roommate's way. It's perfect.
4. Stay Organized
It really helps to stay organized during move-in day. Make sure you label your boxes so you know what goes where. Just stick to unpacking one box at a time so nothing becomes too overwhelming. You'll be finished unpacking before you know it!
5. Bring the bug repellent
Yes, GWU dorms have pest issues. Many GWU freshman dorms have cockroaches, so you need to bring a repellent of some sort. Throwing out all of your cardboard boxes will help too, since cockroaches apparently lay eggs in those boxes.
6. Make sure you have A.C.
DC summers are super hot and humid. When you move into your dorm, definitely check the thermostat/wall unit to make sure the A.C. works. If not, you can always submit a Fixit request through this link: https://my.gwu.edu/mod/fixit/login.cfm GWU Fix It will come right to your dorm and make sure you have working A.C. in your room.
7. Bring the right supplies
Although it might not seem like it, there are a ton of extra supplies you may need for your room, like command strips, a laundry bin, a small bookshelf, etc. Everything adds up quickly until you realize that you have mountains of extra stuff and nowhere to put it. Make sure to just bring the extra things that you absolutely need!
8. Bring your family
It always helps to have your family with you during freshman move-in day. They'll help you unpack and get settled into your new dorm room. Even more so, they'll be there for moral support if you need it.
9. Meet your RA
Don't forget to take the time to stop by and say hi to your RA. Your RA will help you through any trouble you run into during your time living in the freshman dorms. Plus, it's nice to know that you have someone willing to help right in your dorm building.
10. Thank your parents
I saved the best move-in day tip for last! Most likely, your parents put a ton of effort into raising you and sending you off to college. Make sure you show your appreciation and thank your parents for everything. It will make your parents feel so good- more than you know.
---
---
Related Articles