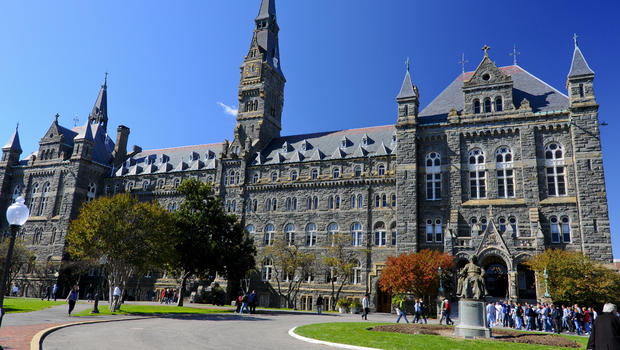 1. Mai Thai
Almost every student at Georgetown has walked to this wonderful Thai restaurant for dinner with friends or for a birthday celebration. Mai Thai only serves delicious food, but Japanese food as well! A bit on the pricey end, but you will leave this restaurant quite satisfied and full.
Personal favorite: Duck Noodle Soup
2. Wisemiller's Grocery & Deli
Don't be fooled by the grocery part of this name. This place is right on the campus and has the best sandwiches at the best price, and they also have delicious warm cookies that are only one dollar. Best part, they accept GOCARD, so no need for a credit card.
Personal favorite: Chocolate Chip Cookies
This small but fancy Italian restaurant has been consistently rated one of the best restaurants in the Georgetown area. Former President Clinton loved this restaurant, and the dish Linguini Cardinale was his favorite. The servings are also so huge that you probably will end up taking many your food home.
Personal favorite: Scampi Di Corrado Alla Vodka
Not a restaurant but by far the best ice cream shop in the Georgetown area. While you do need to pay in cash for orders less than $10, you get your worth of ice cream for the price you pay. They also have a copious number of flavors, so you'll always be trying new flavors and figuring out your favorite one.
Personal favorite: Oreo ice cream
While Pho 75 is in the Rosslyn area, it is only a bus ride and a short walk away. In fact, many Georgetown students go to this place weekly. You can have a big delicious savory bowl of pho for $9, but bring the cash because no credit cards are accepted. However, you won't regret coming out to Pho 75 and might even need to walk back to campus after your meal.
Personal favorite: #2 (slices of well-done brisket, well-done flank, fat brisket, and bible tripe)
Paul's is located on M Street, so a short 10-minute walk from the Georgetown campus. This place is famous for its brunch, but its sandwiches and seafood are to die for. Take your friends with you, and you will have the meal of your life!
Personal favorite: Chicken Avocado "Club"
Located next to the waterfront, Farmers Fishers Bakers is famous for its First Bake and all-you-can-eat brunches on the weekend. First Bake is their cheap breakfast that is served early in the morning. Their brunches are filled with so many choices but make sure to reserve a space because their waitlists are so long that you might have to wait three weeks until you can go.
Personal favorite: White Wine and Garlic Mussel Pot
A small café not very far from campus, Kafe Leopold is a German restaurant with a wonderful brunch menu. Not only is the café itself very chic and bright, but their food will also fill you up at a pretty low price. However, if you do decide to go for breakfast, then be sure to get there early, especially if you are going on the weekend.
Personal favorite: Belgische Zuckerwaffeln (Belgian sugar waffle)
If you're looking for some delicious acai bowls and green smoothies, then South Block is your go to! Many Georgetown clubs host their fundraising events their too, so if you end up going, you'll get to help your fellow Hoyas while also enjoying a refreshing acai bowl or smoothie.
Personal favorite: Tropi-Kale smoothie
Located near South Block, Chaia is a small taco restaurant that is not only healthy but also delicious. You can buy a trio of tacos for $11 or one for $3.75, and there are a variety of flavors that you can choose from. Georgetown also sometimes gives out 15% off coupons that you can use anytime.
Personal favorite: Mushroom taco
A popular Chinese restaurant on Wisconsin Avenue, Shanghai Lounge serves a variety of Chinese dishes at a very reasonable price. One of the best parts is that it delivers to the Georgetown campus, so you don't need to hike all the way up to the restaurant. Best part, they serve bubble tea!
Personal favorite: Ma Po Tofu
A Georgetown favorite, Wingo's serves delicious wings and fries and is open very late, so if you're craving some wings then Wingo's is the place for you! Also, their wings are half off on Wednesdays so feast up!
Personal favorite: Hot Garlic Wings
13. George's King of Falafel and Cheesesteak
This Mediterranean place will honestly be one of the best meals that you will ever have! Their sandwiches rival those of Wisemiller's and Epi's, and it's only a short walk down M Street to get there. But they are also on Ubereats so you can always get them to deliver to your dorm late at night or during the day.
Personal Favorite: Falafel Sandwich
---
---