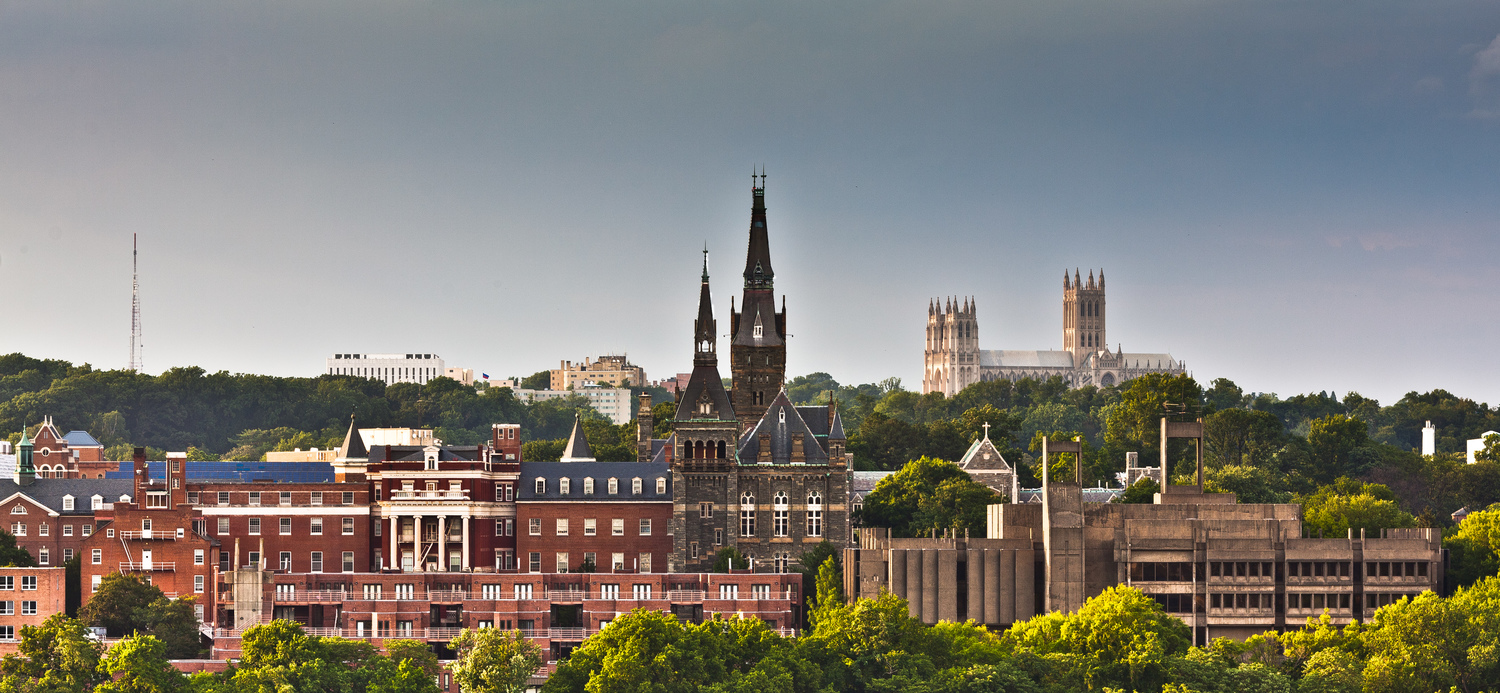 DC has so much to offer – even within short distance, you will be able to engage yourself in many exciting activities. You feel lucky to be a Georgetown University student!
1. Explore M Street
M Street is within 5-10 minute distance. You can go shopping or try out amazing restaurants, or just even take a walk (surprised by how long the line to Georgetown Cupcake is). The Escape Room opened recently, and I heard it was really worth a try!
2. Ice Skating
I am a terrible ice-skater myself, but I love going to the ice rinks at the Waterfront and the National Gallery of Art. The fees are cheap and when you are surrounded by fairy light decorations and really good restaurants, the ice skating experience can be become so much better.
3. A jog to the monuments
Do you like running? Is it nice weather outside and you feel your body is stiff from studying too much at LAU? Jog to the monuments or walk to the White House, Capitol Hill or the Supreme Court. You can get fresh air AND all these activities are free! (probably healthy too, which is a condition you tend to forget about at school)
4. Visit free museums
Another free activity! The National Mall with all the Smithsonian museums (and of course, the zoo and Renwick Gallery all offer amazing collections that you would not want to miss if you are living so close. There are other museums such as the Newsroom and the International Spy Museum, which are unique as well, but you would have to chip in a little money to visit those.
5. Stay tuned to events
There are so many things happening around campus; one iconic event would be the Cherry Blossom festival. This is an annual celebration of DC's cherry blossom trees with different events including concerts and fireworks. Another event is the DC Chocolate Festival, where local, domestic and international chocolate vendors offer a full day of tasting.
6. Take GUTS to Dupont Circle
Although technically the title of this post is about the 10 fun things to do around Georgetown University, I think visiting a district you can visit on a free school bus ride should be counted. Visit the Embassy Row and eat at a good restaurant in Adams Morgan. You will understand how international DC is.
7. Brunch, brunch and then brunch again
Brunch is a culture here. There are so many nice restaurants like Founding Farmers, Farmers Fishers Bakers and Boqueria you can go to and bond with your friends over delicious food! Take advantage of Restaurant Week in DC, because that's when you can go to the more expensive restaurants and eat at a decent, fixed price.
8. Study at the Library of Congress
Sometimes the Lauinger library at school does not give you the ideal atmosphere to concentrate. All you may need is a change in your studying space (perhaps a little more solemnity) to get into concentration mode. If you are book maniac, this is the perfect place for you!
9. Catch a show a Kennedy Center
The Kennedy Center offers free shows every day at 6pm and since seating is on a first come, first serve basis, make sure to get there on time! There are also musicals and concerts that may be a little more costly, but really worth for a fancier night out.
10. Chill day
Go to the movies or go to a nice cafe to chill with your friends! The AMC theatre is right next to the waterfront and nice cafes, let alone Starbucks, are not difficult to find. Sometimes the most basic things are the best.
---
---
Related Articles