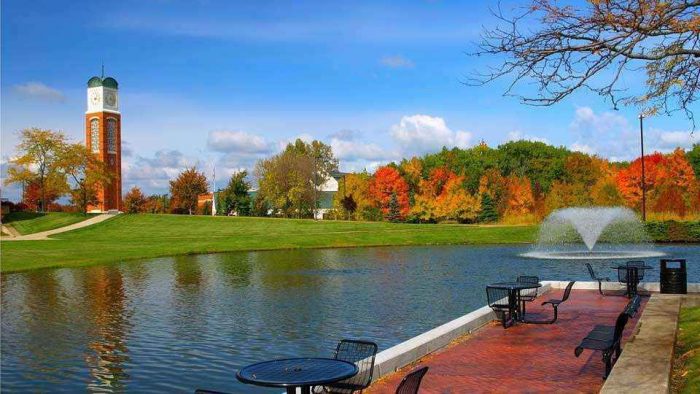 College is the beginning of a whole new chapter in your life. For many, it is a new town, new friends, and new life. Most say, these next four years will be the best times of your life (no pressure there). You will have grown more in the past 4 months at GVSU than you had your entire lives. You learn what works, and what most certainly doesn't, so here are my top 5 tips to survive your first semester ever of college at Grand Valley State University.
Tip #1: Do not skip class
You hear more often than you should, "Yeah, I've been to my 8 a.m. twice this whole semester. It's a lecture so it really doesn't matter that much anyways!" WRONG. Despite what you think, professors adjust to their class over the entire course. They recognize the blonde girl in the front row who is an avid note taker, or the guy in the back taking a nap with his hood up. Going to class gives you an advantage on getting quality notes not just in the powerpoint slides but maybe even some extra credit opportunities.
Tip #2: Go to your professor's office hour
Throughout syllabus week and the semester, professors continuously repeat that students should stop into their office hours for any questions or even just to chat. They appreciate your visit more than you know whether it is a simple question on a due date or a whole chapter of notes you couldn't understand. Your visit means to them you are wanting to learn the material and you understand that they are people too, who just want to help you!
Tip #3: Hit up the gym to relieve stress and get fit
Going to the new gym at GVSU is one of my favorite things to do on campus. With three different levels of equipment and space, you can customize any workout to fit your needs and interests. Not only is working out a great way to rid yourself of anxiety on your next exam, but it is also a way to avoid the "freshmen 15" from those Kleiner Late Night Visits.
Tip #4: Join a club related to your major
GVSU has over 400 clubs and organizations for students to get involved with. Definitely look into joining one relating to your major or something you are super passionate about. Becoming a part of the Exercise Science club has not only given me great insight on my major and the many different career paths available, it also leads to great opportunity through conferences and internships too!
Tip #5: Become close with your hall mates
Finally, my last piece of advice is to become good friends with the people you live with. Attend the floor activities your RA puts on, and leave your door open for people to come in and say hi! These people will make living in a tiny dorm room so much more fun, and super convenient to ask for help when you need it! Not to mention, get to know your RA well. They are chalk full of facts and knowledge about campus life and things to do for fun like activities in Grand Rapids for example!
In this new phase of life, most freshmen can agree that they have grown so much as people, met so many new friends, and learned so much about their new home…the grandest of valleys! From living in freshmen land, to finally experiencing a college cram for an exam, college is an exciting time to figure yourself out, and meet some of best people and experience some of the best things along the way.
---
---
Related Articles