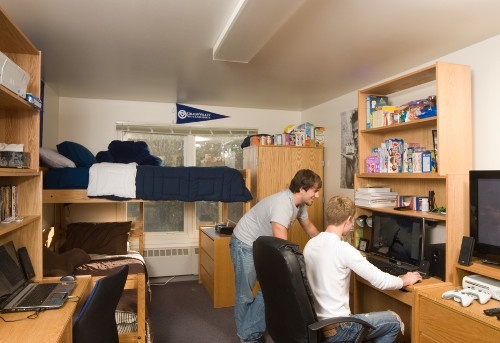 Freshmen year of college is an exciting time for most students to finally gain independence and new relationships. Living in dorms is the perfect way to do that. Within the dorms, you are able to create interpersonal relationships and have some of your new friends literally right next door! When you choose to live in the dorms, all come with a lofted bed, desk, dress, bookshelf, and wardrobe. Also, meal plans are automatically set to 14 meals a week, but this can be adjusted according to your choice! GVSU offers many styles of dorms and freshmen housing. Here are the housing options ranked from the best to the worst in my opinion!
1. Apartment Style Housing
Style of housing for students offers students privacy and independence with a kitchenette and one bathroom per two roommates. There is a one bedroom style apartment where you and your roommate share the bedroom, bathroom, and kitchenette. And there is also a two bedroom style where roommates will  have their own bedroom, but share the bathroom and kitchenette. The one bedroom apartment buildings are Frey Living Center, Hills Living Center, North C Living Center. The two bedroom apartment style include Hoobler, Johnson, Koeze-Weed, Ott. The laundry rooms are on the first level on these buildings too, and they all have lounge areas with a TV and tables and chairs for student to interact.
 One bedroom apartment style
Two bedroom apartment style
2. Cluster Style Living
In the newest Holton-Hooker Living and Learning center, students are able to room with either one or two other people. Bathrooms are also community and cleaned regularly by staff! Hilton-Hooker is also the home of a few classrooms so students don't have to walk in the cold, Einstein Bagels, and air conditioning with the warmer months on campus!
 3. Suit Style Housing
This style of housing offers two students to a room, joined by a connecting bathroom which leads to another two students' room. Total, there are 4 people per suite, and students are in charge of cleaning their own bathroom. The buildings that offer this style of housing are DeVos, Kirkpatrick, Maple, Oak, Pine, Pew, Pickard, Seidman, Stafford, and Swanson. Each of these buildings has a large lounge area, community kitchen, and laundry room as well for students to utilize well!
4. Traditional style housing
Within traditional style housing, students share a dorm with one roommate and share community bathrooms with everyone on their floor. The bathrooms are cleaned are cleaned my custodians so you don't have to worry about that! Traditional style housing is the biggest on campus, with the buidlings being Copeland, Kistler, and Robinson. All of these buildings have a laundry room, as well as community kitchen to get your cooking fix on!
5: Gender Inclusive Housing
This style of housing is excellent for students who want to feel comfortable and safe in their living environment. Any student who feels the need to apply for this style housing goes through a more extensive housing application which can be found on the website. These dorms are on the other side of campus away from the rest of freshmen housing.
Overall, GVSU offers plenty of housing options for first year students living on campus. They leave the decision up to YOU on what suits your needs best! Apply early for housing so you and your roommate can get the option you chose first! Roommate requests for those you wish to live with can also be accommodated too! I hope this article helps narrow down your options for where you call you and your roommate can call yourselves dorm sweet dorm!
---
---
Related Articles