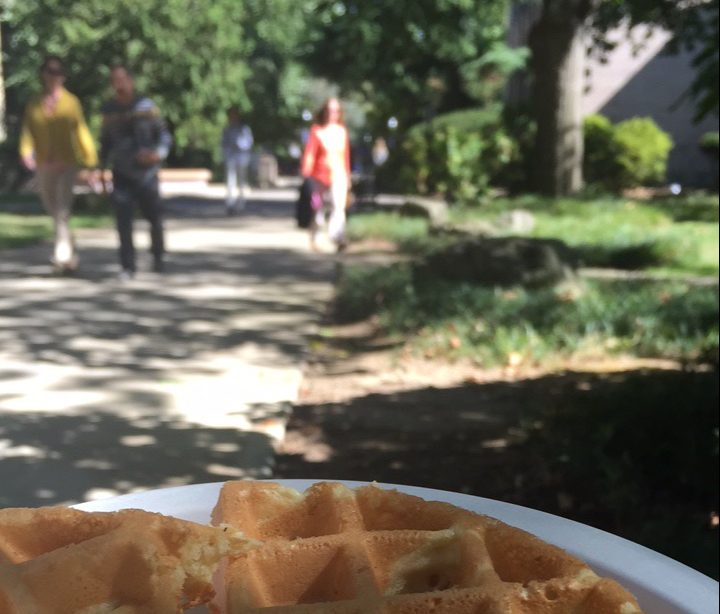 New year means new semester- and for a lot of people, that means new resolutions. Getting in shape and eating healthier are in their most prevalent season, and especially for college students with a meal plan, eating healthier in the new semester may be a difficult task. Many learn the hard way their first semester that not everything offered is going to be very healthy, no matter how delicious it may be. With so many options at hand, it's hard to gravitate towards the salad bar or slow down with all of the different pastas offered, but it can be done, and there's still hope for a healthier, happier spring semester; you've just got to stay focused.
1. Peruse the salad bar.
Whether you're a salad person or just warming up to the idea of incorporating salad into your diet, the salad bar has a lot to offer. From different types of lettuce to different toppings (even breaded and grilled chicken!), you have a lot of room to customize. And, with a magnitude of different dressings, the salad bar is amazing. Everyone knows that salads are low-calorie, and keep you feeling light and energized as well as keeping you on track with your goals.
2. And the yogurt bar!
Right behind the salad bar, you'll find the yogurt bar in the Student Center. The yogurt bar is stocked with all kinds of fruit and low-fat or non-fat yogurt, which makes it one of the best study snacks on campus. Similarly to the salad bar, you've got a lot to choose from, and it's one of the most underrated and healthy (not to mention delicious) parts of the Student Center. Yogurt can also be found at various cafes on campus, as well as Red Mango by Bits & Bites.
3. Look into the different options at Freshens.
You can't miss Freshens as you make your way into the main hub of the student center, and it actually has a numerous selection when it comes to foods on the healthier side. From crepes to rice bowls and more, Freshens has a great selection to offer and is a great substitute for people who aren't the best at eating healthy – especially the rice bowls that are packed full with different food groups that create a healthy medley that helps you stay on track. The options are stocked with fruits and vegetables, as well as rice and protein, so no matter what you choose, you're getting a wide range of food groups. Everything is customizable, so if there's anything you don't like, you don't need to put it in, and everything is made in front of you!
4. Choose wisely at the buffets.
One of the best parts of Hofstra dining is the ever-changing selection of food from all around the world. But how do you know what you can choose- and what's actually good for you? Usually, foods at buffets have labels, but you can easily decide for yourself your portions and weigh what's good for you by sticking to healthier carbs like potatoes, fruits and vegetables incorporated within dishes, and getting in good protein (like grilled chicken over breaded chicken) to balance out your meal. There's a lot to offer, and tempting as it all may be, the choice is yours.
5. Try not to go to Smashburger too often.
One of the newest and most popular additions to campus is a Smashburger on North Campus, conveniently open until 2am every night. While it's convenient for those who need a late-night bite, letting it become a habit isn't going to benefit you or the goals you have in the end. It's the same as any other fast-food restaurant, and intake should be limited if at all…but a milkshake every now and then won't kill you. Fatty fries and burgers on the other hand can pack on pounds that make it difficult to shake, hurting your health and your resolutions.
6. Watch what you're drinking.
One of the best parts of Hofstra's campus are the Starbucks coffees. There are multiple convenient Starbucks on campus, and the line in the student center during the morning rush to class speaks true to this: Hofstra students love their coffee. But having a grande white chocolate mocha every day may not be the best idea – not only because of the caffeine, but also because of the amount of sugar that is in all of the added components that make Starbucks coffees so delicious. You could be eating the healthiest you possibly can, but the sugary drinks can still be holding you back if you consume them too often.
7. ABP and the corner cafes are your best friends.
With a library location as well as a café further down on campus, Au Bon Pain along with the many cafes located in different university buildings always carry fruits and yogurts. They serve a variety of different things, including soups, breads, and fruits and vegetables. So instead of eating a muffin or a candy bar, healthier options are accessible to you, and they're right under your nose!
8. Pay attention to the Farmer's Market.
Take advantage of this when you can! While it only comes around about twice per semester, the Farmer's Market outside of the Student Center (near the bus stop) is a can't-miss when it comes to fresh and healthy food. Not only do you have a variety of fruits and vegetables that could can shamelessly consume or cook with, you can use your meal points to purchase them! This is one of the best ways to get nutritious food into your body, and the peace of mind of local produce.
As long as you are aware of what you're putting into your body, you should have little issue, even as a Hofstra student, getting into a healthier eating routine. It may take some getting used to, but don't dismay! Hofstra even has a dietician overseeing all of the meal choices put out daily, to make sure that you have the most options and the healthiest when you need them. Make this semester your best yet, and sticking to giving your body the best choices will not only make you feel better, you'll also find yourself more energized and ready to take on each day.
---
---
Related Articles