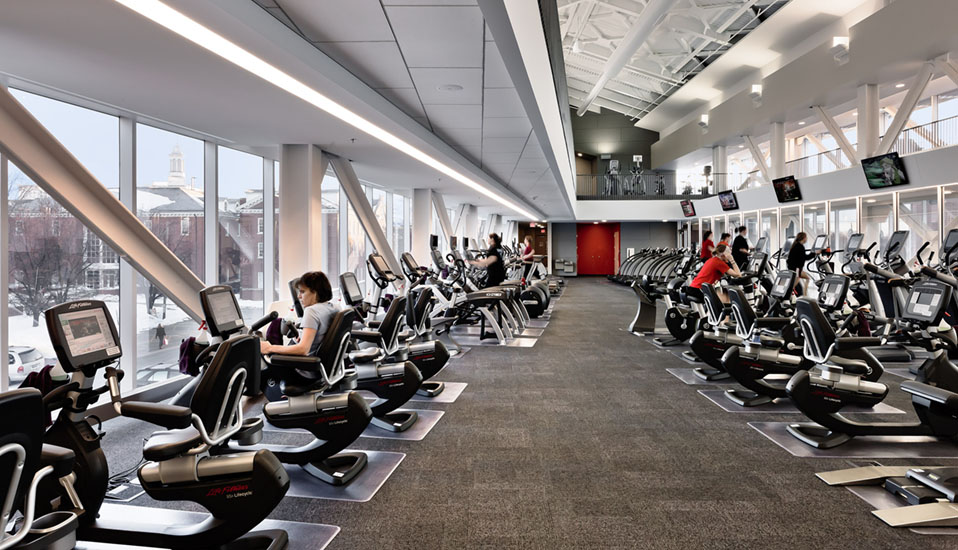 The rec center here at Illinois State is one to admire, with 3 floors, a pool and a Starbucks.. you might get lost! But don't worry, staff is always on the clock and walking around to assist anyone that needs help! The rec center is by far one of the best places here on campus. Here are some reasons why you should check it out instead of going to the dining center for that cookie you are craving!
1. The weight lifting areas 
There is primarily 2 weight lifting areas that you can go to get a good pump in. On the first floor, there is a small work area with a couple auxiliary machines, cables, bench and squat machines and free weights! Go here if the upstairs is too crowded! The second area is upstairs, this housing mostly anything you could want for lifting! Also it has bikes, treadmills, etc!
2. The pool
If you want to cool off after a workout or work on your swimming techniques, try the pool out! It has 3 swim lanes and an open area for swimming and just shooting hoops with friends. You can also apply for a life guarding job if you ever are interested! It's not packed at all, so if you ever want to enjoy it, you can without any hassle! Who doesn't enjoy a good dip in the pool in December?
3. Rock climbing wall
Another unique thing this rec center is home to is our huge rock climbing wall! Right when you walk in, you see it so it definitely catches your eye and makes you want to climb! It was just installed in 2016 so many people are happy to try it out. It usually closes at 9 P.M. every night so the hours aren't too bad! All you have to do is go up to the counter and ask for a harness, and start climbing!
4. The Clubs
The rec has so many clubs and teams you can join for a small fee , or it's free! The clubs vary from flag football and co-ed basketball to yoga and disco bike groups. Some are just boys or just girls, but some are even co-ed which makes it much better! You could just grab a couple of buddies and go make a team for the sport you love.
The rec here at ISU is a great place to get a good workout! Come and join everyone and the club sports to get active while you study hard!
---
---