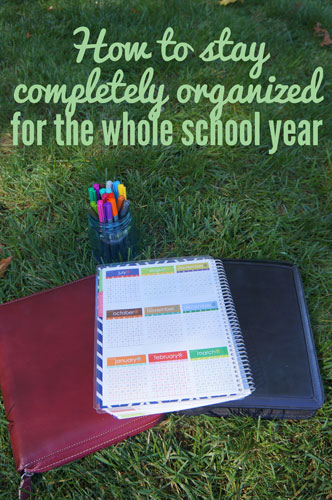 Many of us are naturally organized, some of us on the other hand…are not. College is the perfect time to become organized. The number 1 answer we get from college students on how they became successful and get good grades was how they organized everything and managed their time.
1. Get a Planner
In middle school, we usually received a planner and had to have our parents sign to say we completed everything written in them for extra points. That lasted up until we stopped receiving points for it. A planner, wether big or small can fit all your test, quiz, homework, and finals dates. Sit down, take out all your syllabi, and I promise it will take only an hour to fill in ALL important due dates in your planner. Also, color coding by class will make it easier to find out for what class "Homework pg. 3-9" is due for. Afterwards, you can add things like social events, meetings, work schedule, and don't forget…your roommates birthday!
2. Post-It Notes
These awesome sticky friends are the best thing that has ever been invented…until you roll over in your bed and you find one. These little guys can be put in your planner, on your desk, between books, and later on stuck on your forehead when you fell asleep at your desk studying for finals. You can write due date reminders, any meetings you have, account information, and even little motivation quotes to get you through the day. You can again, color coordinate them, size color coordinate them, or whatever works for you. The best thing ever…walking into the Target office isle and seeing the many size, colors, and designs Post-It Notes come in, and you'll later realize that opening a new pack is like opening a new Christmas present.
3. Managing Your Time
Managing your time doesn't seem like it would help you stay organized until you're at the frat house on a Sunday night remembering you have a test Monday morning that you haven't studied for at all. As a college student, we struggle to find time for EVERYTHING. There are days that we think there are not enough hours in the day, and there are days that drag on foooreverrrrr. Managing time to go to classes, eat, sleep (WE NEED NAPS OKAY), work-out, and actually have a social life, sounds impossible. We need to find a good schedule that works and fits in our needs. This makes us more organized but also lessens the chances to become stressed.
4. Sunday Sit
I like to call this one the Sunday sit, and trust me, it works! Every Sunday night, take 15 minutes at your desk and write down everything (most important – to least important) you need to accomplish the upcoming week. Not only does it keep you of course, organized, but it gives you a visual on what your week will look like and what you will expect.
5. Organize Your Computer Documents 
The worst is not naming your document, let alone having documents from 6 years ago that you may not ever need again. Stick to something that will help you find everything quickly. You can do it by class, college year, or alphabetical. What has worked best for me is what you can see attached below:
College
Senior year
Junior year
Sophomore year
Freshman year

BIO 101
ENG 101
MTH 201
DVST 150
Regardless of the way you do it. I promise this one will keep your computer looking nice and clean. Also, don't become a document hoarder..If you know you will never need a certain document ever again, delete them or store them on a cloud drive.
Stay organized, and everything will fall into place. All of these 5 ideas or simple and can take less than an hour to do. They will definitely benefit you in the long-run and you'll think your post-it notes for being at your side.
---
---
Related Articles