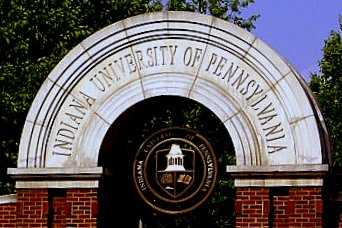 College food gets boring after awhile as well as ordering pizza from Dominos at 3AM. Eating off campus can be kind of expensive but it also will taste a lot better than some of the foods they're serving us at Folgers tbh. I`m a very picky eater so finding somewhere to eat is really hard for me. Here are my (in no specific order) top 5 places to eat off campus in Indiana.
1. Steel City Samiches
-Being from Pittsburgh, I knew I had to check this place out immediately just because of the name being Steel City. Ever since moving into IUP, all I`ve heard was good things about Steel City Samiches and their burgers, wings and milkshakes. When you first walk up to the restaurant, the front of the restaurant had sort of a garage door window which made it super cool and a lot easier to see how busy the restaurant was that night 😉 My favorite thing about Steel City Samiches was their worlds largest burger The Stuffaluffagus. If you can finish this burger in less than 30 minutes, you`ll get your picture on the Wall of Fame in the restaurant.
My Favorite: I loved the cheeseburger with a over-easy egg on top. I also got the Broad Street Phries which was also delicious.
Address: 15 N 7th St, Indiana, PA 15701
2. Spaghetti Benders
-If you're looking for a good Italian meal, this is your place to go. One side of Spaghetti Benders is a bar while the other side is a sit down restaurant.  They're located right on Philly Street and they're not a far walk from campus at all. The restaurant puts off an Italian vibe the second you walk in. The food here is always delicious, and I have never had a bad meal here.
My Favorite: Buffalo Chicken Alfredo
Address: 563 Philadelphia St, Indiana, PA 15701
3. Tres Amigos
My boyfriend and I eat at Tres Amigos more than we`d both like to admit. The first time we went there, the service was amazingly fast and the food was delicious without being super expensive. Before you even order your meal, your server is bringing you chips and (delicious) salsa. If you try Tres Amigos, I highly recommend trying their fried ice cream also.
My Favorite: Chicken Enchilada
Address: 1540 Oakland Ave
4.Thai at Indiana
This restaurant is located right next to Insomnia Cookies on 7th street. I discovered it when my brother and his girlfriend offered to take me out for lunch. They both had rave reviews of this restaurant so I had high hopes for it. The food was amazing. I had absolutely no complaints. You could sit on the couch to eat or sit on a chair.
Address: 14 S 7th St, Indiana, PA 15701-2709
My favorite: Teriyaki Chicken
5. Valley Dairy
-Valley Dairy is another restaurant that I tagged along with my brother and his girlfriend on. They invited me to get breakfast one morning before they all had to go to work so I can really only give my honest opinion on their breakfast. Let me start off by saying that the service was very fast here, the workers were so nice and friendly and they all had smiles on their face. The food was very good and it wasnt expensive either which is always a plus.
My Favorite: Pancakes with bacon (I know, I`m lame)
Address:  
1584 Oakland Ave
, 
Indiana, PA 15701-2428
---
---
Related Articles