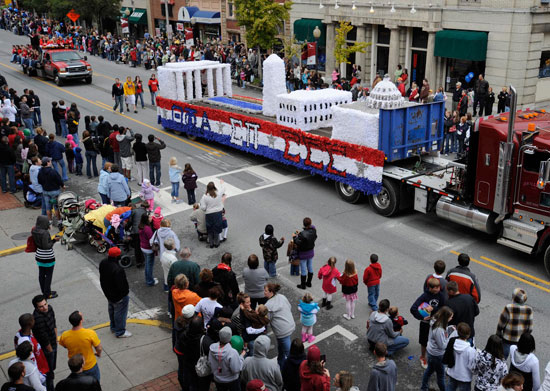 Whether its your first or your last heres a few things you should know about IUPs 2017 Homecoming! Homecoming is only two weeks away and there`s a lot of things that you should know beforehand
Our homecoming performer Lil Uzi!!
-When it was announced that Lil Uzi was the homecoming performer this year, a lot of people lined up and missed classes to get their tickets for them and their friends.
Concert starts at: 7:00pm at the KCAC
Some tips for Thursday October 5th, 2017:
1.-If you have floor seats, arrive early to the concert to get a good spot in line.
-AND DONT TRY TO CUT THE LINE. Seriously, people will flip out on you.
2.-Also if you`re on the floor, expect to be pushed and shoved by everyone.
-Everyone wants to get to the front towards the stage and they dont care if they push you on the ground to do so.
3.-Expect to wait in a line in front of the KCAC before the concert unless you arrive right before the concert starts.
4.-Don`t wear heels.
-Honestly, I saw a bunch of girls wearing heels last year at Mac Miller and by the end of the night most of the girls were in pain and crying because their feet hurt.
5. Dont be that person who shows up super drunk
-Dont be that person, seriously. Its embarrassing for your friends and for everyone else around you to watch you fall all over people.
Okay so now that you have the homecoming concert with Lil Uzi covered, lets talk about homecoming weekend.
1.Check the IUP pages for homecoming shirts
-A lot of people have really clever homecoming shirts already up for the weekend. At the football game, mostly everyone has their homecoming shirts on so don`t be left out.
2. Homecoming Parade
Before the homecoming football game, make sure you and watch the homecoming parade. According to the IUP Website, the route is as follows: from Eleventh and Philadelphia streets, the parade will travel east to Sixth and Philadelphia streets, south on Sixth Street to Church Street, west on Church Street to Oakland Avenue, and southwest on Oakland Avenue to Eleventh Street.
The parade will start at 10:00am.
3.The football game
-Last year homecoming was my favorite football game of the year and this year we`re playing our rivals Cal U so defiantly go to the game. Its free for students and they usually have free things from different tables at the game.
Kickoff is at 2pm.
4. Watch your drinking
-Cops are aware that people are going to drink and that people will be underage drinking. Don`t walk down the street trashed and falling all over the place. AND ESPECIALLY DON`T DRINK AND DRIVE. If you need a ride use the Uber app and get a ride home. Its not worth putting your life and somebody elses life in danger.
Make sure you have fun at homecoming 2017 but dont get too crazy IUP!!
---
---
Related Articles