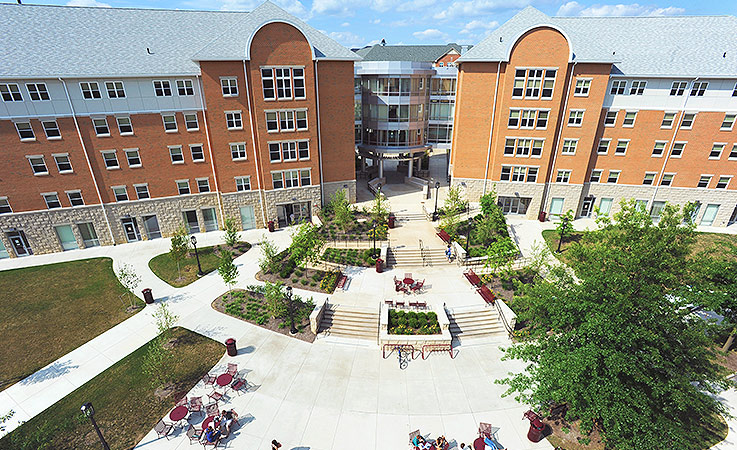 1. The Oak Grove
You can catch people laying out on a nice day, on a hammock, or if you need some major puppy therapy this is the place to go.
2. Romeo's Free Pizza 
If the basketball team makes it over a certain amount of points and wins, all students get a free slice of pizza and honestly… who doesn't love free pizza?
3. IUP Homecoming
Whether it's the homecoming parade, the concert, or the parties, homecoming is like a holiday to the IUP community.
4. Our college is in a town that produced Jimmy Stewart
The museum is even walking distance from the campus
5. IUPatty's
Another IUP famous holiday… No one celebrates St. Patrick's Day like IUP does. You will have students all over the surrounding colleges coming to celebrate…and even begging you to let them stay in your dorm, yikes…
6. Our president is from Alaska
Not much of a love for this, other than he is an amazing down to earth guy…just ever expect to have him cancel school…like ever.
And we'll all be walking to class just like this
7. Bingo Nights at The Hub
Free prizes and free food? It's the college students 2 favorite things!
8. All the coffee options on campus
The Hub, Einsteins Bros, Java City, Starbucks, McDonalds are all places around campus that offer some caffeine when you need it the most. Also, Dunkin' Donuts is also only a short distance from campus as well.
9. The Co-Op Store's sales
50% items, $20 Tuesday's say no more! We all need a new t-shirt or hoodie, and we can NEVER have enough.
10. The amount of clubs and organizations around campus
The university has so many things to offer, there will always be at least 3 or more clubs that match your interests.
11. Chick-fil-a
We have a Chick-fil-a on campus, thats all that needs to be said.
---
---