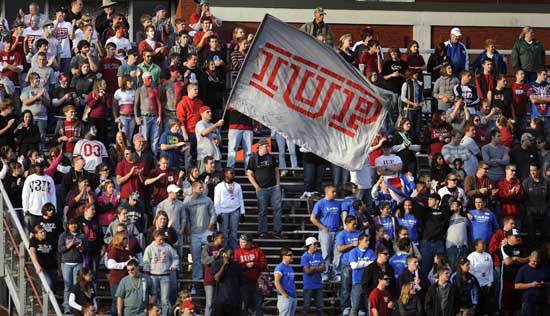 From midnight trips to Crimson Café, to hour long drives to Pittsburgh for a Penguins game, there are particular activities that only IUP students can relate to. You know you go to IUP if you've contemplated (or have done!) any of the following
1. Signed a petition to bring back Fosters dining hall
Sure it wasn't the best food, but it's home to all of your freshman year memories.
2. Dreaded the miserable walk to Straight Hall
You've either ran up the Oakland Avenue hill or biked what seemed like the longest ten minutes ever to get to class on time. Either way, you were usually late.
3. Changed your outfit at least three times in one day due to weather
Go to your 8 AM bundled in snow clothes, go to the gym at noon in shorts and a tank top, and finish the night off in a cute cocktail dress and heels. The weather here is truly unpredictable.
4. Prayed that there would be a snow cancellation
There's always a part of you that has hoped class would be cancelled due to bad weather, but we all know our Alaskan president would never cancel class.
5. Had a huge argument with a peer about the dreaded Pittsburgh vs. Philly debate
You either bleed black and gold or have a love for the brotherly city, luckily IUP has a huge mix of both so you're not alone.
6. Taken a prerequisite that was MUCH harder than your major classes
A 100 level Geography class is much harder than a 300 level Criminology class. Guess which one you got a B in.
7. Had to change your walking route to accommodate the construction that popped up out of no where
Fastest way to your classes before the construction: three minutes. Fastest way to your classes during construction: ten minutes.
8. Wished you lived in the dorms again
While you were living in the dorms you couldn't wait to move into a house the next school year, but now a small part of you wishes you would've stayed.
9. IUP crushed someone on twitter
Yeah, the girl at the gym with the pink shirt and black hat has no idea that you're talking about her.
10. Wednesday nights are for country and beer
Everyone's 21st birthday goals are to go to Wednesday night country night at Wolfie's bar to drink a beer while singing and dancing to Shania Twain.
11. Had people from your home town come back into your life just in time for Homecoming, Halloween, or IUPattys.
Oh, we were friends in 7th grade? You want to stay at my place for IUPatty's? Let me check if I have any room left. (We all know you never get back to them.)
12. Made the hour drive to Pittsburgh for a sporting event or concert
Chances are there's always something going on in Pittsburgh and it's totally worth the drive.
13. Made the mistake on staying at school on the weekends when everyone else goes home
Homecoming, Halloween, IUPattys… take the time to visit your family, because campus will be dead the weekends before and especially after these days.
14. Spent an entire night at the library during finals week
That place is a zoo during finals and you had to fight for that booth by Java City.
15. Never been to a football game
We all know sports here are not a popular event to attend, but you juniors have one more chance to go. DO IT.
16. BUT you've been to multiple basketball games
Come on, we all know you went for the free t-shirt and chances to win cool stuff.
17. Spent an unhealthy amount of time at Folgers dining hall
Yep, Folgers Thanksgiving dinner will consume about three hours of your night.
18. Considered transferring to a bigger school
But then wanted to hit yourself for even thinking of leaving.
19. Wasting your meal swipes
We are all guilty of letting our meal swipes go to waste by not using all 14 by the end of the week. Instead of campus food, how does chipotle sound?
20. Realized that no matter what, you'll always have a home at IUP.
No matter where life takes you, IUP will always be a home for you.
---
---
Related Articles