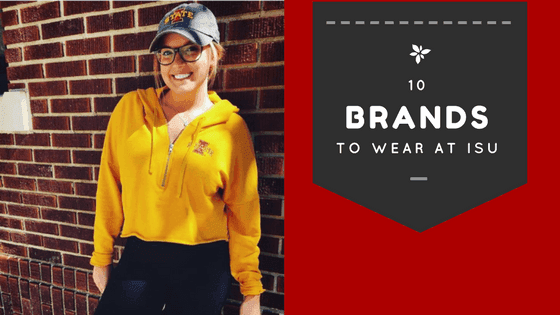 My minor is in apparel so I try to keep up with all the new trends and what's going on around town. Today I will go over 10 brands and stores that men and women wear on campus. There is a wide range that people are sporting at Iowa State. (psst. Iowa State likes to be comfy in what they wear)
1. Vera Bradley
This is pretty recent since Vera Bradley started coming to our school last year, but they make cute accessories like wallets, purses, and fanny packs that women carry around. They have the colors of Cardinal and Gold and are a nice addition to Iowa State.
2. Barefoot Campus Outfitters
This company is also on other campuses, but only a select amount. They make clothing for men and women- with Iowa State as their logo. But they also make other logos as well! For example, the make Iowa and corn apparel since we are in this great state of agriculture. They have brands ranging from Champion to Comfort Colors. They never fail to have a wide range of apparel. They also team up with different clubs and organizations for apparel as well so you can have a more specific logo made from them!
3. Nike/ Under Armour
Nike and Under Armour can be found at a wide range of stores in Ames including online. At the bookstore, they have recently come out with some cute, cozy pieces that are versatile with Iowa State's logo on the front. What a win.
4. Campustown Spirit
This company is new and was added around the same time as Barefoot Campus Outfitters. They have a bigger range as well with apparel. You can find anything from Sprit Jersey's to rompers in the store with some Cyclone Pride.
5. Comfort Colors
This apparel is sold at the Bookstore, Barefoot or University Tees- but you can find things online as well. This is probably my favorite shirt brand as every sorority has their letters on at least two shirts. The sweatshirts are a must for Students as they long and so cozy. The big band is loose and looks great and both men and women. It's perfect for Iowa State because most of us dress pretty cozy anyway.
6. State Style
This brand has been on campus for a few years now, but it's a few girls who come up with new ways to spruce up a plain university tee. They will do anything you request for a price. Here is their Instagram. They always have fresh, innovative ideas to showcase school spirit.
7. New Bost
Another student run brand on Etsy. They find vintage pieces in Iowa, and New York. They up cycle their finds sell them. They have everything from bottoms to tops. so you are bound to snag a cute find.  Here is their Instagram.
8. Pink Iowa State
Might be biased because I'm on the Pink Campus Team however, Victoria's Secret's Pink is at Iowa State and girls wear Pink apparel all of the time. It's a great class/lounging brand to have in your closet. Here is their Instagram
9. Wooly's
Wooly's is making it's way into Iowa State with those cozy, cute sweaters. Every sorority woman on campus has one and the bookstore sells them if you want to rep Cy.
10.Portobello Road
Lastly, Portobello Road is a boutique on Welch Ave. that has a trendy fashion in her space, including Iowa State vintage apparel. It's ran by one gal who is super nice. The finds she gets to sell to Iowa State students are a must. Plus I've found some great pieces for everyday wear or dressy wear. You also have to check out her soy candle section- I'm obsessed.  Here is her Instagram.
Go State!
---
---
Related Articles