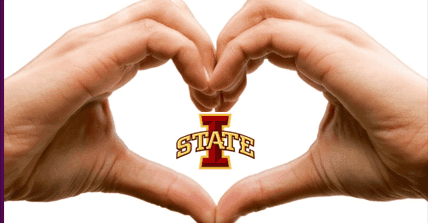 Iowa State has probably one of the best set ups to serve others in the Ames community and around the globe. I was always unsure of how to get involved in giving back growing up and since coming to college at Iowa State, I give a lot of time to service and philanthropic endeavors. It does help that I am in a sorority, however, you do NOT have to be in a sorority or fraternity to give back at Iowa State. Below are some organizations I have picked out that you may be interested in involving yourself in.
If you're passionate about children:
Dance Marathon
This organization raises awareness and money for the Stead Family Children's Hospital and the Children's Miracle Network. Their slogan is "For the Kids" In fact, every college or school that participates in Dance Marathon in the state of Iowa raises money for this hospital. A participant has a minimum goal of $250 to raise in order to make it to the big event. This may seem hard, but there are many ways you can raise money and awareness for Dance Marathon. Every January, Dance Marathon will stand for 15 hours for the kids (FTK) and dance in awareness for those who can't. There are lots of activities to keep a member who is dancing busy and on their feet. This organization is impacting so many families and it's cool to see. If you want more information, visit their site here.
St. Jude Up til Dawn
This organization is similar to Dance Marathon, but raises money for St. Jude Children's Research Hospital. Their slogan is "Up for good" A participant has a simple goal of raising $100 and creating as much awareness as possible. Their event for those who have raised $100 and over is in December. This one is less strenuous in you stay up from midnight to 6 A.M., hangout and play games, and create even more awareness of all that St. Jude does. This organization is also making an impact for the ground breaking research St. Jude does in order to find cures for kids.
Project Jamaica
I may be biased but I've had the opportunity to go on this trip. It's an alternative spring break trip that takes 22 students to Jamaica to serve the Ministry of Education through the Global Service Initiative. Additionally, this organization allows the student to grow in servant leadership in a 3 credit course class. The week consists of immersing in Jamaican culture for the global perspective aspect and doing service projects- all while getting to hang out with kids.
If you're passionate about giving back to the community:
CyServe Day
CyServe Day is put on twice a year through the CyServe Council. They go around in the community to find partnerships for volunteerism during this day of service to the Ames community. It's super accessible and the projects are meaningful, even in the tiniest ways.
Alpha Phi Omega
Alpha Phi Omega is a service co-ed fraternity that develops friendships and giving back to the communities they are in. This is a great way to get involved in service and meet people who have similar values as you.
S.H.O.P.
SHOP on campus or Students Helping Our Peers is an organization where you can donate food items for other students around campus to take for free. This is a great resource if you are looking to give back and if you are looking to get some food on a budget. You are able to volunteer there and here is their link to do so.
If you're passionate about disease and health research:
Be the Match
Be the Match is a bone marrow donation awareness non-profit. The goal is to match people who need bone marrow donations with those who have a match in their bone marrow. There are tons of opportunities to get involved and volunteer with drives throughout the year.
Advocates for Alzheimer's Association
Advocates for Alzheimer's Association raises awareness of the Alzheimer's Association and raises funds throughout the year. They advocate to raise money for research to end Alzheimer's.
ISU Global Health and AIDS Coalition
ISU Global Health and AIDS Coalition helps raise awareness on world issues dealing with AIDS, HIV and the overall need of research to find cures for diseases around the world. The advocate for policies in the political arena so other countries can gain access to healthcare and medications in countries that deal with AID/HIV and other various viruses.
If you're passionate about conserving the earth:
Conservation Club
Conservation Club seeks to provide education for natural resource use. They teach others how to keep others in balance with our ecosystem while managing water, land, and natural resource use. They want to focus on many aspects of conservation with a wide range of knowledge. No area of conservation is specified to this club.
Engineers for a Sustainable World
Engineers for a Sustainable World seeks to find solutions to problems in various areas of industry to help companies become more sustainable. This is great for any engineer looking to make a difference with the world around us and bring this to the industries they are involved in.
If you're passionate about education:
Collegiate 4-H
A 4-H program on campus at the collegiate program. This club is for members who served in 4-H and want to serve their communities in college. They do a wide array of activities including professional development and service to the communities they serve-for us, Ames!
Camp Adventure
Camp Adventure provides students with the opportunity to learn and lead abroad. Camp Adventure allows students to serve children abroad with energy for educating  and serving children. Camp Adventure places you in a wide array of areas you could be in while abroad, to serve children and youth. This takes place during the summer and you apply during the fall and if accepted there will be spring training to help prepare you for abroad as well.
These organizations only make a small dent in what all Iowa State offers in order to give back to Ames and around the world. If you want to learn more here is a link to the service and volunteerism club list and links.
---
---
Related Articles