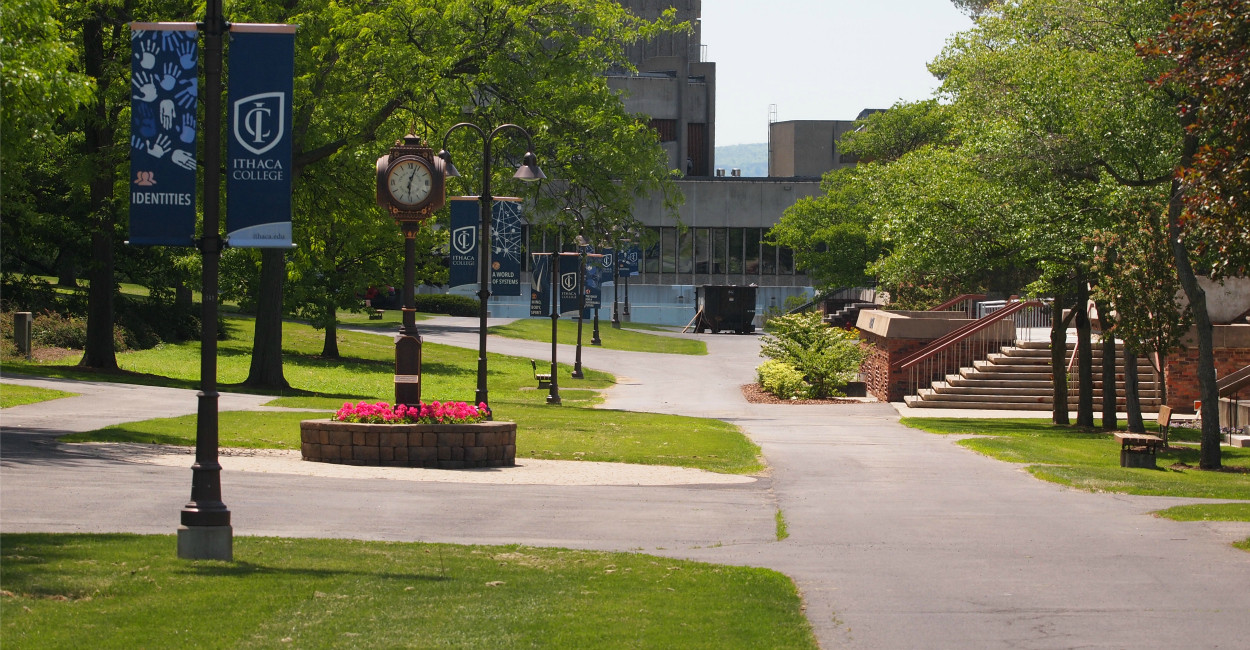 1. Every day is leg day.
Ithaca College is beautiful, don't get me wrong, but not even the gorgeous view of Lake Cayuga is enough to ease the burning pain in your legs as you climb countless steps to get around campus. Needless to say, you literally get a workout in on your daily walk to class because it is impossible to escape the hike up all those stairs, especially if you live in Terraces or one of the Towers. But hey, at least you'll be working on that summer body all year long.
2. You are always weather confused.
When you wake up and you immediately need to grab a parka to keep warm, but as soon as you get out of class the sun's rays sear into your skin, it's a little hard to plan your outfit accordingly. Ithaca can never choose to just rain or just be hot or cold for a solid amount of time, instead it chooses to be a combination of all weather patterns throughout the week.  One thing's for sure, you can always catch me changing my outfit at least twice during the day to accommodate for Ithaca's indecisive weather.
3. It doesn't faze you when weird events pop up on campus.
So you walk outside, and you see a giant L.L. Bean boot strapped onto a car next to a green tent advertising its latest fall products that you could purchase right then and there. Then the next day, you see a guy with a giant beach ball full of signatures looking for more people to sign it. And the day after that, you walk through Campus Center only to find it has transformed into a tapestry and poster shop with indie music playing to match its pleasing aesthetic. My point is, there is always something unexpected and completely out of context happening on campus, but it is always something intriguing nonetheless!
4. Having class in the woods.
It is not uncommon to have class in the woods seeing as our backyard literally consists of hiking trails that make up the Natural Lands. Being a major resource to have on campus, most professors try to take advantage of the Natural Lands especially if you take any environmental courses. They take you real deep into the woods and teach you how to survive in the wild with berries smeared as war paint on your cheeks. True story.
5. Accidentally missing meals because you never know the dining hall schedules.
There is nothing worse than being completely starved only to get to a dining hall and find that it's closed. If you're a freshman and you have no idea when the dining halls operate, this has probably happened to you many times. For future reference, the dining hall hours are posted online and almost every day of the week the Terrace Dining hall has late night hours. If only I knew that my first month here.
6. Being very thankful for Subconnect at midnight.
That being said, if you want something quick at say 12:30 a.m. when all of the dining halls are closed, then Subconnection (aka Subconnect is literally your savior. I guarantee almost every student has hit up this sandwich shop/mini market to satisfy their late night cravings, and if you live in the Towers you don't even have to leave your building. I mean, what more could you ask for in a school?
7. Finding new shortcuts and entrances to class on the daily.
Maybe this is just a freshman thing, but I am constantly finding new, quicker entrances to get to my classes and even more convenient ways to leave them. This is probably because many of the buildings are connected, so you don't even realize how many different paths there are to get from place to place. When you do find a new way though, it feels like you just discovered some secret passageway that has yet to be explored, when in reality all the upperclassmen have known about them for years. Hate to burst your bubble.
8. If you don't have a car, the TCat is your best friend.
Ah, the TCat: a leisurely mode of transportation on a weekday, and a sweaty, jam packed one on a Friday night. Either way, it's convenient, and because it makes stops all around campus and takes you directly into town, it's the best way to get around if you don't have a car. With only a $1.50 charge or a bus swipe from your ID card, I'd say the TCat is bang for your buck.
9. Being able to treat yourself to quality live music almost every day.
Sitting in your dorm with the window propped open, it is not uncommon to hear the sweet strokes of a violin or the banging of a bongo drift into your room. That's Ithaca College for you. Being known for its music program, it's no surprise that Ithaca students are spoiled with great music practically every day, especially on the weekends when music students have free recitals that anyone can enjoy.
10. "Ithaca is Gorges" are words you will live by until you die.
You didn't know what it meant before you decided to attend, but after being immersed into the town culture, "Ithaca is Gorges" are words you hear all the time and see plastered onto shirts and bumper stickers everywhere. If you've ever seen Ithaca's gorges, then you know why this phrase is so common. I mean, Ithaca is beautiful! Every day students are lucky to have amazing views from the fountain which overlooks the mountains and Lake Cayuga, and each night the skies behold unreal pink sunsets that are totally snap worthy (on a clear night of course). So yeah, we're pretty justified in claiming that Ithaca is Gorges, and if you disagree, just take a look outside. Ithaca does not disappoint.
---
---
Related Articles