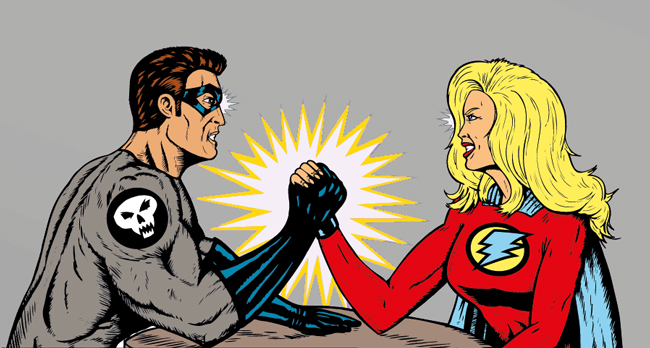 College and rivalry are a packaged deal, ask anybody. If there are two college next to each other competing for the same thing, students are bound to develop some jealousy and opposition. Here are some rivalries that happen at Ithaca College!
Two colleges in one place will inevitably result in a little rivalry, especially if one is a university and the other is a college. Naturally, because IC and Cornell share the same space one is always trying to one up the other and one always ends up extremely bitter. Cornell has Collegetown, IC has the Commons, Cornell has its own apparel store in town, and IC…does not. All the professors refer to Cornell as the rich, smart school across the hill, and it is most likely that Cornell has some things to say about us. But hey, a little healthy college rivalry never hurt anybody, right?
The biggest rivalry IC has isn't the university located in the same town. No, it is the State University of New York located in Cortland. That's right, the real rivalry to talk about is IC vs. Cortland, and we certainly get very petty about it. You see, it all started with football and the annual IC vs. Cortland game, also known as Cortaca. Almost every IC student shows up to this game even if they hate football because this rivalry is so intense, and it is all to win the infamous Cortaca Jug that both colleges compete for. Just an FYI, IC brought home the Cortaca Jug this past year after an 8-year losing streak, so it's safe to say that IC is back!

East Tower vs. West Tower
So, this is a little internal conflict and it is by far irrelevant compared to the others, but it is most definitely noteworthy. East Tower and West Tower are located right next to each other, full of cocky freshmen, and connected by a tunnel and a dining hall. Like Cornell and Ithaca, sharing the same space can only result in some light rivalry which is exactly what happens between East and West Tower. Sure, West Tower loves to claim that "West is the Best" and that you can always have a fun time, but East tower offers the exact same minus the cool slogan. Really, there is no rivalry here, just some friendly banter and mild competition.
There you have it: every school has some rivalries here and there and IC is no different. Call it immature, call it stupid, but if it gets students motivated is it really all that bad? You can be the judge of that.
---
---
Related Articles