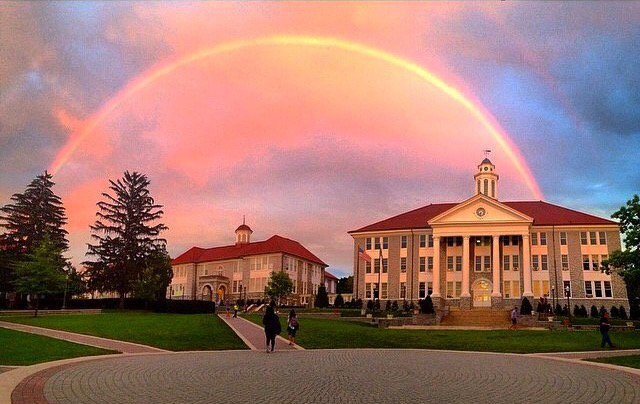 1. It's not worth the money
$25, 000 in tuition fees per year just isn't worth a top-notch education. Why would anyone want to come to a college that annually makes Princeton Review's list of "Colleges That Pay You Back: The 200 Schools That Give You the Best Bang for Your Tuition Buck?" With factors including academics, cost, financial aid, graduation rates, student debt, and more to analyze return on investment ratings, clearly graduating seniors leave with no prospects and no hope for a stable financial future. So sad.
2. There is absolutely nothing to do in Harrisonburg
JMU isn't located in a typically large city or town, so there must be nothing fun to do here. Being nested in the Shenandoah Valley, JMU is surrounded by the terribly picturesque Blue Ridge Mountains where there are over 500 miles of hiking trails to explore. Hiking aside, downtown Harrisonburg is home to many local bars, good eats, a museum, and even live music/poetry readings. The university gym, UREC, also provides plenty of classes for every workout style, so there's always something new to try.
3. The food sucks
In 2016 JMU made it to number #6 on Princeton Review's list of Best Campus Food in the Nation, and in 2017 it made #9 out of 1,398 colleges on Niche's list of Best College Food in America. With dining locations all over campus that include pasta, pizza, burgers, subs, crepes, Mexican and Chinese cuisine, …not to mention the dining halls, it's easy to see why people hate the food.
4. The campus is downright hideous
Who wants to be seen at a school with swinging outdoor benches, purple and yellow flower beds spelling J-M-U, idyllic tunnels and pathways all around campus, iconic bluestone buildings, views of the Blue Ridge Mountains, an arboretum, and large open areas convenient for student recreation? In Niche 2017 rankings for Best College Campuses in the U.S., James Madison made #11 of 1,423. I guess not every school can have beauty and brains.
5. Everyone hates it here
In a 2016 nationwide student survey on the popular site, Rate My Professor, JMU was ranked third in the country by students on overall quality with a 4.5 out of 5 rating. Also in The Wall Street Journal/Times Higher Education inaugural ranking of U.S. colleges and universities, JMU was voted the "right choice" and ranked #5 of 1,061 universities for number of students who would choose to come here again if given the choice. Sounds pretty depressing to me.
6. People are the WORST
Situated in Harrisonburg, VA, also known as "The Friendly City," it's expected that people are rude, selfish, and unhelpful. This is so true, that part of James Madison's motto is, "We hold doors!" The university also has a program to help freshman adjust to dorm life, where FROGS (First Year Orientation Guides) help them move in, lead them in group activities, put on pep rallies, guide them around campus, and give advice about the start of their college careers, all in the week before their first semester. Just despicable.
7. There are no learning opportunities off campus
Oftentimes students get stuck in the "JMU bubble." However, with well over 50 different study abroad and exchange programs, JMU offers a wide variety of learning opportunities all over the globe that provide a culturally diverse education. Also offered are Alternative Break programs, which send students to places in need over school holidays to help locals, while building character for themselves as well.
8. The university doesn't address real world issues with its students
President Alger sent a letter to JMU students addressing the recent outcome of the Presidential election, encouraging students that James Madison University will remain a welcoming place for all. The election process was also a hot topic in numerous history and political science classes over the last semester that many professors took advantage of as a teaching example and open debate opportunities over big ticket issues.
9. Our sports teams are terrible
After winning 28-14 in the FCS national championship game against Youngstown State, we can all agree that JMU football is pointless and not worth supporting. College Gameday even came to visit in 2016 due to the Dukes long winning streak, being the best year for football in a while. Other popular sports to watch are rugby, soccer, lacrosse, baseball, and basketball. J-M-U Duuuukes!
10. You'll never meet anyone with the same interests
There are over 370 clubs at James Madison to get involved in, so the likelihood of not meeting anyone with similar interests is extremely low. There's really something for everyone: Quidditch, Anime, Best Buddies, religious/cultural groups, singing/dancing, and my personal favorite, Chocolate Milk Monday! But really there are many, many more and you should go take a look at the link below.
---
---
Related Articles