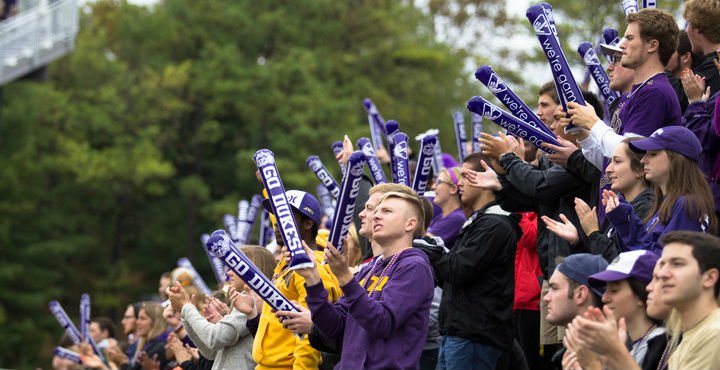 As with most classes anywhere, everyone has a different opinion about the difficulty level or how the professor impacts the experience.  However, it's the gen-ed or elective courses that are usually the most laid back. Here are 10 of the Easiest Classes at JMU most commonly agreed upon.  And, to make all your lives a little easier too, I've included a few of the best professors to take these courses with.
Speaking of gen-eds, Art 200 is a great way to fill your Cluster 2 requirement.  This class is your basic "art in today's culture" rundown, so it's relatable.  Generally, this course is quite manageable on its own, with minimal papers, open note quizzes, and a straightforward final (study guide included), but a popularly nominated professor to take it with is Allyson Taylor.  If you want an interesting course with a sweet teacher, Professor Taylor is the way to go.
Everyone at JMU has had to take either Health or Kinesiology at some point, and some got it better than others.  For those that managed to cop a spot in the highly coveted yoga version of the class, kudos to you my friends.  This course involves a specific physical activity for whichever section you take, as well as a lecture portion on health and nutrition.  While yoga is obviously the best one you can get, others include swim, cardio, weightlifting, and tennis. This class is also a great way to bond with your peers over how awful all of you are at exercise! But alas, no pain no gain.
As far as a lab goes, this is arguably the easiest of them all.  Offered in the Spring or Maymester, this class teaches you the ins and outs of fly fishing, including an effort grade on casting, ecosystems of the fish, types of rods, and a brief history.  Just remember, "Fish are friends, not food!"
Languages aren't everyone's thing, but Italian 101 is as easy as they come.  The Italian department at JMU is well known for its awesome professors, so no matter who you get you're in luck!  The class is mostly structured around learning basic phrases, the alphabet, and some speaking.  Cultural event requirements include watching Italian movies, going to the Pizza Love, wine and cheese tastings, and more.  The class encourages socialization as well, so there's a strong likelihood that you'll even make a few new friends.  Divertiti!
In this class, what you see is what you get.  If you want to put the time in to learn something meaningful and useful, then take this class with Professor Cathy Snyder.  You'll learn useful concepts like getting credit and saving money for retirement, looking at apartment leases, and managing student loans. What better way to learn decision making than applying it to your own life?
Psych 101 is also a gen-ed but one most people tend to enjoy.  Finding out how the brain works is pretty cool, and most of the psychology professors at JMU are known for being really interesting while making the class relatable. So, if you want a class that'll be easy to pay attention to and come out of sounding like a smarty-pants, PSYC 101 is the perfect cluster 5 filler for you.
SCOM is a rite of passage at JMU.  Everyone knows the pain of standing in front of their captive audience and having to make a speech, no matter how bad your stage fright may be.  This class is made better though by there being a group section, allowing multiple people to share in the struggle.  In the end this class usually turns out to be somewhat fun, especially if you make friends with your group members.
If you've always wanted to release your inner Disney princess/prince but didn't have the right moves for it, then welcome to ballroom dancing!  This class is a fun way to fill a credit while learning an interesting skill to bring up in conversation.  Plus, it's a great way to meet people at weddings. Be prepared with DANC 144.
Want to learn another cool life skill? Take scuba diving.  In this elective, you can actually earn your scuba diving certificate while getting credit for the class.  You learn the basics in a classroom first, and then you get to test out your fins in the Godwin or UREC pool.  If you don't mind getting a little wet, this class can be super fun and a great way to prep for spring/summer break!
In this 8 week/3 credit course, students will explore all the ins and outs of relationships with professor and psychologist, Bijian Saadatmand.  If you've ever had questions about how to be a better partner, lover, friend, or any general communication curiosities, then this class is the perfect opportunity ask.  Time flies when you're having fun right?  Well the same goes for classes being easy when you're interested in the topic.  And, you'll be able to help with all your friends' love dilemmas as well as your own. Win win!
---
---
Related Articles