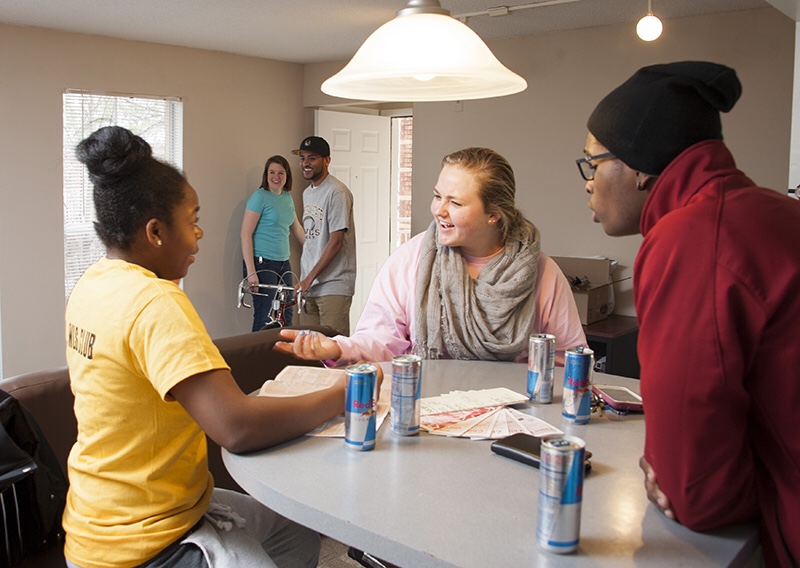 Kennesaw State University, the third largest public university in Georgia, has eight different student housing communities between the Kennesaw and Marietta campuses. Some options are reserved solely for freshmen and others are for upper class men. Let's take a look at the good, bad, and ugly of the different complexes.
Freshmen Only
Freshmen have five housing options – two options on Marietta Campus and three on Kennesaw.
1. University Village Suites
University Village is a Kennesaw Campus option that allows students to have a private bedroom and a private bathroom. It's the most expensive housing option avail for freshmen, but it has what no other dorm does: a kitchen. Kennesaw State has a required meal plan for freshmen and sophomores who live on campus, but having a kitchen is still coveted especially during rainy or cold days when you don't want to leave the dorm. The complex offers two, three, and four bedroom options – the more bedrooms, the cheaper the price.
2. Hornet Village
This Marietta Campus dormitory takes it's rank based on affordability and location. The campus is fairly small to begin with, but the complex is right next to the dining hall and the buildings containing most freshmen classes. Students can choose to have a private room or share a bedroom for a cheaper cost. Bathrooms are shared as well between apartment occupants. These dorms don't have a kitchen, but there are free to use laundry machines on the first floor.
3. University Village
Kennesaw Campus students staying in University Village get a good midrange option. They can enjoy private rooms with shared bathrooms or can pick a single suite apartment. Again, no kitchen is available, but there is a kitchenette with a mini fridge. Though not technically allowed, some students use an electric griddle in the kitchenette space (don't let the RA see).
4. University Place
Kennesaw Campus's most affordable housing option still let's students have a private bedroom and shared bath. It's a bit of a hike from University Place to many classes and the gym, but the savings could be worth I️t. The complex is $2,000-$3,000 cheaper per year than Kennesaw Campus's other options.
5. Howell Hall
Howell Hall is Kennesaw State's only dorm with a community bathroom. This is the classic college dorm – girls on one floor, boys in another floor, two students to a room, students carrying shower caddies to the baths at night. Located in the heart of Marietta Campus, the dorm is less than a minute walk to the main classroom building on campus (the Atrium) and less than 5 minutes walking to the recreation center. The only thing keeping this complex at the bottom of the list is the community baths and the hospital-like feeling of the white concrete walls in the halls.
Upperclassmen Housing
Upperclassmen have four housing options to choose from. Kennesaw Campus only has one (Austin Residence Complex), and Marietta Campus has three (Commons Apartments and Courtyard Apartments with students also being allowed to choose Hornet Village).
1. Commons Apartments
Marietta Campus wins the upperclassmen housing hands down. The Commons Apartments offers spacious rooms, convenient location, affordability, and parking. Students can choose to have a private or shared bath with the latter option being cheaper. All units are also equipped with a kitchen so juniors and seniors won't have to buy a meal plan (sorry, sophomores, KSU still requires you buy one). The complex is more secluded than most dorms and typically stays pretty quiet.
2. Courtyard Apartments
Courtyard is in a very central location on Marietta Campus and is right beside Spork where the school claims Papa John's will be reopening soon. All residents have a spacious private room and a private bath. Like Commons, each unit has a full sized kitchen. Parking is plentiful, however the lot is quite large and it's a bit of a hike from the back of the parking lot. Courtyard Apartments is the most expensive of the Marietta Campus options.
3. Austin Resident Complex
Austin is the only upperclassmen option on Kennesaw Campus. I️t is also the most expensive housing option KSU offers on either campus. I️t is an entire apartment complex located in the middle of Kennesaw Campus. The units are nice and equipped with a full kitchen and private bath options, but the rooms are very small. As opposed to the full XL beds equipping the Marietta Campus upperclassmen options, ARC gives twin XL beds just like the freshmen dorms. It's nice and safe, but it's expensive and small with bad parking.
4. Hornet Village
Marietta Campus offers upperclassmen an economic housing option if they're willing to forego a kitchen. It's can be difficult for students without a meal plan to stay here, and the cost of a meal plan may not make the savings worth it, but if you're a good microwave meal consumer, this could be a good option.
Staying on campus is always expensive, but many students and parents find the convenience to be worth it. Hopefully this list can help you decide which complex is right for both you and your wallet. Have a wonderful semester and stay focused!
---
---
Related Articles