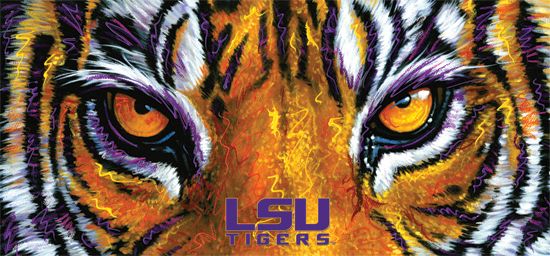 Some of the most popular thing that comes to mind when one hears LSU, are Tiger Stadium, and Shaq's alma mater. However, after much investigating, here are top 10 facts about LSU that will interest all you Tigers out there.
1. Small SEC School

When people think, LSU they think a large SEC school. However, LSU Tigers only has approximately 30,000 students enrolled as compared to Texas A&M Aggies 62,000. But hey, we may be smaller number, but we are sure louder. Oh hey that brings me to my next point.
2. Deaf Valley
Many of you fellow Tigers reading this will probably blow your mind away, hopefully not your ears. With the highest decibel level of 130, Tiger Stadium is ranked #3 as the loudest stadium in America, behind Clemson and Washington. This is very similar to you being right next to an F-14 as it is about to take off. Maybe Death Valley could turn into Deaf Valley?
3. Grass Eaters
Head Football Coach Les Miles requests a taste of grass at each stadium he visits. On the bright side, he gets 2 grams of carbs, 1 g of Fiber, and 1 gram of protein. Share the rest of your diet with us Les Miles, we want to know!
4. The LSU Mounds
The LSU Indian mounds are located near the northwest corner of the campus. The two mounds were created by Native Americans more than 5,000 years ago and functioned as territorial markers or symbols of group identity. In 1999, the mounds, which are a part of a larger mound group throughout the state are older than any in North America, Mesoamerica or South America and predate the construction of the great Egyptian pyramids, were placed on the National Register of Historic Places.
5. French Connection
LSU is one of the few universities in the country to offer a minor in French with an emphasis on Cajun French. Everyone say "Merci" to the French Department now.
6. Cuban Connection
Back to the wonderful world of football. LSU is known for playing in many bowl games but did you know that LSU's first bowl game was the Bacarid Bowl in Havana Cuba vs Havana University in 1907. Tigers won 56-0.
7. The LSU Memorial Tower
The LSU Memorial Tower, or the campanelle – Italian for little bell – was one of the first structures completed on the present campus. It was built in 1923 and dedicated in 1926 as a memorial to those who gave their lives during World War I.
8. We're #1
LSU is the only school to have a player drafted number 1 in all 3 big sports, 4 if you want to count girls basketball as well.
9. Geux Tigers!
Speaking of sports, LSU currently has the most alumni active in the NFL today. Just for that right there, that's a Geaux Tigers!
Feel free to comment below your own facts about LSU! Oh yeah and once again, Geaux Tigers!
---
---
Related Articles