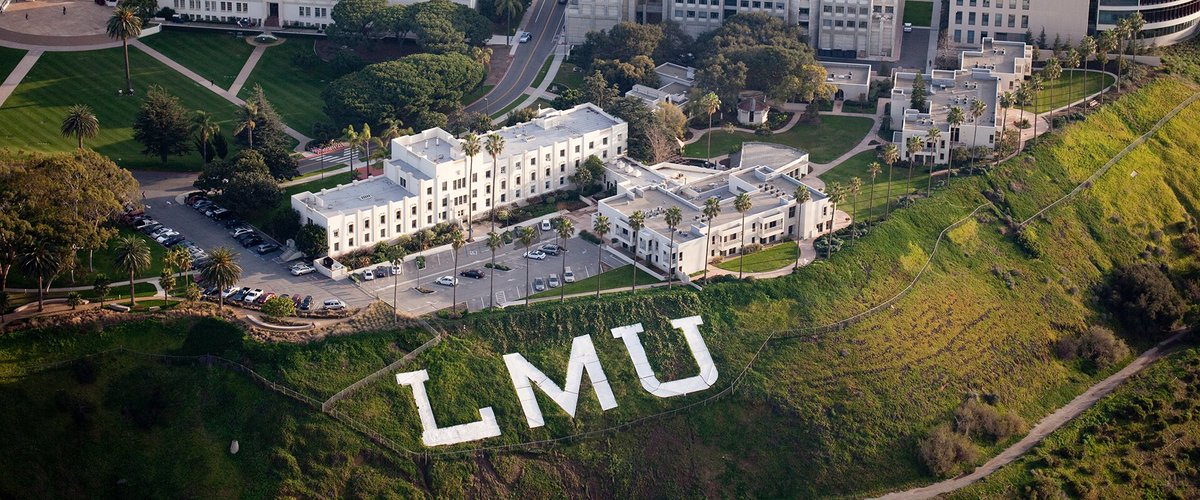 At LMU, there are a lot of on campus jobs for students. Knowing people wanted to find out more information about some of the jobs offered, several student workers talked about their jobs.
Side note: Lion Jobs is mentioned in this post; this is the website the school has for official postings for jobs for students.
1. The Lion's Den
Anna, works at The Lion's Den- the student run coffee shop on campus. She said that the application was on Lion Jobs and that after she submitted that, she had to go in for an interview. She said that the interview was super chill and that most of the workers there did not have prior experience from working in a coffee shop. Some aspects that Anna really enjoys about her job is that the baristas are like a family, she gets to meet a lot of new people both with coworkers and regular customers. She also likes that the management is flexible with school like mandatory events some classes have, and she gets free drinks. A fun thing that they do is that there is a drink of the week which anyone can submit a concoction to. Some important things Anna has learned through this job is time management and multitasking. She highly recommends that people apply for this job even though it is competitive. There are usually 50 employees at a time, with openings in the spring semester due to early graduation and study abroad, so she also encourages people to apply again then if they were unable to get the job in the fall. Most of the employees are freshman so don't feel like only upperclassmen are going to get the jobs. This job is available for students who have work study, which is what Anna uses.
2. ROAR Studios
Bretta works for ROAR Studios which is a film production company on campus. She is a Crew Coordinator. This application is not on Lion Jobs, instead she went to an interest meeting and then received the application via email after. After submitting the application, Bretta went in for an interview which she said was chill. She said that the application process is different depending on which position you apply for. For example, the entertainment writer-producers had a 2 hour writing test, but crew does not. The students that work here are film, marketing, and communications majors. Bretta likes that she has a good time at this job and that it is fully student ran. She says it is a collaborative family. She loves that they get to make whatever we want and that everyone gets to work on each others projects. Some things she has learned are technical skills such as sound mixing and boom operating and she has learned more about the preproduction, production, and postproduction process. Bretta advises to only apply for this job if you are interested in film and that it is competitive. She does not work for them on work study, but instead is just paid directly, but they do hire students who are on work study. You can always go to their website to learn more about what they are up to. https://www.roarstudiosla.com/about
3. Campus Tour Guide
Tara recently became a tour guide on campus. She found out about this job because she has friends that are tour guides so she went in to the admissions office and asked if they were hiring. After that she submitted her resume and had to answer some essay questions. If you were picked after that, Tara said you went to a group interview. She said it was different than a normal interview because everyone answered the same questions and who ever raised their hand first was able to answer the best because after they answered you couldn't just raise your hand and say basically the same thing, so it was definitely first come first served. Tara said there were about 50 people in the group interview and only 4 spots open to start being a tour guide this semester and 8 more for the following fall, so it was very competitive. She ended up being chosen, so she then went on to training and shadowing other tour guides. Then she had to take an exam to make sure she knew all the information she needed to in order to lead her own tour. She likes her job because it keeps her appreciative of being accepted into this school and living on this beautiful campus. She also likes that she has learned a lot of fun facts about the school through this, which you would have to go on a tour to learn 😉 While it is very competitive, and you have to have gone to LMU for a semester before you can apply, Tara would recommend applying for this job. She says it improves your people skills and your public speaking abilities. Tara is not paid through work study but by paycheck.
4. Library
Madeline works at the library as a shelving assistant. She found this job on Lion Jobs; after she applied she had to go in for an interview, which was super chill. She said you don't need to have any prior library experience to apply. One thing she really likes about having this job is that she really knows how the library is set up and can find stuff really easy. Another perk is that since she typically works later shifts she would get free food from different events that were held in the library. She also like making friends at work, because the workers are all different majors so she wouldn't have met most of them without the job. She has also have learned how her library organizes its books, how to order things by call number, retrieve books from the basement, and how to help patrons in the library occasionally find books. She would recommend applying for this job especially as a freshman since it does help you figure out what your library offers and how to find books easily if you don't have time to wait for a hold. She wouldn't say this is a very competitive job, and the environment is very relaxed to work in.
5. Human Resources
Meighan works in the Human Resources office. She found this job on Lion Jobs and is on work study. She is an administrative assistant so she does a lot of filing. Sometimes she will fill in for the person sitting at the front desk. Overall she helps out with whatever people need her to. She likes that she gets to see how a real office work, and that she is around adult professionals. She is learning real life professional skills like making copies, scanning, and following a filing system. She would recommend that people apply for this job because it gives you good experience and insight at an entry level office position. It is not super competitive since there are quite a few work study openings.
These jobs are just a few of the many jobs offered to students on campus at Loyola Marymount University. Lion Jobs has many more listed with a small description of the job. Or if there is a specific job you want, you can do what Tara did and go in and ask if that department is hiring. Good luck and hope this gave you good insight!
---
---
Related Articles