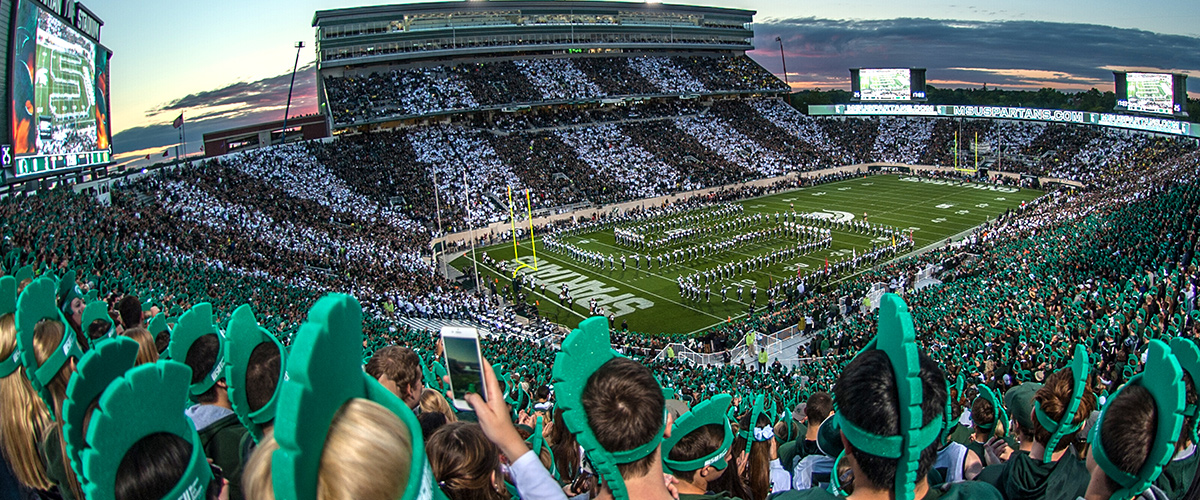 Being a college student can most times be pretty stressful, but there are so many fun things you can do to ease your mind! With so many options, you are destined to find something you enjoy! Listed below are different types of clubs, but there are so many more.
1. All-Girl Competitive Cheerleading Club (Sports and Leisure)
Founded in 2003, This club is student-led, and gives students the opportunity to cheer as an MSU Spartan, but not dedicate as much time as they would on an actual cheer team! This club allows you to compete with other Universities that have cheer clubs as well! To be in this club, you are held to high academic standards, so hopefully, this will be a motivation. GO STATE!
2. Black Media Entertainment (Media)
This organization was founded in 2013 and allows for  ALL students on Michigan State's campus to provide a voice for African American students. This was designed to give students a platform for events and programs that will bring the student body together! Black  Media Entertainment also hosts a "Student Spotlight" which allows members to showcase their talents. This organization has also had many segments on radio stations. Their overall goal is to bring awareness to controversial topics among the black community.
3. Chinese Student Coalition (International/Minority)
Founded in the Fall of 1996, this clubs goal is to unite the Chinese community at Michigan State, they also want to connect with other ethnic groups in the MSU community. This club hosts many events throughout the year including banquets, tailgates, and philanthropies that all students are welcome to enjoy. They even have themed events including their Mid-Autumn festival (sounds beautiful right?!). Their fan-favorite basketball tournaments are something you do not want to miss! Visit their website for more info! (http://cscmsu.wixsite.com/csc/about)
4. Christians on Campus (Personal/Religion)
This organization encourages students to join their gospel in Jesus Christ. This group also holds bible study. People from various backgrounds are welcomed to join. This organization has two sections, section one is open to all students on and off campus, but only MSU students can be officers and voting members. Students can move to section two by expressing their desire to in writing, but they must be in good standing within the organization.
5. Fisheries and Wildlife Club (Environment)
The Fishers and Wildlife Club at Michigan State is very popular! This club works closely with the Michigan DNR to provide hands-on experience in wildlife management and also educate students on natural resource development. This club is free for all students on campus but has optional dues of 10$ that will give you access to special activities. This organizations goal is to provide high ethical standards for environmental treatment.
6. Girl Up MSU (Women's Interests)
This club encourages women empowerment worldwide. This club was designed to give the women student body a voice, and a comfortable way of doing so. This club hopes to help women thrive and come together. This group also raises awareness and funds for young women in developing countries who do not have the opportunity to access education or healthcare. Their goal is to provide support for over 600 million young women in these areas. 
7. March of Dimes, MSU (Service)
The March of Dimes may sound familiar, it is a march in the honor of preventing premature births and birth defects by educating, advocating, and providing community service. Founded in January 1938, this organization has been in partnership with Michigan State University for over 8 years! The March of Dimes MSU has many events for NICU nurses and families including Valentines Day cookie send-off, making gifts for local NICU's, hosting 5k's for babies, and so much more.
8. The Queer Experience (Minority)
This group has a goal of providing a safe environment for LGBTQ+ MSU students to find their structure. It allows people to feel comfortable, and even meet others who are similar to them, providing them with a sense of security. This group also has fun activity nights! A recent one this group has hosted was Gay Game Night and Hot Cocoa while watching Ru Paul's Drag Race. They also have a newsletter that you can sign up for to keep up with the amazing events they host around campus!
Michigan State University has over 900 student-led organizations that are open to all students! They are very flexible depending on your schedule and are very welcoming. There are so many options that fall into many different categories according to a person's interests. Remember that college is the best time to be involved and meet new people! Find more info on Michigan State's website!
---
---
Related Articles