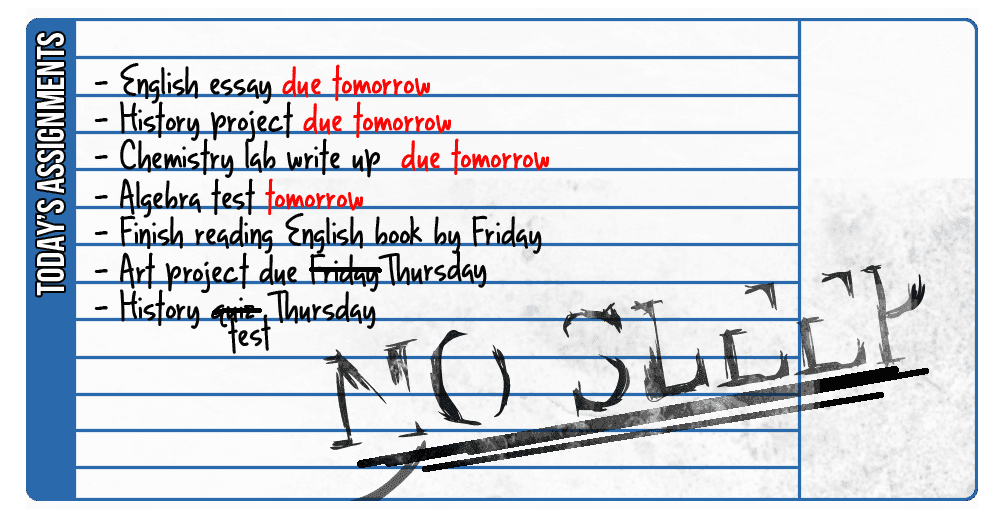 Welcome to Millersville University. Whether you're new to the whole college thing or you transferred here, you definitely chose the right school. Unlike other schools in Pennsylvania, we are a small campus and you will soon get to know almost everybody that you pass everyday. While it's obvious that you're here for school, below are some great places to kick back and bury your nose in all the work you have due.
1. Your room
Yes, you can actually study in your room. This is a good thing for when you have a stack of work to do and putting it in your bag would make you face-plant the minute you try to take a step. Even if you and your roommate don't get along, put your headphones in, turn your music up and get to work! Plus, you'll probably have less distractions, as long as you stay at your desk and not cuddled up in bed…
2. Study rooms within your dorm building!
How convenient! If you can bear to pack up your life and go a few steps to the front of your hallway or take the elevator up a floor, *boom* a study space with long tables to spread out on. If you're finding yourself having writer's block or just bored of your work, look out the window and take in the views that this beautiful campus has to offer.
3. L-I-B-R-A-R-Y.
That is, if you're not afraid to go into it… But you shouldn't be because almost everybody uses the library and its resources on a daily basis. There are plenty of places within the library to study. Go to the Starbucks on the left of the entrance and grab a coffee. If you're comfortable, take a seat in the area surrounding the caffeine powerhouse, maybe even bring a friend along! If not, there are study rooms scattered across several floors, along with quiet reading rooms, in between in the shelves of books (if you're nostalgic) or even a room filled with windows and a fire place ~study goals~.
4. Saxby's
Now a year old, it is a student favorite when it comes to a quick grab for food or coffee. Not only can you order and go, you can stay and get comfortable. The atmosphere once you walk in is so inviting and you won't be the only one who sticks around cramming in your last few minutes of sanity while buried in work. Grab a chair at a table, or sit comfortably near the fire and work off your lap.
5. Outside of your dorm building.
Yes, this is a seasonal option, but there are plenty of places right out of front of where you sleep that can be a good place to hangout for a few hours. Have a paper due but want some fresh air? Grab a bench out front of either East or West Villages, or up the steps at South are tables set up for your convenience. Take advantage of what's right in front of you!!
6. In "breakout" areas in subject buildings.
Each building you go to for classes has space set out for students to do their work while inside. If you don't have that much time between classes, you are encouraged to use those areas. Even if you're done classes for the day, stay as long as you want if you can focus!

Whether you're the type of person who likes to stay in your room or is a caffeine fiend and need your study time to be #goals, you'll be sure to find your place. If you've never been to a library, go outside your comfort zone and try it! You might be pleasantly surprised! Now, get out there and get your work done!!
---
---
Related Articles