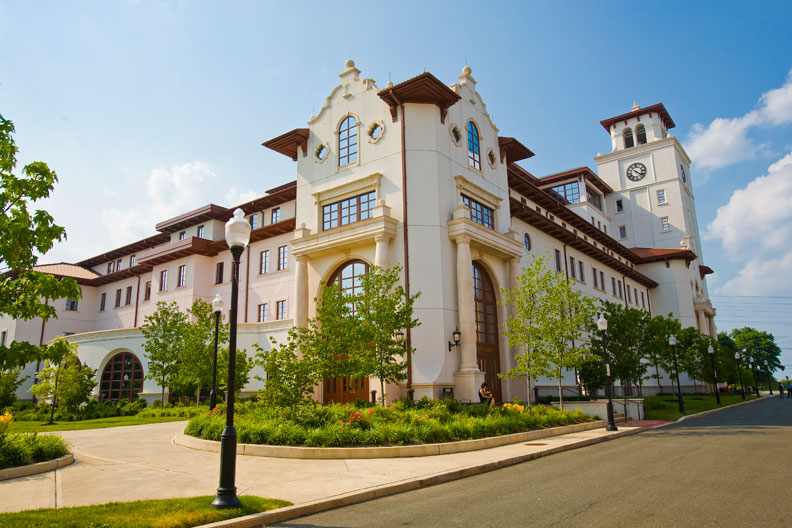 109 years and still counting, Montclair State University has a rich history with many interesting stories ranging from it's humble beginnings as a 2-year to becoming a humongous university with much to offer for students around the world.
Originally a Two-Year College
MSU was established in 1908 as a two-year Normal school in response to the growing demand for professionally trained teachers.
Formerly Known as, "Montclair State Teachers College in 1927"
The New Jersey State Normal School at Montclair became Montclair State Teachers College in 1927, dedicated to the education of secondary school teachers through a four-year Bachelor of Arts program.
First State Teachers College Accredited by the Middle States Association of Colleges and Schools
In 1932 Montclair State was authorized to offer the master's degree. With its strong emphasis on the liberal arts and sciences, Montclair State in 1937 became the first state teachers college accredited by the Middle States Association of Colleges and Schools.
First of the State Colleges to Become a University
Based on the strengths of its academic programs and faculty and its commitment to excellence in instruction and research, Montclair State in 1994 became the first of the state colleges to become a university.
William O. Trapp Went to MSU
The first graduating class, which numbered at 45 students, contained William O. Trapp, who would then go on to win the Pulitzer Prize for journalism in 1929.
MSU and WWII's Relationship
In 1943, during World War II, several students, with permission from the president, Harry Sprague, joined the US Navy as volunteers to train for the war. It was also a time when students and faculty sold war bonds to support US American troops.
First in Pedagogy
In 1927, after studies had emerged concerning the number of high school teachers in the state of New Jersey (only 10% of all high school teachers received their degrees from New Jersey), the institution became Montclair State Teachers College and developed a four-year (Bachelor of Arts) program in pedagogy, becoming the first US institute to do so.
NJ Transit in MSU
In 2004, New Jersey Transit opened Montclair State University Station at Little Falls, which links the university to New York City. The building of the MSU Station cost $26 million[7] to complete, including a 1,500-space parking deck. Although the heavy price tag, this opened many doors and opportunities for students to go to NYC and get a job there.
Native Americans Concern Over MSU Old Logo
Montclair State University's athletic teams have played under many names in the school's history. From the late 1920s to '30s, the school played as the "Big Red" and featured a large scarlet "M" on its uniforms. Next, Montclair State Teacher's College competed as the Indians, using a logo with a Native American chief's profile with the initials "MSTC" emblazoned on the caricature's headdress. The initials were changed to "MSC" when the school became Montclair State College in 1958. In response to the growing concerns voiced by Native Americans, the school changed its nickname to the Red Hawks, named after the Red-tailed Hawks that are indigenous to the area.
Fatal Shooting
In 1976, a fatal school shooting occurred outside of Bohn Hall following a dispute over a missing basketball.
---
---
Related Articles