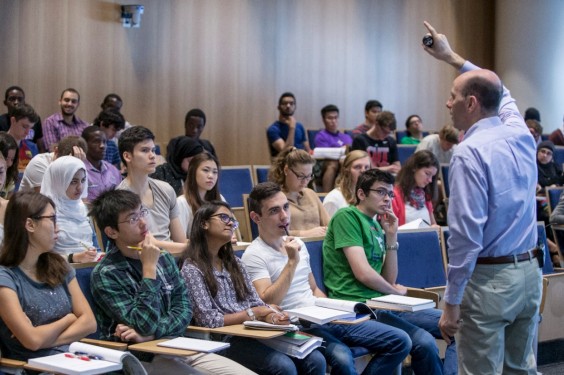 1- Economics  (Stern School of Business)
The Stern School of Business is one of the top in the country and Stern Majors make bank after graduation. As a Stern student, you can make so many connections in the finance and economics circles and easily land a high pay job after graduation. You'll be the next wolf of wall street.
2- Neuroscience (College of Arts and Science)
NYU has a top neuroscience program country and worldwide. You get to study under influential professors like Professor Carew who, no biggie, collaborated with a Nobel Laureate. You also get to be surrounded by  minds that have shaped the neuroscience as we know it today. Take this major if you are planning to do some serious science research in the future.
3- Psychology (College of Arts and Science)
Psychology is one of most popular majors at NYU. It attracts students from many walks of life. If you are unsure about what you want to do in life, psychology allows you to explore your interests and take some time while you figure out your career.
4- Gallatinize (Gallatin School of Individualized Study)
At Gallatin, you can create your own major. You can take classes from different schools and specialize in one aspect that you choose. the best major is no major!
5- Acting and Directing (Tisch School of The Arts)
Having Martin Scorsese as an Alum, professors like Alec Baldwin or James Franco definitely give you the resources you need to do more acting. Being in NYC is also another asset since you are in an international theater and film hub.
6- Social Work (School of Social Work)
The school of social work at NYU is one of its kind. NYU is one of the very few universities to work with the prison system and offer quality services to the public. Training in social work exposes you to so much field work in the city and allows you to make an impact.
7- Education (Steinhardt)
Studying Education at Steinhardt exposes you to both theory and training. You will graduate as a certified teacher after your undergrad. The program also offers you training and supervision in local schools.
8- Media Communications (Steinhardt)
Social media buff? social butterfly? majoring in communications is needed in today's market that focuses on reaching out to more consumers. The prospects of this major can give you many options after graduation in companies, marketing, advertisement, and TV.
9- Computer Science 
Every company needs a computer scientist. In today's world programming is a must. Studying computer science at NYU exposes you to classes in coding and programming to enhance your tech skills.
10- Chemistry
As an aspiring chemist, NYU's program will give you exposure to research and working with stellar professors. If you are considering grad school, this major is right up your ally.
---
---
Related Articles