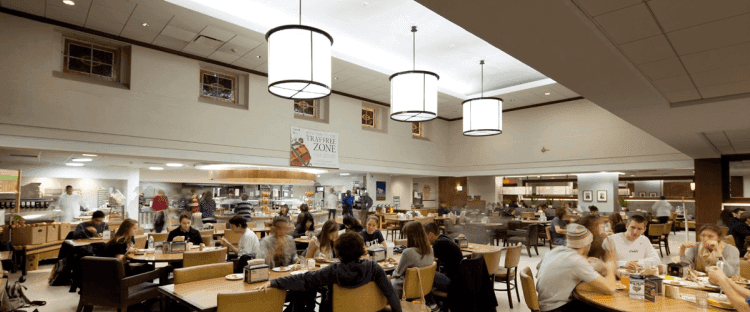 1- Weinstein
Weinstein is one of the biggest dining halls at NYU. Weinstein Passport dining is dedicated to creating authentic ethnic foods and exotic flavors from around the world. Weinstein Passport will allow you to travel without leaving your seat, exploring from various NYU Study Abroad sites such as Florence, London, Paris , Prague, and many more.
2-Market Place at Kimmel
The Kimmel marketplace has the best italian food in the history of dining halls: the pizza is light and savory , and the pasta is generous and healthy. The salad bar at Kimmel is also a must check out as they offer seasonal vegetables as well as great comfort soups. In the morning, Kimmel also has good food options from fruit, granola, yogurt to eggs and sandwiches. If you have dietary needs such as Kosher, Halal, vegan, or vegetarian, the Kimmel marketplace is accommodating.
3- Argo Tea
Argo tea offers a variety of tea infusions as well as pre packaged sandwiches and salads. If you are vegetarian or Vegan and a tea connoisseur, this place will work well for you. Try their special half sandwich + salad deal and you will have a nutritious meal. Argo's cookies are wonderful when the finals kick in, especially the chocolate chip cookie. Try their French macarons and Mediterranean quiche for an exotic taste!
4-Peet's coffee
Peet's s a great place to go for your morning coffee before class. Rush hour can be messy, but Peet's serves filling pastry. They can be too sweet at times, but hey, who says no to sugar when you're a stressed full time student? Try their morning oatmeal and chicken sandwiches. Peet's won't have much options for you if you follow a vegetarian of a vegan diet, so you might need to stick to the beverages!
5-3rd North
Third North is mainly a Freshman dorm with its own dining hall. An all you can eat style buffet, Third north features a variety of ingredients in its salad bar, soup selections and many entree from which you can choose as much as you want. Breakfast will almost always have eggs and French toast. Maybe not the best least greasy food for you; but when you're a fresh freshman in Manhattan for the first time, you need all that fat! Hurray!
6-Palladium
You certainly do not want to miss the all-you-care-to-eat brunch on Sundays at Palladium. The Sunday brunch features buffets of fresh fruit, pastries, bagels, salmon lox, and homemade desserts and pies. In addition, you can create your own omelets , have sweet waffles and savory Eggs Benedict . There is also a a mouth watering chocolate fountain where you can dip strawberries and Marshmallows! yum!
Palladium holds a monthly dining event where students can enjoy high quality service, table linens and a three course menu crafted by our Executive Chef. There are two seating times and reservations are required.
7-Lipton Hall
If you are vegetarian or Vegan, Lipton hall is your way to go. This dining hall focuses on sustainable eating initiatives and caters to vegetarians and vegans. Try their Vegan cookies and Moroccan stews! Ethically sourced, they also show support for local farmers and use a selection of seasonal locally grown fruits and vegetables in their menus.
8-Starbucks at Faye's
There is nothing here that you won't find at a regular Starbucks. The difference is that you would be at the heart of campus and so conveniently close to Bobst. You will be grateful for this place when you need that caffeine come midterm time!
---
---
Related Articles