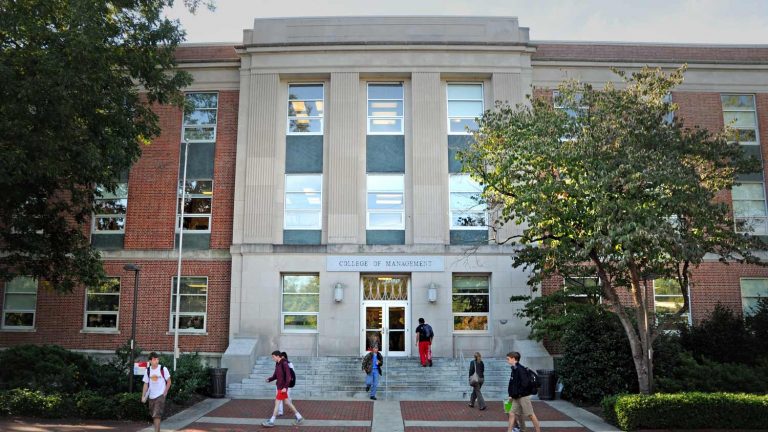 We know, everyone thinks their college is the best one ever, and that's great, we love enthusiasm. BUT here are six unique aspects to being a business student in the Poole College of Management at
NC State University
!
1. Alumni
On LinkedIn, there are 372 alumni listed that you can connect and network with, but in reality it's a network of thousands of people in your dream jobs and companies that automatically are more inclined to support you because you go to Poole. And what we have found is that it's a strong network that extends internationally and into top executive roles in many many organizations as well as entrepreneurs that inspire all of us. We have found our alumni to be extremely open to communicating, mentoring, and giving informational interviews to fellow students – and that can really help professionally.
2. C-Suite Chats
At Poole, there are a couple opportunities throughout the year to hear from a top executive graduate, in the C-suite of their company (CEO, COO, CMO) and ask questions! It's a small lecture room setting and you have the chance to learn about their background, their experiences, and their top tips for college students now. You may even get the chance to ask questions of the CEO of the company you intern for – that was the case for many people when the CEO of NetApp joined Poole this past Fall.
3. Peer Coaches
In addition to Professional Career Counselors, Poole has tons of student organizations dedicated to helping other students. In your intro class to Poole you are in a group with a Peer Leader who helps guide you through your first semester at Poole and is a huge resource for you. But there are also Peer Career Coaches who are selected to help as a fellow student who has gone through the process of career fairs, interviews, and internships in the past year or two and can share some insights. This is a great way to learn the latest and greatest on the professional world of NCSU from someone who is right there with you!
4. Learning Everything First
In Poole, you take intro classes to all concentrations before declaring yours. This provides students with a breadth of knowledge of all sides of business before finding their niche and specialty. This makes Poole students stand out as ones that are aware and knowledgeable about different aspects of business and can be adaptable to filling different roles.
5. International is in the Curriculum
Professors teach in a way that prepares students to go international, because that's where business is headed. In your Intro to Business Administration class you will learn how vitally important it is to understand the cultural values of the different countries you do business with, in order to maximize the relationship and build an important one.
6. Professors with Professional Experience
Almost ALL Poole professors have miles of professional experience behind them before they joined the pack. They come from top firms and small businesses, some are current entrepreneurs, and some are done with their businesses. However, all of them are open and WANT to share their experiences with their students to help YOU. This can mean an important connection in your dream company, or daily helpful advice, either way it's a "pro" to being a business student at NCSU and definitely one of the most helpful.
We love NCSU, and we love Poole. We truly do bleed red and white for State, but we spend the most time in our second home, your college headquarters – for Poole right now it's Nelson hall.  Word on the street is that in about four years Poole will be moving from Nelson hall to a new building on Centennial campus!
Your college is where you spend 4 years of your life, or more, and where you spend countless hours in class and studying – so make sure you really love it. We hope you found some unique aspects to being a business student at NCSU, come join us!
---
---
Related Articles