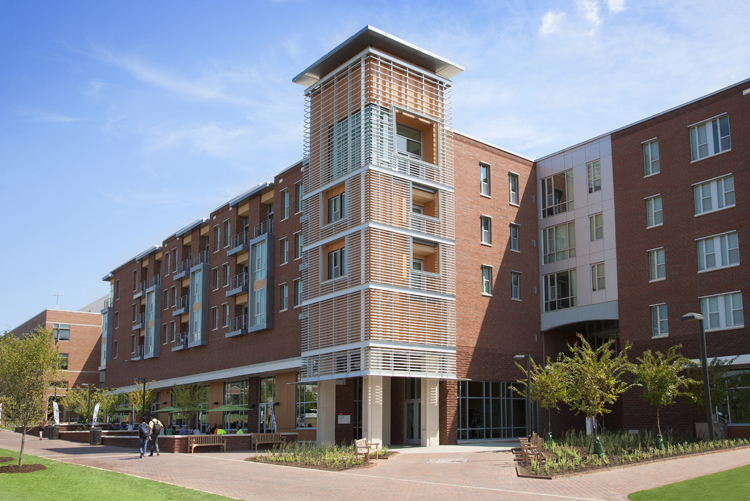 With 20 current residence halls for freshman to chose from and four on campus apartment complexes ran by the university, all the options are great but they can get overwhelming. So here's our guide to help all the incoming students, those who have the first-year live on requirement and anyone else who wants a little help clearing up the list! Below we have ranked our top 3 residence halls (3 is the magic number when putting in housing preferences) and our top 2 apartment complexes!

1. Bagwell/Becton/Berry (Honors quad)
This ranks as our first choice for first year students, however one of the two roommates has to be in honors in order for students to live here. This is because it's home to the honors village, but it's okay – go ahead and convince your best friend to join honors and then room with them! The University Honors Program is a fantastic program anyway, the housing is just an added bonus.
2. Bragaw Hall
Home to the EcoVillage at NC State University, Bragaw Hall has the biggest rooms (Lucky room "D" in your suite) and a nice location, which is why it ranks #2 here for us! There is an outdoor sand volleyball court, solar umbrellas, grills right outside with a very large activity room and a convenience store on the first floor. There is also a dining hall that takes about 70 seconds to walk to – which is super easy and awesome to have when it gets cold or if you like to eat.
3. Avent Ferry Complex
The Avent Ferry Complex is a renovated hotel style which is why it ranks here, but the downside is the distance from campus – which would make it very hard for someone living on a meal plan. We suggest this for second or third year students who want to continue living on campus but want a different style and more privacy – as there's plenty of places in walking distance for food and such, but not the dining halls!
Apartment Complexes:
1. Wolf Ridge
This ranks as our top choice for apartment complexes for the location and the quality of the apartments inside including furniture. It has the most up to date quality appliances and furniture that you can add to with a tv or some nice throw pillows that'll have every guest complimenting you. It is located on Centennial Campus near Hunt Library – a great place to study and only a short walk home.
2. Valentine Commons
We ranked this #2 as it's not through the University but it is close to Central Campus and has above average furnishing and has parking (a major plus for living on campus and being in the area)! It is located on West Campus and is only a short distance from the buildings around Nelson Hall, Hillsborough street, and Talley Student Union. Pricing varies but you do need to have your roommates planned and set up – which you can do through the NCSU Facebook group or any other resource. Also be on the look out for deals such as waived fees!
Wherever you end up, make the most of it. Don't let a small space or inconvenience dishearten you – your experience is what you make it….so make it awesome! Also, don't be afraid to do random assignment for your roommate for residence halls – sometimes that's how the most unlikely but best friendships are formed and how you stretch yourself and experience new things!
---
---
Related Articles